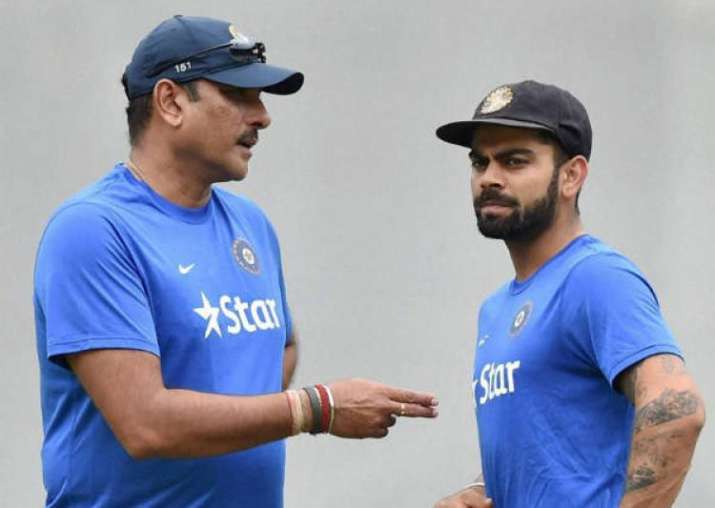 India head coach Ravi Shastri has lauded captain Virat Kohli for his professionalism and work ethics, saying that his attitude inspires other players in the team. Shastri said he was amazed by the kind of passion and hunger his players showed during their 9-0 rout of Sri Lanka. India blanked Sri Lanka 3-0 in Tests, 5-0 in ODIs and won the lone T20I as well. "I give full credit to the boys because the professional approach with which they have played is commendable. To maintain that level of consistency is not easy," Shastri told India TV during an exclusive chat.
"You must have seen that when you win 3-4 matches on the trot, you become a little complacent, you can feel a drop in the motivational factor, But the kind of passion and hunger this team showed in Sri Lanka was fantastic. The best thing was that we were not dependent on one player - both in the batting and bowling department," he added.
The 55-year-old said India were not thinking of winning the tour 9-0 and were only focussed on one match at a time.
"We were not thinking of winning the tour 9-0. We were just focussed on one match each. That's why I want to give full credit to the boys for keeping their intensity intact till the last match," he said.
Shastri, who took over as the chief coach after Anil Kumble stepped down from his post citing differences with Kohli, said stepping into the dressing room again was nothing less than a homecoming for him. Shastri had served as the Team Director between 2014 and 2016 before Kumble became the head coach in 2016. 
"I am very happy with the performance. This time when I entered the dressing room as coach after 18 months, it felt as if I have returned home to meet my family. It was very easy compared to the last time when I took over as the Team Director in England," he said.
Shastri, a flambouyant all-rounder of his generation, lauded Kohli's personality, which he said, inspires other players.
"Virat Kohli's work ethics as captain, his professionalism and his personality inspires the other members of the team. Kohli leads this team from the front. He knows how to adapt to different situations. He is an experienced player now, he has scored 30 international hundreds," he said.
"You can see that Kohli has matured as a captain. He is now more comfortable, he is not anxious and much more calm. We can't lose your patience in cricket. He will learn a lot in the next 3-4 years," he said.
Ravi Shastri reiterated that the captain is always the boss of the team and added that the job of the support staff is to help the players with their preparations.
"Captain is the boss of the team. Our work as a support staff is to see the preparations, to see that the players are relaxed and that they play their natural cricket," he said.