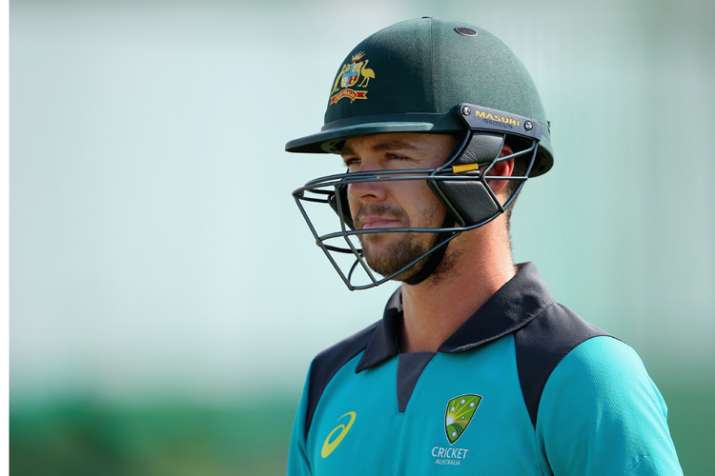 Almost guaranteed of a place in the first Test at the Adelaide Oval, Travis Head is not too bothered about India's ace spinner Ravichandran Ashwin's record against left-handers.
Head, who looks set to pip Victorian Peter Handscomb in the middle-order said that his South Australia teammate Harry Nielsen handled Ashwin quite well in the tour game and he will have a word with him when he gets home.
"Harry played well against him yesterday so when he gets home off the plane I'll have a word to him. He's a world-class bowler, but I think we've got some world-class batters as well. So I think it'll be a good contest," Head was quoted as saying by cricket.com.au
And Head has a point. Nielsen and D'Arcy Short handled the tweaker pretty well in the tour game and Ashwin averages a whopping 55 in Australia compared to his career average of 25.44. The 32-year-old has so far taken 21 wickets from six games Down Under.
The last time he toured Australia, he took 12 wickets from three games and was not that effective against David Warner and Chris Rogers, who had scored freely against the off-spinner.
Former Australia captain Ricky Ponting also spoke on the issue of right-handers and left-handers and according to him, Australia should field their six best batsman irrespective of their batting style.
"They've just got to pick their best batting line-up, simple as that. Don't worry if they're all left handed or if they're all right handed" he told cricket.com.au.
Aswhin didn't have a good game against Cricket Australia XI either, picking up just two wickets for 122 against the inexperienced side.
The 24-year-old is therefore confident of doing well against the world No.8 bowler in Tests but he is not taking his place for granted despite coach Justin Langer stating that Head will "definitely" play in the first game.
"We'll get through the next couple of days of training, train well, prepare well and prepare to play. I feel ready to go and hopefully I'll get the nod.
"Our bowlers...they'll test us out in the next three days, which will be good.
"Then you can walk out in the middle knowing you've prepared well and are ready to go. If I can get through those guys I think I could get through anyone in the world," Head said.
The first Test starts on December 6 in Adelaide.