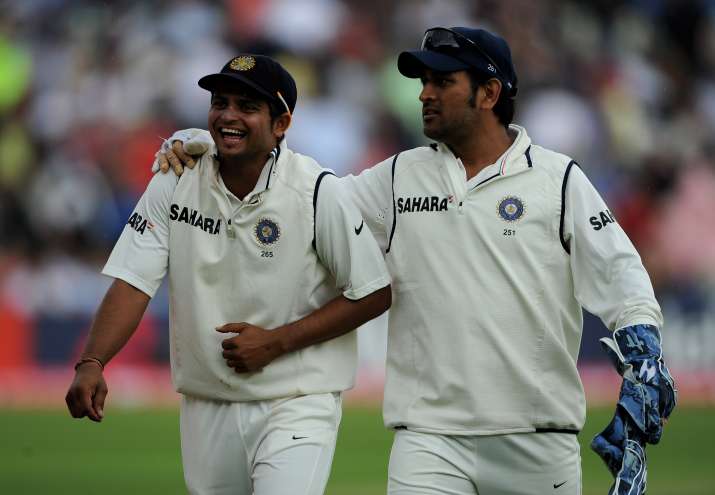 Mahendra Singh Dhoni and Suresh Raina are known to share a great camaraderie both on and off the field. The two Indian cricketers are very good friends and have played for several franchises. Raina who has played a lot of cricket under the 'Captain Cool' Dhoni have made some interesting revelations on the popular web series "Breakfast with Champions" about his friend (Dhoni) and former Indian skipper. 
In the cricketing circles,  Dhoni is known to maintain a calm and composed demeanour both on and off the cricket pitch, especially during tough times which generally separates him from his contemporaries. But out-of-favour all-rounder Raina has basically busted the image of the 36-year old in his own inimitable way that no cricket fan would have ever imagined. Here's where Raina's stroy on MS Dhoni takes a twist. 
Raina once described an incident where the former skipper waited for the over to end so that he could give the players a 'piece of his mind'. Raina said that Dhoni would never go berserk in front of any cameras, but would lash out in an inconspicuous manner whenever an advertisement break came on.
"He does get angry, you don't see it. The cameras don't pick it up. But as soon as the telecast cuts to advertisements, he'll go 'Sudhar ja tu'. He does it inconspicuously,"
"Despite not wearing sunglasses... you still cannot tell. Because he doesn't even wear sunglasses...His eyes don't show any emotion. And I'm like, 'come on man... show us some reaction',"
The 31-year old explains a hilarious incident when India were playing Pakistan and batsman Umar Akmal was on strike. Akmal immediately went to the then skipper Dhoni and complained stating that Raina had used foul language. On confronting Raina, the 36-year old's reaction was a classic MSD style statement.
"We were playing against Pakistan and Umar Akmal complained to him about me saying 'Dhoni Bhai, look at him (Raina)...he is using foul language'. I told Dhoni that I wasn't using any foul language.
"Then Dhoni asked me 'what happened?'. I said 'I'm just needling him.. telling him to score some runs, they have a target to chase'. To which Mahi bhai told me 'keep the pressure on him."
Raina hailed Dhoni on how well the former skipper reads the game situation and comes up spontaneously with a plan.
"He is very good at reading the game situation. He is hailed as the world's best finisher...he knows what's going to happen next. At any given point, he is ready with three different game plans... A, B, C... Be it as a batsman, as a keeper, as captain...he is always ready with different plans.
"He plans overnight. Then he gets a feel for it in the morning and tries to visualize. He makes sure that his conscious mind understands the subconscious ideas.
"So, a lot of people don't know this about him. Which is why he remains calm, because at the end of the day he knows that it's his game. He has created this entire setup with his thought process," Raina said. 
We've heard Raina's say on the matter, but here is MS Dhoni's reply.
"There are many zones in the middle of it where you enjoy and make fun. Once (I am playing) in the ground, I do not joke around, but inside the dressing room, I enjoy a lot. I conduct myself according to how I think I should conduct myself in different areas," said Dhoni.