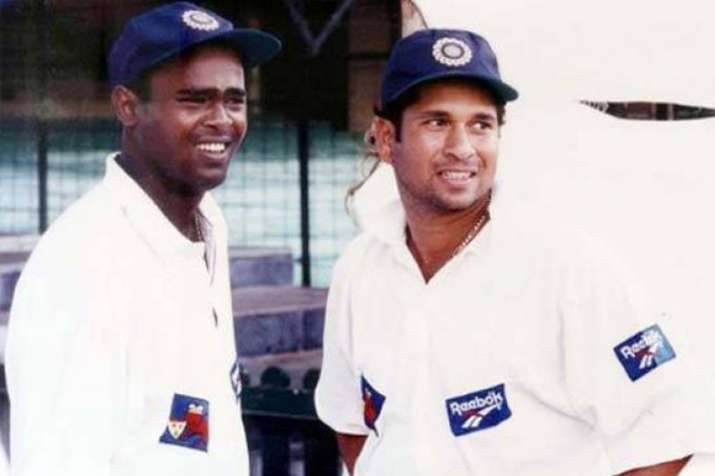 The "Jai-Veeru" of Indian cricket is back! In a fantastic news for every 90's cricket freak as childhood friends, Sachin Tendulkar and Vinod Kambli are back on the cricket field together. The most flamboyant duo of the 90's era has joined hands together for Tendulkar's cricket academy in partnership with Middlesex County, according to a report in the "Mumbai Mirror".
Tendulkar-Kambli duo was a force to reckon with in domestic cricket and nobody can forget the iconic 664-run stand between them in school cricket at Azad Maidan in 1988.
Master Blaster's new cricket venture is named Tendulkar-Middlesex Global Academy where the coaching and talent spotting camps will start from November 1 to 4 at the DY Patil Stadium while the camp at MIG club will be held on November 6 to 9. The talent-spotting camp will comprise kids from the age group of 7 to 17 and 13 to 18. After Mumbai, the camp will be set up in Pune from November 12 to 15 and November 17 to 20.
Tendulkar is more than happy to welcome his childhood buddy to his academy. "Vinod and I have played together from the time we were in school. When we met recently, I told him about my project and Vinod readily agreed to contribute. I am delighted to have him on board," he told the "Mumbai Mirror".
"Having Vinod on the cricket field with me will definitely bring back some very special memories," he added.
Meanwhile, Kambli felt honoured to collaborate with Tendulkar again after a long time. "I immediately said yes when Sachin discussed the idea of coaching together. It's a great opportunity to go back to the maidans with him and re-live our days there. I hope to teach the kids when Achrekar sir taught us when we were their age. I thank Sachin for showing faith in me," Kambli told the "Mumbai Mirror".
It will be altogether a new chapter in Kambli's life to be a part of the coaching team. He will be joined by some English players, including David Malan, Toby Roland Jones, Nick Compton and John Simpson.