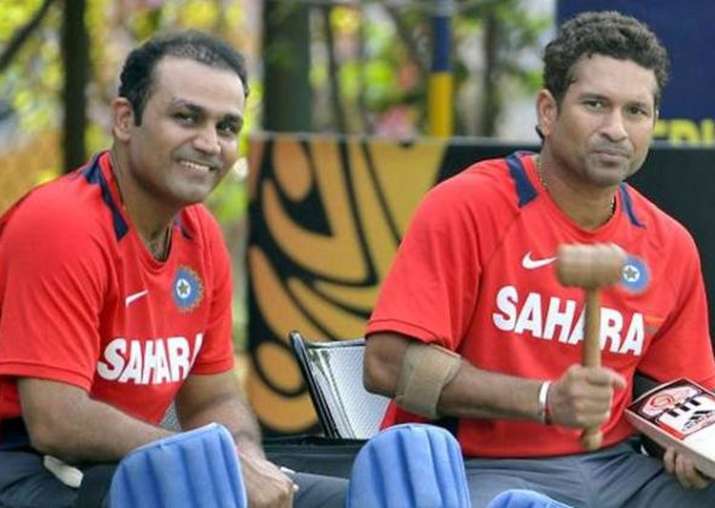 India's most formidable opening pair Sachin Tendulkar and Virender Sehwag revealed how cautious they were initially with the idea of batting together at the opening slot. Former aggressive batsman Sehwag, who became a social media sensation after retiring from international cricket, expressed how cold "the god of cricket" responded when he met his "idol" for the first time.
"I started watching cricket from the 92' World Cup. So I used to see it on TV and copy the moves that I'll become like him, and play like him," Sehwag said during the talk show 'What the Duck 3'.
"When I first met him, he just shook my hand and moved on. I thought to myself that I idolise this person and he just shook my hand and walked away. But later when I was a senior and met new players, I did the same, then I realised you cannot get close to a person before knowing him. I was very shy when I first joined the team," the 39-year-old added.
Indian batting legend Tendulkar, on the other hand, said that Sehwag would not talk to him in his initial days in the Indian cricket team.
"I remember when Viru first joined the team, he would not talk to me. Then I thought this can't work, we need to talk to each other and if we are batting together I need to make him comfortable. So I told him let's go get have some food. 
"Before going, I asked him what he liked. He said 'Paaji, I am a vegetarian'. When I asked why, he revealed that he had been told at home that eating chicken makes you fat," Tendulkar added. 
The celebrated duo opened Indian innings in 93 ODIs and scored 3,919 runs. Placed fourth in the list of highest opening partnership runs in international cricket, Tendulkar and Sehwag made 12100 runs and established 1850 runs partnership stands.
Tendulkar played only one T20 International in his career, facing South Africa at Johannesburg on December 1, 2006. Incidentally, Sehwag got the opportunity to captain the batting great in that T20 match.
Talking about how Tendulkar helped him and other in captaincy, Sehwag said: "I don't have to tell him because whoever the captain of the team is, his (Sachin's) aims is how he can contribute to help the captain. 
"That was the biggest, would say, a benefit of having Sachin in our team that whoever becomes the captain, be it Dada, Rahul Gandhi, MS Dhoni. I mean, one time during MS Dhoni's captaincy, most decisions he wouldn't go and say directly. 'Lala, go tell him this.' So Lala used to get stuck between them. So I used to say, 'MS don't kill the messenger, I am just passing the message'. Even when I was the captain for one match, he was saying, 'put him here and put him there'," he added.