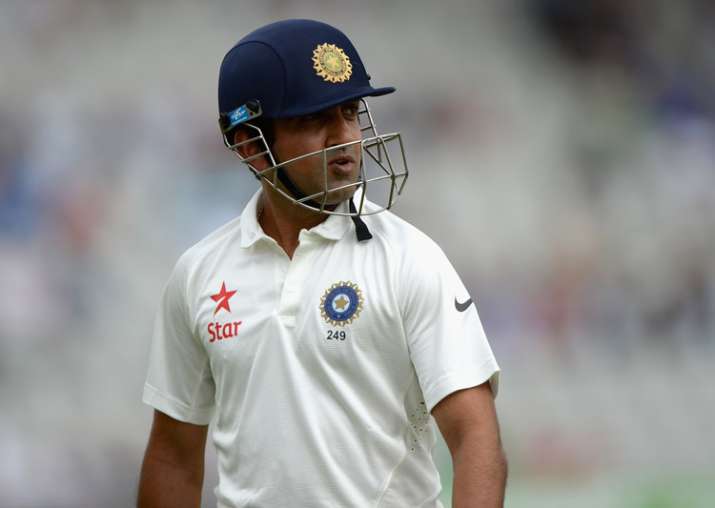 Gautam Gambhir was patience personified while unheralded Kunal Chandela showed maturity beyond years as their twin tons took Delhi to a commanding 271 for three against Bengal on the second day of the Ranji Trophy semi-final on Monday. With Bengal scoring a below par 286 in their first essay, they are sure to concede first innings lead. The only positive aspect for Bengal was the final session where Delhi scored only 51 runs losing three wickets including Gambhir (127 off 216 balls) off Mohammed Shami. 
Gambhir was an epitome of calmness during his 42nd first-class hundred in the company of Chandela (113 off 192 balls), who is playing only his third first-class match. 
The manner in which Gambhir-Chandela duo humiliated a Bengal attack comprising Shami (23.2-3-83-1) and Ashok Dinda (18-2-86-1) looked pedestrian. 
The best part about Gambhir this season has been his attitude. He has remain attached with a goal of guiding Delhi with crucial runs yet remained uninvolved like an isolated island. 
A pull in front of the square followed by a square cut played on the rise off Shami set the tone. 
There was no stopping Gambhir as the sparse crowd egged him on. 
"Gambhir bhai, make Manoj Tiwary chase all the way to the boundary," shouted one. 
When Dinda intentionally threw a ball towards Gambhir on follow through -- all in very bad taste, he simply swayed away from the line and didn't react. 
He hit two back to back boundaries off Amir Gani to reach his hundred. Identical cover drives -- one that raced through the ground and another lofted to reach the milestone in 122 balls. 
When he raised his bat, the Delhi players sprinted down the stairs from the dressing room to give him a standing ovation. 
Once through with hundred, he took fresh guard. 
Chandela, on the other hand, waited for the pitched up deliveries, playing those flowing cover drives while the ones rising from length were defended. 
The six off Gani was majestic and so were the most of his 18 fours during the 232-run opening stand with Gambhir. 
The first 25 overs saw Bengal going for 24 boundaries with B Amit (22-9-47-1) simply not good enough to be the third seamer. 
Chandela hit four boundaries in an Amit over as the pressure was let loose. 
Someone like Shami was also unable to bowl maiden overs. 
With Bengal playing only three and a half bowlers (Amit is an all-rounder), Shami was made to bowl nearly 24 overs, something the Indian team management won't be amused. 
"It's only Ranji Trophy. Don't judge him by this performance," said CAB president Sourav Ganguly about Shami. 
Brief Scores: 
Bengal 1st Innings 286 (Sudeep Chatterjee 83, Navdeep Saini 3/55, Manan Sharma 2/37) vs Delhi 271/3 in 77.2 (Gautam Gambhir 127, Kunal Chandela 113).
(With PTI Inputs)