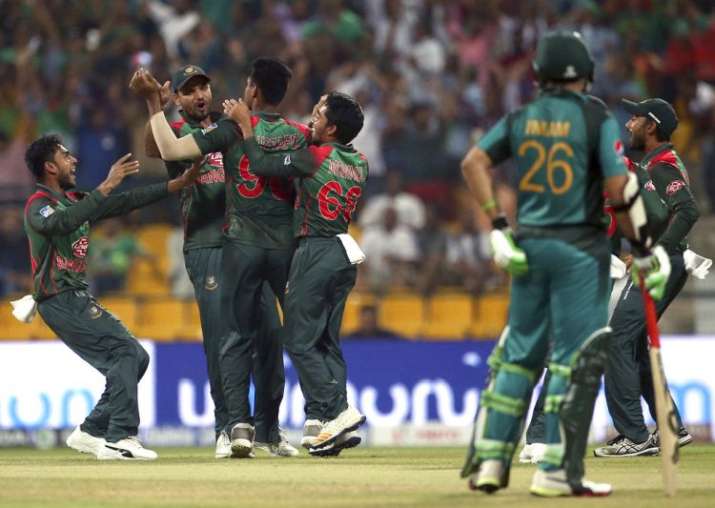 Pakistan vs Bangladesh, HIGHLIGHTS, Asia Cup 2018 in Abu Dhabi:
Pakistan vs Bangladesh, Asia Cup 2018, Super Four, Match 6:
Comfortable win for Bangladesh. Their fourth in a row in ODIs over Pakistan. Who would have thought that? Right from the start of the tournament, the predictions have been an India-Pakistan final. Now, that script has changed. (
SCORECARD
)
PAK VS BAN, ASIA CUP 2018 HIGHLIGHTS FROM ABU DHABI:
01.11 IST: Bangladesh (239) beat Pakistan (202/9) by 37 runs to set up final clash with India. Mustafizur 4/43, Imam 83. Mustafizur Rahman to Shaheen Afridi, no run. A FORWARD DEFENSE to end the game. Full and outside off, Afridi pushes it towards cover. The non-striker wants a single and the throw comes in at his end but misses the stumps. Does not matter.
Bangladesh beat Pakistan by 37 runs and qualify to the Final of Asia Cup UAE 2018. #BANvPAK

— Bangladesh Cricket (@BCBtigers) September 26, 2018
01.00 IST: Mustafizur Rahman to Junaid Khan, no run.
00.53 IST: SIX! HUMONGOUS! This kid can bat. A length ball outside off, Afridi swings it massively over mid-wicket! One of my colleagues, Mr. Polite, reckons that reminded him of the sixes Sourav Ganguly used to hit. Good memory.
00.48 IST: Junaid Khan is the last man in to complete the final rites.
00.47 IST: OUT! Mustafizur removes Mohammad Nawaz for 8. That is a cracking shot but the boundary is very large and the man pouches it in the deep. Pakistan are 9 down. A short ball, around middle, Nawaz gets hold of it and latches onto the pull. The sound made of the bat connecting with the ball is superb but as we have seen in this tournament, the boundaries are way too large. Nawaz gets the height but not the distance. Substitute Nazmul Hossain Shanto settles under it calmly.  Pakistan 186/9, need 54 runs in 29 balls vs Bangladesh (239) in Abu Dhabi.
00.40 IST: Shaheen Shah Afridi walks in at number 10, replacing Hasan.
00.39 IST: OUT! Mustafizur removes Hasan Ali for 8. In the air, in the air, in the air and Bangladesh get one step closer to the final! A short ball on middle, Hasan backs away once again and attempts the pull. But he is done by in the cutter by Mustafizur. He is a master of these. All he gets is a top edge because he is months early into the shot. Mashrafe Mortaza runs to his left from mid on and takes it easily. Pakistan 181/8, need 59 runs in 37 balls vs Bangladesh (239) in Abu Dhabi.
00.36 IST: FOUR! HAMMERED! A length ball outside off, Hasan backs away and slaps it over mid off for a boundary! 59 needed from 40 balls now. PAK 181/7 in 43.2 overs.
00.33 IST: Mahmudullah to Mohammad Nawaz, 1 run. The batsman works it down the leg side. One run added to the total. PAK 176/7 in 43 overs.
00.26 IST: Hasan Ali trudges in at number 9, replacing Imam.
00.25 IST: OUT! Mahmudullah removes Imam-ul-Haq for 83. Another stumping and this time it is Imam! This should be game over for Pakistan now. Beautiful bowling by Mahmudullah who is pumped up. He tosses this one outside off and Imam immediately jumps out, aiming to go inside out. However, he is done in by the flight and misses his shot. But Liton doesn't. He is as cool as a cucumber and takes off the bails in a flash. Imam tries to get back but he is miles out of the crease. Liton is so disappointed with himself over that dropped catch of Asif that he is not even celebrating. Bangladesh can, I guess. The batting side needs 73 from 55 balls with 3 wickets in hand. Pakistan 167/7, need 73 runs in 55 balls vs Bangladesh (239) in Abu Dhabi.
00.20 IST: Mohammad Nawaz is in next.
00.19 IST: OUT! Mehidy Hasan removes Asif Ali for 31. Stumped! Very good keeping. Makes up for his dropped catch by this sharp take. Off spinner lands on middle. It spins a tad as Ali looks to drive this one. Misses it completely, Liton collects the ball and takes off the bails in a flash. They check it up for confirmation and Ali is well short. The end is neigh for Pakistan. Pakistan 165/6, need 75 runs in 64 balls vs Bangladesh (239) in Abu Dhabi.
00.18 IST: Stumped or bowled? Liton Das is not showing his confidence but Asif is walking... referred upstairs.
00.16 IST: Rubel Hossain to Asif Ali, 1 run. Direct hit but Ali is well in. Good backing up for the fielding side. Full and on off, Ali hits it towards mid on and sets off for the run. PAK 165/5 in 39 overs.
00.07 IST: Mashrafe Mortaza to Imam-ul-Haq, No damage done. Good ball. Full and outside off, Imam looks to drive it with force but cannot time it well. Goes straight to the man at mid off.
00.06 IST: An explanation of why that was a no ball. Before the ball was bowled, third man, fine leg, cover, mid on and mid-wicket were inside the circle. But just at the last moment, Mortaza sent third man back. As per the rules, you need to have 5 players inside the 30-yard circle till the 40th over. FREE HIT COMING UP NOW.
00.04 IST: Mashrafe Mortaza to Asif Ali, No ball! There were just 4 fielders inside the ring. Slower ball outside off, touched with soft hands towards point. A quick single results. Free Hit up next!
00.00 IST: Mustafizur Rahman to Asif Ali, no run. Cutter outside off, Ali goes for the drive but misses the ball. 16 runs from the last two overs.  PAK 146/5 in 36 overs.
23.52 IST: SIX! What a hit! Mid off was up and Imam lofts it over him for a biggie. Fuller ball around off, Imam picks it up and lofts it over that region and a maximum. PAK 136/5 in 34.1 overs.
23.51 IST: The skipper, Mashrafe Mortaza comes back for another spell.
23.45 IST: FOUR! So good! Waits for the ball to come to him and cuts it through backward point. The fielder hares behind it but comes second best. PAK 127/5 in 32.4 overs.
23.42 IST: Drinks! PAK need 120 runs in 108 balls at 6.66 rpo. Imam ul Haq is the only hope for the batting side. But how much can a single batsman do? He will need a lot of support from the other end. Hasan Ali too can swing his bat but this partnership will decide the fate. For Bangladesh they know it is just the matter of one wicket.
23.36 IST: FIFTY! Imam-ul-Haq scores his third ODI fifty! Mahmudullah to Imam-ul-Haq, 1 run. He has been a lone warrior in this innings and will need good support from the other end if Pakistan want to win this one. Milks this through mid on to get to the landmark. Pak 115/5 in 31 overs vs Bangladesh (239) in Abu Dhabi.
23.34 IST: FOUR! Beautiful shot! Spoiling his figures but it was a poor ball which deserved the punishment. Short and outside off, Ali rocks back and carves it through cover-point. Boundary.  PAK 113/5 in 30.2 overs.
23.25 IST: FOUR! A short ball, Asif pulls it over mid-wicket for a boundary! PAK 102/5 in 27.3 overs
23.20 IST: Asif Ali is the new man in at number 7, replacing Shadab. The last recognized batting pair for Pakistan.
23.16 IST: OUT! Soumya removes Shadab for 4. Caught down the leg side! Pakistan have now lost half their side. And what delight for Bangladesh - their part-timer has taken a wicket. A short ball, down the leg side, Shadab cannot control his instincts to pull. He goes for the shot but is cramped for room. The ball takes the glove and goes to the keeper who straightaway runs forward in celebration. Snickometer educates us that it is not glove, but a top edge. 146 more needed from 149 balls. MAIDEN ODI WICKET FOR SARKAR AS WELL. Pakistan 94/5 in 25.1 overs vs Bangladesh (239) in Abu Dhabi
23.15 IST: Mahmudullah to Shadab Khan, DIRECT HIT WOULD HAVE HAD IMAM! Terrific fielding. Full and outside off, Shadab drives it through the covers but Soumya Sarkar dives full length to his right and makes a terrific stop. Imam has set off for the single but has to go back. He tries to dive but by that time, Sarkar's throw has come. Luckily for the batsman, it misses the stumps.
23.12 IST: Good news for Bangladesh. Mashrafe Mortaza is back on the field. No signs of Mushfiqur Rahim though. Liton Das is doing the keeping duties.
23.07 IST: Mahmudullah comes back on to bowl. 2-0-11-0 so far.
23.58 IST: Rubel Hossain to Shadab Khan, Around off, on a length, watchfully defended towards mid off.
23.56 IST: Shadab Khan is the new man in.
22.55 IST: OUT! Rubel removes Shoaib Malik for 30. Pick that out! What a screamer. And guess what? Shoaib Malik is out of here. Fuller ball on the legs of Malik. The ball stops a bit which makes Malik flick the ball earlier that he should have. The ball flies to mid-wicket where Mashrafe dives full length to his left and graps it with both hands. What a catch. We have already seen some good catches in this innings and we can add another one to this list. Bangaldesh now have the upper hand as Pakistan need 155 more runs to win. Pakistan 85/4 in 20.1 overs vs Bangladesh (239) in Abu Dhabi.
22.50 IST: Bowling change. Soumya Sarkar to bowl his medium pace.
22.49 IST: Rubel Hossain to Shoaib Malik, 1 run. Malik has worked it off his pads behind square. They pick up a single.
22.41 IST: FOUR! Misses his line and lands this down the leg side. Imam just helps it on it's way to the fine leg boundary. Also brings up the 50-run stand between these two. PAK 70/3 in 17 overs.
22.38 IST: Mahmudullah to Imam-ul-Haq, 1 run. On that off side again, pushed away from the cover fielder to retain the strike.
22.34 IST: Mahmuddullah is brought on to bowl the the break.
22.33 IST: Drinks break. So far so good from Pakistan. They need to do what Rahim and Mithun did for Bangladesh. Take the game deep without losing too many wickets and see how it goes. Malik's wicket will be the key for Bangladesh. Who is your money on?
22.29 IST: Rubel Hossain to Imam-ul-Haq, 1 run. The batsman guides it to third man. They pick up a single. PAK 56/3 in 15 overs.
22.19 IST: FOUR! The pressure was on him. And this looked like it was coming. Charges down the wicket and lofts this length ball from outside off just over the covers. The ball moves along the turf to the fence. PAK 47/3 in 12.5 overs.
22.11 IST: Mashrafe Mortaza to Shoaib Malik, no run. Good from Mashrafe. Just the 1 run from the over. Bowls this close to the off pole, Mailk bunts it down to the off side. The mid off fielder has a shy towards Malik's end seeing him slow to respond. But the latter makes his ground. PAK 38/3 in 11 overs.
22.05 IST: Spin once more. Mehidy Hasan to bowl the final over of Powerplay 1.
21.58 IST: Four! Consecutive boundaries from the willow of Malik. Great shot again! After going for a boundary on the previous ball, the Fizz drops it a touch short. Malik is more than happy to see that length. He gets on top of the bounce with a gentle hop and punches it through the covers. That was more of a forehand winner in Tennis. Consecutive boundaries. 2017 more needed from 254 balls. Malik moves to 12 from 15 balls.
21.57 IST: FOUR! Patience has its own reward. MAGNIFICENT! Great balance. And the timing is exquisite was well. Full and outside off, Malik comes forward, meets the ball on the half volley and drives it with the full face of the bat. Great elbow position too. The ball goes past the bowler and mid off. No chance for either. The stand moves to 11 from 24 balls. PAK 29/3 in 7.3 overs.
21.52 IST: Mashrafe Mortaza to Imam-ul-Haq, 1 run. LBW shout, but not out. Mashrafe does not review. Imam walks across his sticks and the Bangladesh captain bowls it straight. The angle perhaps is taking the ball down the leg side as Mortaza is bowling from around the wicket. Imam misses his flick and is hit on the pads. There is an LBW appeal but it dies down pretty quickly. Hawk Eye shows it to be MISSING LEG. Meanwhile, a leg bye has been stolen. PAKISTAN FINALLY GET THEIR SCOREBOARD MOVING AFTER 12 DOTS ON THE TROT.
21.50 IST: Back-to-back maiden overs from Bangladesh. Mustafizur Rahman to Shoaib Malik, no run. The batsman defends it from within the crease.  PAK 21/3 in 6 overs.
21.43 IST: Skipper time. Mashrafe Mortaza to bowl now.
21.41 IST: Shoaib Malik, RUN OUT, RUN OUT, RUN OUT, BUT MISSED! Oh dear... Mahmudullah is the fielder. Pakistan would have been 4 down in the 4th over. A length ball outside off, Malik pushes this wide of mid off and keeps on running. But Imam is in no mood to respond. He is busy watching Mahmudullah run across to his left. All of a sudden, both batsmen are close to shaking hands with one another and Rahim screams to his brother-in-law to throw the ball but Mahmudullah takes his eyes off the ball at a crucial moment and fumbles. The ball rolls behind and Imam now runs across to the other end. What a lucky break.
21.37 IST: Shoaib Malik walks in at number 5, replacing his skipper.
21.36 IST: OUT! Mustafizur removes Sarfraz for 10. Edged and a fantastic catch has been taken! This game is alive and kicking. If Bangladesh were 12/3, Pakistan are 18/3. Will we see a revival as we saw in the first innings or are Bangladesh smelling victory already? Let us not talk about the future for now. Let us be in the present. This moment belongs to that man - who scored a magnificent 99 with the bat, was tired but still helped Bangladesh recover. This wicket belongs to him. Full and outside off, angling away, Sarfraz chases it away from his body and does not bother to move his feet much. A poor shot and he pays the price. The edge flies behind but so does Mushfiqur Rahim. He goes to his right and takes it brilliantly. The Pakistan captain has come and now the Pakistan captain has gone. Is the Asia Cup gone too? Pakistan 18/3 in 3.3 overs vs Bangladesh (239) in Abu Dhabi.
21.34 IST: FOUR! Wrong line. Down the leg side, Sarfraz tickles it fine, towards the fence behind. There seems to be a fielder but he is very square.
21.29 IST: FOUR! LOVELY! The captain is off the mark in grand fashion. A bit of a half volley, outside off, Sarfraz comes forward and drives it through the covers. No stopping that.
21.27 IST: The captain, Sarfraz Ahmed, walks in at number 4, replacing Babar.
21.26 IST: OUT! Mustafizur removes Babar Azam for 1. LBW! Second wicket down for Pakistan and the Bangladesh fans are on fire!!! Terrific bowling. Mustafizur lands this on a length, around the line of the stumps, one would suppose. Babar is back in his crease to try and defend that but the ball skids off the surface and pings him on the back pad. Mustafizur, Mushfiqur and perhaps the whole of Bangladesh appeal. The umpire thinks for a while and then raises his finger! Babar walks over to Imam, has a bit of a chat but then, is on his way. No review taken. Hawk Eye shows that to be pitching in line and going on to clip the off stump. Umpire's call would have been the verdict if the review had been taken. Boy o boy, the Men In Green are on top. Which one? You definitely know. Pakistan 3/2 in 1.2 overs vs Bangladesh (239) in Abu Dhabi.
21.22 IST: Babar Azam is the new man in.
21.21 IST: OUT! Mehidy Hasan removes Fakhar Zaman for 1. In the air... taken! What a catch! That was travelling and Rubel has plucked that out of thin air. Take a bow! Bangladesh are up and running as they have got rid of the dangerous Zaman in the first over itself. Once again he falls prey to a spinner. He uses his feet and gets to the pitch of the ball. Hits it hard but uppishly towards mid on. He must have thought boundary as soon as he hit it, but it wasn't to be. Hossain there, times his leap to perfection and hangs onto it. Falls onto the ground after taking it. Fakhar Zaman walks back in disbelief and once again he does not trouble the scorers a lot. Pakistan 2/1 in 0.5 overs vs Bangladesh (239) in Abu Dhabi.
21.15 IST: We are back for the chase! The openers, Fakhar Zaman and Imam-ul-Haq make their way out to the middle. The former will be on strike and he will be facing a spinner first up. Mehidy Hasan has the first new ball in his hand. Here we go.
20.50 IST: Bangladesh all out for 239 in 48.5 overs against Pakistan in Abu Dhabi. Mushfiqur 99, Junaid 4/19. Mashrafe Mortaza OUT! BANGLADESH HAVE BEEN BOWLED OUT FOR 239! A good comeback in the death from Pakistan. Slower one again, Mortaza swings and miscues it as he doesn't judge it right. It skies towards Zaman at long on who settles under the ball and takes a safe catch.
Bangladesh set a target of 240 for Pakistan. #BANvPAK

Watch the Asia Cup 2018 LIVE on :https://t.co/WZBeMEDq5Z (Only for Bangladesh)

To get Livescore update click: https://t.co/gNDk95RFTt and start saying 'Hi' pic.twitter.com/KfkakBW8dx

— Bangladesh Cricket (@BCBtigers) September 26, 2018
20.49 IST: Mustafizur Rahman is the last man in.
20.48 IST: OUT! Rubel run out for 1. The overs are finishing up, so the batsmen decided to take the risk. Didn't pay off on this occasion though. Rubel pushes this to the left of the bowler and both take off. Hasan Ali collects the ball, turns and has so much time to run back that he easily gets to the stumps and takes the bails off. They cross over so Rubel is the one who departs.  Bangladesh 239/9 in 48.4 overs vs Pakistan in Abu Dhabi.
20.45 IST: SIX! The first six of the boundary come from the bat of the skipper. That's outta here! First maximum of the game and it's come off Mashrafe Mortaza's bat. The boundaries are big here but he's still managed to clear it. The off cutter on off, Mortaza backs away and gives everything he has on it. Gets it right off the meat and just about clears wide long on.  BAN 238/8 in 48.2 overs.
20.43 IST: Rubel Hossain next in for Bangladesh.
20.42 IST: OUT! Junaid Khan removes Mahmudullah for 25. Bowled 'em! Junaid with another wicket. Started well and now finishing strong. Comes charging in and angles in a fuller delivery on off, Mahmudullah swings across the line and the ball skids right through. Takes the off stump for a walk and brings an end to the dangerous Mahmudullah's stay.  Bangladesh 230/8 in 47.3 overs  vs Pakistan in Abu Dhabi.
20.37 IST: A slight halt in play as Mortaza has called for a different pair of gloves.
20.31 IST: The skipper, Mashrafe Mortaza, is the next batsman in.
20.30 IST: OUT! Junaid Khan removes Mehidy Hasan for 12. Straight to the man and Mehidy departs! Junaid gets his 3rd of the evening. Continues from around the wicket and keeps it full on middle and off. Hasan flicks it towards short mid-wicket but can't keep it down. Into the hands of Shan Masood (sub) who takes an easy catch. Another timely breakthrough for Pakistan.  Bangladesh 221/7 in 45.2 overs vs Pakistan in Abu Dhabi.
20.27 IST: Hasan Ali to Mehidy Hasan, 1 run. Short of a good length outside off, Mehidy rises on his toes to punch it on the up but gets a bottom edge behind square on the off side. Steals a quick run. BAN 221/6 in 45 overs.
20.22 IST: Hasan Ali comes back on.
20.19 IST: FOUR! Short and flat outside off, Mehidy Hasan is on the back foot to cut and executes the shot well too. Places it through point and sends it across the boundary line.
20.17 IST: FOUR! That's crunched! A lot of power on that from Mahmudullah. Full and angling in on off from around the wicket, the batsman stays leg side, goes inside out and hammers it through the covers. The sweeper can't get to it, it's hit that powerfully. Super shot.
20.15 IST: Mehidy Hasan is the new man in.
20.14 IST: OUT! Shaheen Afridi removes Rahim for 99. Rahim misses out on a magnificent hundred. Heartbreak for the little man, he fully deserved it. Full and just outside off, it shapes away ever so late, ever so little. But, it's enough to do Rahim in. He comes forward to drive it through the covers but gets a feather behind. Sarfraz behind takes a regulation catch and dismisses his opposite number. A good knock though from Mushfiqur, has done a wonderful job for his side yet again, even if he would be feeling disappointed having missed out on scoring big. Bangladesh 197/6 in 41.4 overs vs Pakistan in Abu Dhabi.
20.12 IST: FOUR! Moves to 99 with that! Streaky runs, but he'll take it all the same. Length ball outside off, Rahim hangs his bat out and it goes through the vacant slip cordon. Sarfraz dives to his right but can't reach it. Boundary results.
20.02 IST: Shadab Khan to Mushfiqur Rahim, In the air... but lands in no man's land! A full toss on middle, Rahim goes for the slog sweep but the ball takes the top edge. Due to the big grounds here, difficult for a mistimed shot to carry to the fielder in the deep. It lands well short of the long on fielder and the batsmen take two. BAN 178/5 in 38.2 overs
19.56 IST: FOUR! Welcome back into the attack. It is a poor ball to start with, short and it sits up to be hit. Rahim goes back quickly and pulls it over mid-wicket and the ball races away. He now is 15 short of a ton. BAN 173/5 in 37.1 overs
*Mahmudullah is the new man in. Mohammad Nawaz is back on. Spin from both ends now.
19.51 IST: OUT! Shadab removes Kayes for 9. A huge appeal and it has been given! The bowling change has worked wonders as Shadab Khan has struck on the very first ball of his new spell. Two wickets in quick succession here and Bangladesh have half their side back in the hut. It is the leg spinner from the leggie around off, it pitches and turns back in a touch. Kayes tries to work it with the turn but misses. The ball hits him on the back pad. The players appeal and the umpire agrees. Kayes walks upto Rahim and has a chat but then does not review. Rightly so as that looked out and Hawk Eye confirms that. The hero of the last game walks back cheaply. Bangladesh 167/5 in 36.1 overs vs Pakistan in Abu Dhabi
OUT! Kayes lbw b Shadab Khan 9(10). Bangladesh: 167/5 (36.1 ov). Live Updates: https://t.co/Vk5r5y4dig #PAKvBAN #AsiaCup2018 #HarSaansMeinBolo pic.twitter.com/a8rdP5OsXF

— PCB Official (@TheRealPCB) September 26, 2018
19.44 IST: FOUR! Just over! Kayes has come out with intent here! You give him room, he will go after it. This was on a length outside off, Kayes goes after it. Hits it uppishly but over the cover fielder for a boundary. BAN 161/4 in 34.4 overs
19.42 IST: Imrul Kayes is the new man in. He played an excellent innings in the last game. Something of the same is what Bangladesh would hope.
19.38 IST: OUT! Hasan Ali removes Mithun for 60. CAUGHT AND BOWLED! Hasan Ali has broken the 144-run stand. Releif for Pakistan, they needed this wicket and this should probably lift their body language a little now. Bangladesh 156/4 in 33.4 overs vs Pakistan in Abu Dhabi
*Hasan Ali is back on.
19.30 IST: FOUR! Stand and deliver! Excellent shot! It is slightly short on off, Mithun picks the length early and pulls it over wide mid-on. No one in the deep and the ball crosses the fence. Spoils a very good over. BAN 150/3 in 32.2 overs
19.25 IST: Bangladesh are motoring along quite well at the moment. They have two set batsmen out there and the run rate is also fine. Pakistan on the other hand, need wickets or they will be staring down a big target here.
19.22 IST: Time for Drinks!
19.19 IST: Junaid Khan to Mohammad Mithun, no run. Angling in on leg, worked behind square on the leg side defensively. Tensions are rising, much like the temperature, in the middle. There's an exchange of words between Junaid and Mithun. Nothing seems too serious though, not yet anyway.
19.15 IST: Sarfraz is once again seen having a word with the umpires. He has a problem with Rahim taking constant breaks. Probably has a point too, as Mushfiqur has been doing it after every over for the past 4-5 overs.
19.11 IST: FIFTY! Mohammad Mithun hits 2nd ODI half-century off 66 balls. FOUR! Brings it up in style too. Short ball, he rises, gets on top of the ball and pulls it with aplomb through the mid-wicket area, beating the man in the deep. Superb stuff. He'll want to carry on and score a big one. Bangladesh 135/3 in 28.4 overs  vs Pakistan in Abu Dhabi.
19.10 IST: Top edge and FOUR! Hasan Ali has been a bit unlucky through this innings so far. Banged short and Rahim gives the charge. Takes the pull on and it goes off the top edge over Sarfraz's head for a boundary.
19.10 IST: With the whole world having a go at Sarfraz' captaincy, VVS Laxman on air has a soft corner for him. He reminds us all that cricket is a team game - not just dependent on one person. 'What is Shoaib Malik doing? What is Babar Azam doing?' He stresses further that a good team has excellent core players. The seniors need to come in with their thoughts and help their skipper with ideas and suggestions. Meanwhile, Sarfraz is not too happy with Rahim constantly taking breaks. He is getting visibly irritated. Probably, the umpires will take a call if the number of breaks increases.
19.08 IST: Junaid Khan to Mohammad Mithun, no run. Another length ball and another defensive shot presented. End of the over. BAN 126/3 in 28 overs.
19.03 IST: Junaid Khan is back. He was phenomenal in his first spell. Will he be the one to break this partnership?
19.01 IST: FOUR! Sort of deliberate. Short of a length outside off, Rahim tries to guide it down, does so but it's too fine. Off the edge and across the third man fence for a boundary.
19.00 IST: Hasan Ali returns to the attack.
18.57 IST: Rahim is seen getting some treatment from the physio. Seems like a cramp in his hammy. The Pakistan players use this opportunity to get some fluids in.
18.55 IST: Mushfiqur Rahim Not out! Short and flat outside off, Rahim cuts it square through point and comes back for the second. The throw comes in at the keeper and he takes the bails off as Rahim slides his bat in. It's taken upstairs and it shows the batsman has made it in quite comfortably.
18.53 IST: Run out appeal referred. Mushfiqur Rahim the man in the limelight. He looks safe though.
18.50 IST: FIFTY! Mushfiqur Rahim hits half-century off 68 balls. Shadab Khan to Mushfiqur Rahim, 1 run. 30th ODI fifty for Mushfiqur Rahim! Another superb knock when his team was in deep trouble. Always stands up and is counted. Terrific player. Gets to the milestone by easing it down to long on and changing ends.  Bangladesh 108/3 in 25.1 overs  vs Pakistan in Abu Dhabi.
18.48 IST: Mohammad Nawaz to Mohammad Mithun, 2 runs. Smacked through the mid-wicket region this time. Big gap out there, so two more taken.
18.40 IST: Mohammad Nawaz to Mushfiqur Rahim, 1 run. Top edge and it's fallen safely! Mushfiqur gets low to bring out the slog sweep. Gets a top edge as he goes against the spin and luckily for him, it falls between the two mid-wicket fielders - one inside the ring and one in the deep. A single results.
18.32 IST: Shadab Khan to Mushfiqur Rahim, 2 runs. And now, Rahim cuts this very short ball through point and bags a brace. Good fielding the deep by Afridi as he makes a sliding stop.
18.25 IST: Mohammad Nawaz is back on.
18.16 IST: FOUR! 50-run partnership for Mushfiqur and Mithun. Clever, very clever. Again, the key here is, he gets into the position early and reverse sweeps it very fine on the off side and the ball races away. Not letting Shadab settle here is Rahim and rightly so. Also, a timely stand this, they were in big trouble when the two joined association and now slowly the duo is taking Bangladesh out of trouble.
18.13 IST: DRINKS! So Pakistan on top after the first 15 overs. They managed to take three early wickets but since then, Rahim and Mithun have done well to steady the ship. The two are playing sensibly and Bangladesh would want them to continue.
18.11 IST: FOUR! Slapped! An excellent way to end the over! This was short and it was asking to be hit. Mithun does exactly that as he hits it hard through covers and the ball races away. 43 is now the partnership between the two.
18.08 IST: Shoaib Malik is into the attack. A strange bowling change to be honest, with two right handers out there getting off an offie, not something you see often.
18.07 IST: Hmmmm... two sweeps by Mushy in that over. Not quite happy, is Dean Jones on air. He observes that strangely, batsmen sweep a lot in Dubai but not here. Rahim has tried to do that a bit so far with some success. The longer he bats, the more brooms shall we see, I daresay.
18.04 IST: FOUR! Premeditated and it comes off really well! Even before the ball was delivered, Rahim walks across. Nawaz fires it on the stumps, Rahim goes down one one knee and sweeps it over backward square leg for a boundary. BAN 45/3 in 13.2 overs.
17.55 IST: EDGED AND FOUR! Not good captaincy this, there should be a slip in place, especially with the opposition in trouble. Hasan bowls it around off, it swings away a touch. Mithun goes for the booming drive but gets an outside edge through the vacant slip cordon for a boundary. BAN 35/3 in 10.5 overs.
17.49 IST: Mohammad Nawaz Not Out! As expected, it's clearly going down leg. Poor call from the skipper Safraz to even discuss the review, let alone take it. Sliding in on leg and it keeps going down with the angle, Mithun looks to put bat on ball but doesn't make connection and is hit on the pads. An appeal follows but the umpire doesn't bother. Sarfraz speaks with Nawaz and after some thinking, the 'T' is signalled. Strange. Replays roll in and show the ball is missing the leg stump by a big margin. Pakistan lose their only review.
17.47 IST: The DRS is taken by Pakistan. It's for an lbw call and Mohammad Mithun is the man in question. Looks to be going down to the naked eye. Might be a poor call. Let's see...
17.46 IST: Second change made as Mohammad Nawaz is into the bowling attack as well.
17.44 IST: FOUR! Shot. Too full and well outside off, Rahim has no problems putting it away. Drives it sweetly through the gap in the covers and finds the fence with ease. BAN 24/3 in 8.3 overs.
17.42 IST: Hasan Ali into the attack now.
17.40 IST: FOUR! Up and over! That shot will relieve a lot of pressure. Short ball outside off, width offered and Rahim latches onto it. Free his arms and lofts it over backward point for a boundary.
17.33 IST: Shaheen Afridi to Mohammad Mithun, no run. Mithun hangs back inside the crease and offers a firm punch into the off side. Dot ball.
17.26 IST: Mohammad Mithun to bat next. He walks in with his side in trouble.
17.25 IST: OUT! Junaid Khan removes Liton Das for 6. Wow. That's beautiful bowling. Superb stuff. The change in angle does the trick. What a ball. Junaid angles it in but then gets it to straighten up significantly. Das plays down the wrong line and that becomes his undoing. The ball whizzes past the off stump and much like with Mominul, his off stick goes flying behind. Superb delivery. This is the kind of spark Pakistan were seemingly lacking in the previous games. Bangladesh 12/3 in 4.2 overs in Abu Dhabi.
17.20 IST: Mushfiqur Rahim is the next batsman in.
17.19 IST: OUT! Shaheen Afridi removes Mominul for 5. That's what you call a response! Terrific stuff from the left-arm pacer. Got hit for a boundary of the previous delivery and responds by knocking his stumps over. Bowls it a touch fuller than a length and brings it in, it's at a decent pace but the movement does him in. It goes past the inside edge of Haque's bat, raps him on the pads and deflects onto the off stump behind, uprooting it. Bangladesh rocked early yet again.  Bangladesh 12/2 in 3.5 overs in Abu Dhabi.
17.18 IST: FOUR! First boundary of the day! Super shot from Mominul Haque. Too full and quite straight from Shaheen Afridi, easy enough for the left-hander to lean ahead nicely and flick the half-volley through the mid-wicket region for a boundary.
17.16 IST: Mominul Haque walks in at no.3.
17.15 IST: OUT! Junaid Khan removes Soumya Sarkar for 0. GONE! That's the first wicket down for Bangladesh. Junaid Khan strikes on his return to the XI, good start for him, not so much for Soumya Sarkar who's gone for a duck on his comeback into the side. Short ball around off, rising on the batsman too quickly and the pace probably gets him too. He take on the pull shot and gets a top edge. It balloons towards mid-wicket where Fakhar Zaman comes in a few paces and takes a simple catch.  Bangladesh 5/1 in 2.5 overs in Abu Dhabi.
17.10 IST: Shaheen Afridi to Liton Das, no run. Quite straight in line, tucked in front of square leg to end the over. A maiden to start with for Shaheen. BAN 3/0 in 2 overs.
17.05 IST: Shaheen Afridi to bowl from the other end with the second new ball.
17.00 IST: Done and dusted with the national anthems and the players make their way out to the middle. Liton Das and Soumya Sarkar are the openers for Bangladesh. The former will be on strike and he will face Junaid Khan who has the first new ball in hand. A slip in place for him. 
16.40 IST: Playing XIs
Pakistan: Imam-ul-Haq, Fakhar Zaman, Babar Azam, Shoaib Malik, Sarfraz Ahmed (WK/C), Asif Ali, Shadab Khan, Mohammad Nawaz, Hasan Ali, Junaid Khan, Shaheen Afridi
Bangladesh: Liton Das, Soumya Sarkar, Mohammad Mithun, Mushfiqur Rahim (WK), Mominul Haque, Imrul Kayes, Mahmudullah, Mashrafe Mortaza (C), Mehidy Hasan, Rubel Hossain, Mustafizur Rahman
16.35 IST: Captain's Corner:
Sarfraz Ahmed: The conditions get different later in the night. But if you have wickets in hand, you can chase whatever the score is. I have asked the batsmen to play positive cricket, hopefully we bat well today. They have a good batting line-up. We'll try to get them out early and chase it down later. Junaid Khan comes in for Mohammad Amir.
Mashrafe Mortaza: We would like to bat first. Looks a good wicket to bat on. Last match we lost many wickets in the middle overs but number 6 and 7 batted so well. Hopefully we get a good start today. We have been struggling with the top order but hopefully we'll do well today. Sarkar comes back into the side. We have quite a few changes, Shanto is not playing. Rubel is back into the side. Big loss is that Shakib is not playing as he fractured his finger, hence Mominul comes in. Fans have been supporting througout the tournament.
16.30 IST: TOSS! Bangladesh win toss and opt to bat against Pakistan
Brief Preview: 
After a scary nine-wicket defeat against India, Pakistan are all geared up to face Bangladesh in the last match of Super four stage in Asia Cup 2018. The clash is to considered as the virtual semifinal of the tournament as whoever wins the match will face the undefeated Indian team in the finals of the tournament.
Pakistan team are going through a rough phase in Asia Cup as they lost both of their clash against arch-rivals India and are very low on confidence. While Bangladesh side has recently defeated Afghanistan in the last over thriller so that will surely give them boost in the upcoming clash.