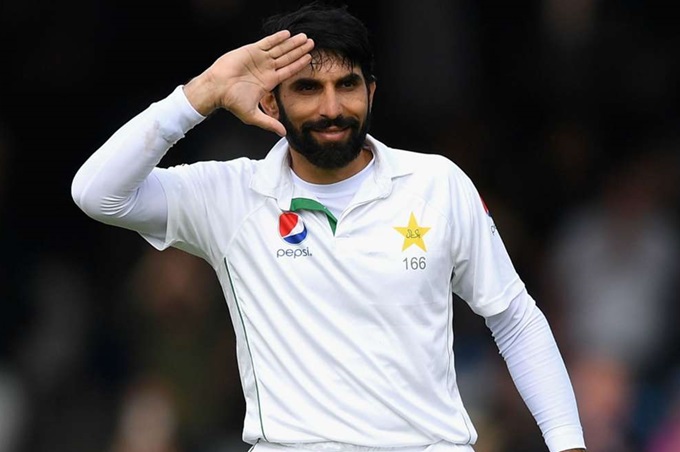 Pakistan's cricket captain Misbah-ul-Haq has won the 'Spirit of Cricket Award' for inspiring his side to play the game in its true spirit, the International Cricket Council (ICC) said in a statement today.
The 42-year-old Misbah was adjudged the winner for lifting the Pakistan cricket team from number four to number one on the Test team rankings. It was achieved without playing any Test matches in his home country.
Misbah is the first Pakistan player to win the award with the previous winners being M.S. Dhoni (2011), Daniel Vettori (2012), Mahela Jayawardena (2013), Katherine Brunt (2014) and Brendon McCullum (2015). New Zealand also won this award in 2004, 2009 and 2010, England in 2005 and 2006, and Sri Lanka in 2007 and 2008.
Commenting on the news, Misbah said: "I feel honoured and humbled to have won the ICC Spirit of Cricket Award. To lift the Test mace earlier this year and now this in the twilight of my career, is a message for every athlete that age is not a barrier as long as the sportsperson maintains highest fitness levels and continues to perform up to international standards.
"As a team, we have focused on playing within the rich traditions of the sport with a positive mindset and approach so that we can entertain the spectators and fans, and at the same time, challenge the oppositions. I am glad that this has been noticed and recognised by the game's governing body."
Besides Misbah, Marais Erasmus won the David Shepherd Trophy for the Umpire of the Year for 2016, the ICC statement said.
Erasmus was voted by the International Cricket Council's (ICC) elite panel match referees as well as the Test playing captains, and he beats off strong competition for this award from his colleagues Richard Illingworth, Bruce Oxenford and Richard Kettleborough.
Erasmus is the fifth umpire to win this prestigious award after Simon Taufel (2004 to 2008), Aleem Dar (2009-2011), Kumar Dharmasena (2012) and Richard Kettleborough (2013-2015).
Erasmus, 52, made his international debut in October 2007 in a One-Day International (ODI) between Kenya and Canada at the Nairobi Gymkhana and was promoted to the elite panel in 2010.
(With IANS inputs)