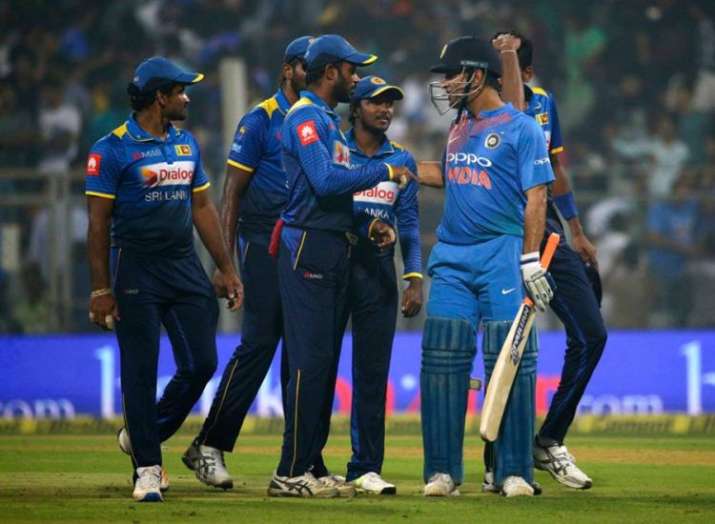 A 3-0 whitewash is what India have inflicted on the Sri Lankan side. After two lopsided victory we have finally witnessed a close encounter, a last over finish. Defending a target of 136 they needed to bowl really well and they did exactly that. Chameera and Akila were excellent in the Powerplay and did not give a lot away. Chameera also managed to take the early wicket of KL Rahul. The continued to do well after the first 6 overs with India needing 80 in the last 10 with 8 wickets in hand.
But then a 42 run stand between Iyer and Pandey put India in command. Though the former was run out in an unfortunate manner, the latter continued playing his shot alongside Pandya. With 37 needed of 31 it seemed the home side will cruise to victory but two quick wickets for the Lankans gave them some hope. But it was all diminished by the pair Karthik and Dhoni who sealed it in the last over. (SCORECARD)
HIGHLIGHTS, INDIA VS SRI LANKA, 3RD T20I AT MUMBAI
22.28 IST: Manish Pandey (32) and Shreyas Iyer (30) impressed in the low scoring thriller as India beat Sri Lanka by five wickets to complete 3-0 whitewash.
22.27 IST: FOUR! Dhoni finishes it off in style! A full toss on the leg stump by Perera, Dhoni flicks it through square leg for a boundary. INDIA WIN BY 5 WICKETS!
22.24 IST: SIX! The bowler took a good 2 minutes to have a chat with his skipper before this ball and did a lot of fielding placement talk. After all that and all the thinking put into it, he ends up serving a full toss! Poor, very poor from Pradeep. He comes running in and bowls a high full toss. Not many would miss out on those and Karthik dispatches it over the mid-wicket fence for a biggie. 3 needed off the last over.
22.19 IST: Nuwan Pradeep is back into the attack.
22.18 IST: IND 121/5 in 18 overs. A dot to finish! Precious, precious at this stage. Perera drags his length back outside off, Dhoni defends it towards covers. He thinks off a run but after seeing the fielder get to it quickly he opts against. 15 off the last two.​
22.13 IST: NOT OUT! It is going over the stumps! A review in hope I feel by the Lankans. Chameera bowls it on a length on off, shapes in after pitching. Dhoni foes for the flick but misses. The ball hits him on the pads and the players appeal but the umpire shakes his head. Sri Lanka immediately review and the replays roll in. There is no inside edge on Ultra Edge but Hawk Eye shows the ball to be going over the stumps. The on-field call stays.
22.12 IST: REVIEW A huge appeal for LBW against Dhoni not given! They have reviewed it straightaway as it will be a big wicket. Height might be an issue though.
22.10 IST: FOUR! Streaky! Even if Dhoni intended it, it was never meant to be hit so fine. Chameera bowls it on a length around off, gets it to straighten. Dhoni tries to guide it down to third man but the ball goes off the edge to the right off the keeper. Dickwella puts in a full length dive but is not able to reach it.
22.06 IST: MS Dhoni walks out to bat. 28 from 23 needed. Can he finish it?
22.05 IST: WICKET! BOWLED 'EM! Chameera strikes! He has been excellent today. He comes running in and lands it on a length around off, gets it to jag back in. Pandey with no foot movement, tries to flick it through the leg side. He leaves a big gap between bat and pad. The ball sneaks through and hits timber. The set Manish Pandey is walking back and Chameera is elated. A good innings by Pandey comes to an end. Two new batsmen at the crease now just what Sri Lanka wanted. 28 from 23 needed.
22.03 IST: FOUR! SLAPPED! A short ball, not the delivery you want to be bowling at this stage. Pandey stands tall and slaps it through covers. The outfield here is lightning fast which gives the sweeper cover fielder no chance.
21.59 IST: WICKET! No Pandya fireworks this time. CAUGHT BEHIND! A big wicket, Sri Lanka are not letting India get away. After being hit for two boundaries in the over, Shanaka gets a breakthrough. He bangs it in short outside off, Pandya tries to be cheeky as he plays the upper cut. The ball goes off the toe-end and into the gloves off the keeper. Pandya starts walking as he knew he has edged it but the umpires ask him to wait as they go upstairs to check for the no ball and replays show the front foot is fine. Hardik is not happy with himself and the Lankans are ecstatic. 38 needed now from 30.
21.54 IST: FOUR! Dasun Shanaka to Manish Pandey, Too easy! Short at 124 kph, it sits up to be hit. Pandey rocks back and pulls it through mid-wicket for a boundary.
21.51 IST: Hardik Pandya walks out at no. 5.
21.50 IST: WICKET! Shreyas Iyer run out (Akila Dananjaya). Very unfortunate way of getting out for Iyer! Akila drags his length back on the stumps, Pandey rocks back and hits it hard towards the bowler. Iyer was backing up a long way as Dananjaya gets his finger tips to the ball and it deflects back to the stumps. The bowler appeals and the umpire raises his finger as Iyer starts walking back. A big-wicket, just when this partnership looked to take away the game from the Lankans. 55 needed now from 40. Game on! IND 81/3 in 13.2 overs
21.39 IST: Dasun Shanaka to Shreyas Iyer, SIX! BANG! A much-needed one. First boundary after 29 balls. Shanaka bowls a full ball on off, right in the zone for Iyer. He just lofts it over long off for a biggie. Rohit Sharma in the dressing room loved that shot. 64 needed of 48. IND 72/2 in 12 overs
21.35 IST: NOT OUT! Excellent running! Akila bowls a short ball on middle, stays a touch low. Iyer pulls it towards deep mid-wicket. He runs a single and then goes for the second. The fielder fires a throw to the keeper who whips the bails off and appeals. Iyer seems to be in but the umpire still takes it upstairs. Replays show that Shreyas has made it in quite comfortably.
21.33 IST: The have gone upstairs for a run out appeal against Iyer. He seems to be in though but just to be sure.
21.27 IST: Thisara Perera is back on.
21.26 IST: Dasun Shanaka to Shreyas Iyer, Much better. Waits for the ball to come to him and dabs it to third man for a single. 50 up for India but it has taken a long time to come. 86 more needed from 66 balls. IND 50/2 in 9 overs.
21.20 IST: FOUR! Nuwan Pradeep to Manish Pandey, That nearly gets him! Fine delivery. Pitched outside off and jags back in, Pandey is caught in his crease as he looks to flick. The ball goes off something and dies on its way to Niroshan Dickwella. He dives to his left but misses the ball as it kisses its gloves enroute the fence behind. Was that bat? Nope. Hit the pad. 89 more needed from 73 balls now.
21.16 IST: WICKET! Rohit Sharma departs for 27 runs. The bounce does the trick again. Shanaka bangs it in short and the Indian captain goes for the pull. He is cramped a bit for room and miscues it to deep mid-wicket. Kusal Perera is stationed at the boundary and it should have been a fairly simple catch but somehow he misjudges it. Eventually he takes it at the last moment, needing to dive forward for the catch. Do Sri Lanka believe? Not a bad start at all. India need 97 from 78 balls.
21.08 IST: Thisara Perera to Shreyas Iyer, Comes back in a long way, Iyer falls over in his attempt to flick and is hit on the pads. Thisara appeals a bit late but the umpire shakes his head. SL 26/1 in 5 overs
21.06 IST: Thisara Perera to Rohit Sharma, FOUR! TAKE THAT! Welcome into the attack, mate! Short and wide outside off, gentle gentle gentle loosener but Rohit is not at all gentle. Smashes that through point and gets a boundary.
21.03 IST: Shreyas Iyer walks in at number 3, replacing Rahul.
21.00 IST: OUT! Umpire's call it is and the decision stays! Wow. India have lost a wicket. That looked so, so not out to the naked eye. Pitched outside off, coming in a long way, hitting the batsman almost around leg stump. Rahul missed his flick and was hit on the pads. Chameera kept on appealing and eventually the umpire raised his finger. Even on the replays, it seems like the ball will go past the leg stump. But, Hawk Eye shows the ball to be clipping the top of leg stump, which means umpire's call. Rahul will consider himself unlucky. One of those rare LBW reviews where a batsman takes instantaneously, without even consulting his partner. Early strike for Sri Lanka. IND 17/1 in 3.2 overs
20.58 IST: REVIEW Rahul has been adjudged LBW! He seems confident though that it is not the right decision as he has reviewed it straightaway.
20.55 IST: SIX! Rohit lights up Wankhede Number 65 for Rohit in 2017 across formats. This is another leggie, outside off but this time Rohit is to the pitch of the ball. Hits it cleanly through the line and gets it over long off! IND 16/0 in 2.5 overs
20.54 IST: FOUR! Not pretty well hit but he finds the gap. Floated on off, seemed to be a leg break, Rohit got down and slog swept it over mid-wicket. His intention was much squarer but he will take the boundary. 127 more needed from 106 balls now.
20.50 IST: Dushmantha Chameera to bowl from the other end.
20.49 IST: Rohit Sharma DROPPED! Dananjaya nearly had his man. He bowled a leg spinner this time and Rohit was down the track again. He hit this very hard but back to the bowler. The bowler leaped with all his might but the ball brushed only his fingertips and went to mid off. Very difficult chance. But a very good over from the spinner. IND 3/0 in 1.0 overs
20.47 IST: Akila Dananjaya to Rohit Sharma, How is he not bowled? On most pitches, that would have hit the timber. The googly on middle, Rohit looks to defend but leaves a truckload of a gap between bat and pad. The ball sneaks through but bounces over the stumps!
20.45 IST: A spinner to start off proceedings again for Sri Lanka. Akila Dananjaya has the new ball in his hand and he will bowl to Rohit first up.
20.44 IST: The players are already back out in the middle. They already seem dejected, the Lankans. Hopefully, they provide a fight with the ball. Out come the Indian openers, amidst some cheers from the crowd. Rohit Sharma and Lokesh Rahul walk out to the middle. A challenge for them would be to win by 10 wickets. Possible? Let us find out...
20.34 IST: Jaydev Unadkat (2/15), Hardik Pandya (2/25) help India restrict Sri Lanka to modest 135/7. Mohammed Siraj to Dasun Shanaka, Full and outside off, driven wide of long off for a couple. Sri Lanka finish on 135/7!
20.33 IST: SIX! Colossal hit! Wow. This was a beauty. A short ball outside off, Shanaka gets underneath it and swings it over long on for a biggie!
20.30 IST: SL 117/7 in 19 overs
20.22 IST: Akila Dananjaya walks in. India still in with a chance... to pick up 3 wickets inside the remaining 15 balls...
20.21 IST: WICKET! Caught! No fifty for Asela. It is a short ball and should have been put away but Asela has been struggling with his timing on the short balls entire innings. This is around middle and off, Gunaratne looks to pull but is beaten by the extra bounce. He miscues it in the air and Kuldeep Yadav runs to his right from short mid-wicket. Gets to the ball before it makes contact with the ground and cups the catch. Ohh... Hardik is pumped up now. Finally we see some celebration. SL 111/7 in 17.3 overs
20.15 IST: Jaydev Unadkat is back on.
20.14 IST: SIX! Ho ho ho! Finally a biggie for the night! We saw plenty in the second game but this is the first in this one. Full and outside off, Shanaka reaches out and lofts it cleanly over extra cover for a flat six! Sri Lanka need to do what Shoaib Malik did a few hours ago... SL 106/6 in 16 overs
20.10 IST: Hardik Pandya is back on.
20.04 IST: NOT OUT Kuldeep Yadav to Asela Gunaratne, NOT OUT. Umpire's call! A good review though. Tossed up around off, Gunaratne gets across to flick and the ball goes off something to short fine leg. Kuldeep appeals and even puts in an extended appeal. But the umpire stays put. He then signals a leg bye and now the bowler wants the review. He is seconded by Dhoni and sure enough, it does look extremely close in replays. The height saves Asela. Clipping the top of the stumps.
20.02 IST: REVIEW Howzzat? Kuldeep reckons he has his man. Rohit takes the review for LBW against Gunaratne. 
19.59 IST: WICKET! Soft dismissal. Sorry, ANOTHER soft dismissal. A nothing ball, a nothing shot to complement that. Full and on middle and leg, Thisara clips it uppishly but it is straight to his counterpart at short mid-wicket. Thank you for coming. Siraj is overjoyed. He picks out skippers, doesn't he? Williamson the other night in his first T20I against New Zealand and Thisara tonight. SL 85/6 in 13 overs
19.53 IST: Finally, skipper Thisara Perera comes on to bat, at number 7, replacing Gunathilaka.
19.51 IST: WICKET! Kuldeep Yadav claims his second wicket. Catching practice continues. The Sri Lankan batsmen are giving good audition to be fielding coaches. Remember those good old coaches giving fielding practice to players before the game begins? These lads are giving an extension to the Indian fielders. Full and on the stumps, Gunathilaka gets down and sweeps it hard, really hard. But straight to Hardik Pandya at the mid-wicket fence. No celebration from Pandya, in fact even the bowler is not excited. Really looks like a fielding drill. Half the side gone, a little less than half the overs left. Can they bat out their full quota tonight? SL 72/5 in 11.4 overs
19.45 IST: Washington Sundar to bowl his last over.
19.39 IST: WICKET! Just as Sri Lanka looked to build a partnership, India strike! Sadeera who was intent to use his feet does it again but does not get close to the pitch off the ball. He still goes through with the shot as he tries to go over mid off but is undone by the bounce. The ball does not hit the middle and lobs towards mid off. Dinesh Karthik there tracks back and takes a neat catch. Sri Lanka lose their 4th inside ten overs and are now staring down the barrel. SL 56/4 in 8.3 overs
19.35 IST: FOUR! JUST OVER! Sadeera uses his feet and flicks it just over the mid-wicket fielder, who jumps and tries to reach to it but is not able to do so and the ball races to the fence. SL 52/3 in 7.3 overs
19.31 IST: We saw this in the first two matches also after every seven overs. The groundsmen have come out with the rope to sweep the dew out of the ground. SL 45/3 in 7 overs
19.27 IST: Hardik Pandya is into the attack.
19.23 IST: FOUR! Mohammed Siraj to Asela Gunaratne. They need to keep doing this! Gunaratne uses his feet, Siraj bangs it short. Asela slaps it through covers for a boundary. SL 32/3 in 5.2 overs
19.22 IST: EXCELLENT FIELDING EFFORT! Short and wide outside off, Samarawickrama cuts it towards Pandey at point. He dives full stretch to his left and makes a half stop. The batsmen take a run but Pandey there surely saved some runs for his side.
19.21 IST: First change for India! Mohammed Siraj is into the attack.
19.17 IST: Asela Gunaratne strides out to the middle.
19.16 IST WICKET! Another one bites the dust! This is poor from Sri Lanka! A needless shot from Tharanga here. Unadkat bowls it on a length on off, Tharanga tries to go big over the leg side. He gets the elevation but not the distance and holes out to Pandya at deep mid-wicket. Unadkat is a delighted man as he gets his second. SL 18/3 in 3.3 overs
19.15 IST: Sadeera Samarawickrama walks out at no. 4.
19.14 IST WICKET! Washington Sundar to Kusal Perera, OUT c & b Washington Sundar. Sri Lanka have lost their second wicket. 1st T20I wicket for Washington Sundar and that too he gets a big one! Kusal Perera walks back early today! Sundar tosses it up on middle, the ball sticks in the surface. Perera pays the price for playing across as he tries to play it to long on. He is early into the shot as he balloons it back to the bowler who accepts a simple catch. India have two early wickets and Sri Lanka are in deep trouble now. SL 14/2 in 3.0 overs.
19.09 IST: WICKET! Jaydev Unadkat removes Niroshan Dickwella (1) Unadkat draws first blood! He bowls it on a length around middle, Dickwella tries to go over mid on with a flick shot but the ball hits him high on the bat and goes straight up in the air towards that fielder. Mohammed Siraj there, runs back and takes an easy catch. An early wicket just what India needed. The dangerous Dickwella walks back cheaply. SL 8/1 in 1.5 overs.
19.04 IST: Sundar bowls it slower this time on middle, Dickwella plants his front foot forward and defends it.SL 6/0 in 1.0 overs
19.03 IST: FOUR! Washington Sundar to Upul Tharanga. Off the mark in style! Sundar tosses it up on off, a bit too full though. Tharanga plants his front foot ahead and goes over mid off for a boundary.
19.00 IST: We are done and dusted with the national anthems. We are all set for the action to begin. The Indian team are seen in a huddle. The Sri Lanka openers, Danushka Gunathilaka and Upul Tharanga walk out to the middle. Spin to start with, Washington Sundar, the debutant, will open the bowling for India. He has one slip in place. Here we go...
18.55 IST: The teams walk out for their respective national anthems. Sri Lanka will sing their first, followed by the Indians.
18.50 IST: Thisara Perera says he wanted to bat first so losing the toss did not make a lot of difference. He hopes his players give their 100 percent and do something special. Informs they have two changes in their team, Danushka Gunathilaka and Dhasun Shanaka come in for Angelo Mathews and Chaturanga de Silva.
18.46 IST: Rohit Sharma says they will field first. He opines the conditions will remain the same. Mentions they have been batting first and they now want to try something different. Reckons the dew will play an important part but they have to play good cricket and adjusts to the conditions. Further adds he is having a great time playing for his country and helping them win. Ends by saying it has been a great home season and he wants to end it on a high. Informs Washington Sunder comes in place for Yuzvendra Chahal and Mohammed Siraj replaces Jasprit Bumrah.
18.44 IST: Sri Lanka Playing XI: Niroshan Dickwella (wk), Upul Tharanga, Kusal Perera, Danushka Gunathilaka, Sadeera Samarawickrama, Asela Gunaratne, Dasun Shanaka, Thisara Perera (C), Akila Dananjaya, Dushmantha Chameera, Nuwan Pradeep
18.40 IST: India Playing XI: Rohit Sharma (C), Lokesh Rahul, MS Dhoni(wk), Shreyas Iyer, Manish Pandey, Dinesh Karthik, Hardik Pandya, Washington Sundar, Kuldeep Yadav, Jaydev Unadkat, Mohammed Siraj
18.38 IST: 
#TeamIndia have won the toss and will bowl first. Changes - Siraj & Sundar in place of Jasprit Bumrah & Yuzvendra Chahal #INDvSL pic.twitter.com/Em2A1tXKo7

— BCCI (@BCCI) December 24, 2017
18.30 IST: TOSS India have won the toss and opted to field 
Young Washington Sundar is all set to make his T20I debut in Wankhede #TeamIndia #INDvSL pic.twitter.com/QIZOSvwLe0

— BCCI (@BCCI) December 24, 2017
18.10 IST: 
All set for the 3rd and final T20I here in Wankhede. Action to unfold soon #TeamIndia #INDvSL pic.twitter.com/bxK9hq6GXD

— BCCI (@BCCI) December 24, 2017
18.00 IST: 
Game, set and match! #TeamIndia wrap the 2nd ODI with a comprehensive 88-run win. That's all we have from Indore. Over to Mumbai for the finale #INDvSL pic.twitter.com/rOZDDc6ZQT

— BCCI (@BCCI) December 22, 2017
Brief Preview: Pocketing the series with Rohit Sharma's brilliant knock and the spinners collecting the wickets, India will look to give some of the bench players a chance but there will be no let-up in the intensity as they eye a complete whitewash against Sri Lanka in the third and final T20I in Mumbai. 
For the Islanders, it has been a forgetful year, and the two recent defeats against India have just added to their misery. While the hosts thrashed Sri Lanka by 93 runs in the first match at Cuttack, they outclassed them by 88 runs in Indore to seal the series. The visitors also lost the ODIs 1-2 and drew a blank in the Test series held earlier. On the other hand, India have been cruising across all formats and would surely look to end a successful year with another thumping win ahead of a tough tour of South Africa where they play three Tests, six ODIs and three T20s.  (Read Full Preview Here)