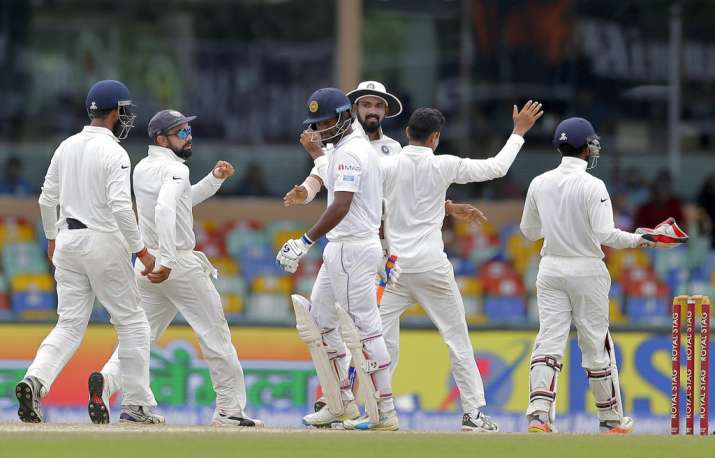 India beat hosts Sri Lanka by an innings and 53 runs in the second Test on day 4 at SSC, Colombo. With this win, the visitors have taken an unassailable lead of 2-0 in the three Test series. After a shambolic batting performance in the first innings, Sri Lanka showed great fightback in the second courtesy some really inspiring batting performances from Kusal Mendis  (110) and Dimuth Karunaratne (141). 
Earlier in the match, India won the all important toss and elected to bat. They posted a mammoth 622 courtesy a huge partner ship of 217 between Pujara and Rahane with both scoring a ton. Sri Lanka never recovered after that and fell short twice once by 439 runs and once by 53 with both the spin twins (R Ashwin and R Jadeja) bagging a fifer in each of the innings and were well supported by the rest of the bowlers to help India clinch the three match series. (SCORECARD)
HIGHLIGHTS FROM INDIA VS SRI LANKA, 2ND TEST, DAY 4 at COLOMBO
15.25 IST: That is it from us for this match. India have continued their dominance over the Islanders and won what was quite a one-sided series. The Lankan side, on the other hand, have a lot of issues to solve and come up with new plans for the third and final Test. It will start from August 12 in Pallekele at 1000 local (0430 GMT). Till then, take care and cheers!
15.20 IST: Virat Kohli says that the way the wicket behaved and the big lead they had prompted him to enforce the follow-on. Adds that he isn't a big fan of the follow-on and especially on a wicket like this where the ball turns square and even a target of 150 is tough but here he felt that they had enough to get them out. On the fight they received, he says that at international level one expects such things. Informs that he spoke with his team about enjoying the hard times and not getting much worried if they didn't scalp early wickets. He is happy that they went through the difficult times, helps you not to get complacent. He suggests that just four byes conceded speak volumes of Saha's keeping and adds that he is very safe behind the stumps, currently the best in that position in this format. Overall he thinks that their batting was outstanding, Pujara and Rahane, our best Test players scored tons, Jadeja contributed lower down the order and Pandya provides them the much-needed balance. On being the first skipper to win two series against Sri Lanka in the Island, he says that he never plays for such records and it's always about the Indian cricket.
15.15 IST: Dinesh Chandimal says that one can't control the toss. Credits India by saying they outplayed us. Also praises the efforts of his side in the fightback. Informs that they want to take positives of the game going forward. Says that due to Angelo Mathews not bowling at the moment, they can't find the right balance. On losing Gunaratne, he says that it's a big blow as he has been consistent and hopes that some takes this opportunity to step up.
Say cheese! @imjadeja with the Man of the Match award for the 2nd Test #TeamIndia #SLvIND pic.twitter.com/ZJEizvCcvK

— BCCI (@BCCI) August 6, 2017
15.10 IST: Man of the Match, Ravindra Jadeja says that the ball wasn't turning much when they were batting but when they came on to bowl, it started turning from the middle part of the wicket. Praises Mendis' batting. On the sweep shots being played against him, he mentions that it's challenging to bowl to and has to alter his lines and lengths.
14.55 IST: 
2-0 #TeamIndia #SLvIND pic.twitter.com/10V1xaOEig

— BCCI (@BCCI) August 6, 2017
14.45 IST: Another Test which ends inside 4 days. Kohli leads his team of the field and it has been a dominant performance by the visiting side. They took 6 wickets in this session and have clinched the series 2-0. Jadeja is the man of the moment for the Indians as he bagged a brilliant fifer. The lankans showed good fight in the second innings but it was never going to be enough. To cut down a deficit of 439 on a wicket which had turn and bounce was never going to be easy and they fell short by 53 runs.
14.35 IST: OUT! Final nail in the coffin! Ashwin gives it a nice loop and tosses it up outside off. Pradeep (1) kneels down and goes for the slog sweep. Gets it off the toe end and the ball lobs high in the air on the leg side. It goes straight to Dhawan at wide mid on, who completes the catch to finish off the proceedings. And, the celebration starts!  India (622/9d) beat Sri Lanka (183 and 386) by an innings and 53 runs to lead three match Test series 2-0. 
14.34 IST: NOT OUT! Tossed up around leg, Pradeep once again fails to read the carrom ball, gets beaten and is hit on the pads. The players appeal but it's turned down. India go for the review but it turns out to be a wasteful one as the ball was pitching outside.
14.33 IST: REVIEW! India have taken a review for LBW against Nuwan Pradeep. It looks like it has pitched outside leg.
Nuwan Pradeep the last man strides out to the middle.
14.26 IST: OUT! Dickwella's (31) cameo comes to an end, Pandya picks up the wicket. Catch practice! Very full outside off, Dickwella makes room, crouches low and glides it straight to Rahane at gully. There's a doubt of whether it went straight off the bat or it went on the bounce. However umpire Oxenford is convinced and rules Dickwella out. End of a frustrating 41-run stand for India. India are just one wicket shy of victory. SL 384/9
14.25 IST: 3 runs from Ashwin's 37th over. SL 384/8 in 115 overs 
That shot has induced Kohli to push the square leg fielder deeper.
14.10 IST: FOUR! Welcome Pandya, says Dickwella. Picks the length early, gets across and heaves it over front of square on the leg side for a boundary. SL 376/8
Hardik Pandya is back into the attack.  
14.09 IST: 9 runs from Ashwin's over., a good one for Sri Lanka  SL 372/8 in 111 overs
14.05 IST: FOUR! Ashwin is being taken to cleaners in the last few overs. Dickwella comes down the track and tonks it over mid on for a boundary.  SL 367/8
14.01 IST: FOUR! Third one of the over! Full outside off, Herath now reverse sweeps it through backward point for a boundary.  SL 362/8 in 109 overs
14.01 IST: FOUR! Another one! Carrom ball outside off, Herath goes for the slog sweep over mid-wicket for a boundary. His one hand even came off the bat but still fetched him a boundary.  SL 358/8
14.00 IST: FOUR! Swept away! Full around middle, Herath shapes up to sweep and gets it off the middle through backward square leg for a boundary. SL 354/8
13.56 IST: FOUR! Dickwella nails the reverse sweep through the gap on the off side and the ball races to the fence.  SL 348/8
13.51 IST: Ravichandran Ashwin comes into the attack. There is a silly point, two slips and a leg slip in place for him.
Rangana Herath comes in to bat.
13.48 IST: OUT! Edged and taken! 9th fifer for Jadeja in Tests! He has made full use of the pitch on offer. Serves it around off, de Silva covers his stumps and hangs his bat in the air away from the body. Gets an outside edge and it goes towards Rahane at first slip, who takes an excellent low catch to his right. He is such a phenomenal fielder for India at that position. The umpire though takes it upstairs to have a look at the catch. The third umpire rules it out and Dhananjaya has to walk back. His attacking stint is over and his comeback Test hasn't been too kind for him. SL 343/8
13.47 IST: Umpires have gone upstairs to check whether the catch has carried to Ajinkya Rahane at first slip. The soft signal is out. De Silva is man in question.
Time for Drinks. India have managed to pick 4 wickets after the break and are now inching closer to victory.
13.43 IST: MAIDEN! Lankan batsmen finding it hard to rotate the strike. SL 343/7 in 105 overs
13.37 IST: FOUR! Three in a row! Paddle sweeps a low full toss down to the fine leg fence. 12 off the first three balls.  SL 343/7 in 103.3 overs
13.36 IST: FOUR! Back-to-back boundaries to de Silva. Short and wide outside off, he cuts it through cover-point for another boundary.  SL 339/7
13.36 IST: FOUR! The sweep shot has been played to great affect by the Lankan batsmen. Fires it on middle, de SIlva sweeps it through square leg and the ball races to the fence.  SL 335/7 
13.35 IST: MAIDEN from Pandya! SL 331/7 in 103 overs
13.29 IST: FOUR! CRUNCHED! That was hit hard. Plays the sweep through mid-wicket for a boundary. de Silva avoids a pair with that boundary.  SL 329/7
13.25 IST: FOUR! Dickwella makes room in the crease and carves the drive over the infield in the third man region. SL 325/7
Dhananjaya de Silva strides out to bat. He has been demoted down the order and Arnold on air asks what it will do to his confidence? Remember, he is also on a pair.
13.23 IST: OUT! Jadeja is on a roll here, he gets another one. Perera (4) departs for Lanka. Another one bites the dust! It is the Saha and Jadeja partnership again! Jadeja gets a 4-fer. Fires it on off, Dilruwan comes down the track and tries to go big but is beaten by the spin. Saha collects the ball and whips the bails out in a flash and Dilruwan is way down the wicket. Jadeja is ecstatic. India are just three wickets away from a win. SL 321/7 in 100 overs 
13.15 IST: DROPPED! FOUR! Almost another wicket for Jadeja. He throws it full and wide outside off, Dilruwan goes for the drive but gets an outside edge between the first and the second slip. Kohli at second slip is late to react and throws a hand at it but only manages to get a finger tip to it and the ball races to the fence,  SL 319/6 in 98 overs
Dilruwan Perera is the new man in. He has been promoted above Dhananjaya de Silva this innings.
13.14 IST: OUT! MATHEWS GONE. Saha what a catch! He has been brilliant with the gloves on a wicket which has been bouncing and turning and does well to dismiss Mathews. The ball before this kept low and this one bounced more than Angelo expected. Fires it outside off, turning away. Mathews goes for the cut but the ball gets big on him and takes the outside edge to Saha who takes a good catch at chest height. SL 315/6
13.10 IST: FOUR! In the air... but safe and into the boundary. Tosses it up on off, Mathews tries to go inside out but slices it uppishly through cover-point and the ball races to the fence.  SL 315/5
13.09 IST: Cautious start from Dickwella, just one run from Pandya's over. SL 311/5 in 97 overs
Niroshan Dickwella walks out to bat.
13.01 IST: The centurion has to depart! What a knock it has been from him. The Indians come upto him to congratulate Karunaratne as he walks off. It had to be a very good delivery to get him out. Flatter on leg stump, spits off the wicket. Karunaratne tries to defend it but the ball gets big on him and takes the glove and lobs behind the keeper. Rahane runs towards the ball from first slip and takes the easiest of catches. He could have done nothing with that ball. Half the side is back in the hut now. an early wicket after the break just what India wanted. Sri Lanka still trail by 129 runs.
13.00 IST: OUT! Finally, the resistance comes to an end, Jadeja gets the breakthrough. Karunaratne departs for 141. SL 310/5
12.57 IST: Shorter in length outside off from Pandya, Mathews guides it towards point for a run. 2 runs from the over. SL 305/4 in 95 overs
12.51 IST: Full and wide outside off, Mathews gets it off the toe end to covers. Just a single from Pandya's over. SL 306/4 in 93 overs
Hardik Pandya will bowl from the other end. A wide slip in place for him.
12.46 IST: 3 runs from Jadeja's over. SL 305/4 in 92 overs
12.41 IST: The players are back from the lunch break. Mathews and Karunaratne will look to stretch their stand even further. Ravindra Jadeja to start the proceedings with a short leg, a leg slip and a slip in place. Here we go...
Day 4, Session 2
12.25 IST: 
Great session of play. 2 wickets & a centurion followed up by resistance from Angelo Mathews. An exciting 2nd session coming up #SLvIND pic.twitter.com/jSKdzrPJCQ

— BCCI (@BCCI) August 6, 2017
12.15 IST: As one thought that a couple of quick wickets would open the floodgates, Angelo Mathews and Dimuth Karunaratne came up with something special. If the first hour belonged to India, the next one belonged to the hosts. The Mathews-Karunaratne stand is growing stronger but they still have a long way to go. The trail is 137 and a couple of quick wickets can run Sri Lanka out of this game. Join us shortly for the post-lunch session.
We have just witnessed a terrific passage of play! Ravichandran Ashwin first provided India with the breakthrough and then Ravindra Jadeja scalped his first of the innings soon after. Both were bowling in tandem and wreaking havoc with some sharp spin and bounce.
12.03 IST: Edged but safe! Carrom ball around middle and off, spinning away with extra bounce. Mathews fails to pick it up and the extra bounce does him in as well. The ball lobs off the gloves and falls safely on the off side. Mathews survives. An eventful last over before the lunch comes to an end, 2 runs from it. SL 183 and 302/4 in 91 overs at LUNCH on day 4, trail India (622/9d) by 137 runs.
12.01 IST: Edged but just short! Sliding into the pads, squares up Karunaratne, who is early in closing the face of his bat. Gets an outside edge and the ball falls short of Rahane's outstretched left hand at first slip. The ball rolls behind and a single is taken.
11.58 IST: Ravichandran Ashwin to bowl the last over before lunch.
11.57 IST: 300 up for Sri Lanka, first time in the series. They now trail by 139 runs!
11.55 IST: Sri Lanka are having no problems in rotating the strike at the moment. 5 runs from Umesh's over. SL 299/4
11.51 IST: MAIDEN! SL 294/4
Ravindra Jadeja comes back into the attack.
11.47 IST: Edged but safe again! On a good length around off, bounces a touch extra as well. Mathews looks to defend it but fails to counter the extra bounce. His bottom hand comes off as the ball hits the willow. It goes off the edge but on the bounce to Rahane at gully. SL 294/4 in 87 overs
11.41 IST: 50-run stand is up between Mathews and Karunaratne!
11.40 IST: FOUR!Beautiful, simply beautiful! Pitched up outside off, Karunaratne takes a stride forward, leans into the shot and just drive it on the up past diving Ashwin at mid off for a boundary. SL 290/4
11.38 IST: Appeal for lbw! Length delivery, angling in, nips in as well. Mathews hops back to play it across the line but misses and gets hit on the thigh. The players appeal but it's turned down. height might be the factor. The replay though shows that there was slight inside edge as well. SL 286/4 in 85 overs
11.35 IST: 2 runs from the over, a good one from Shami. SL 284/4 
Kohli has gone back to the basics. He now brings on Mohammed Shami from the other end. First time in the match he will partner Umesh with the ball.
11.29 IST: Just a single from Umesh's over. SL 282/4 in 83 overs 
11.25 IST: Umesh Yadav finally gets a go with the ball today. It's a brand new cherry and he would look to make full use of it.
11.21 IST: Four Leg byes! Sliding down leg, Dimuth gets ahead to tickle it away but misses. The ball brushes the pads and rolls down to the fine leg fence. SL 279/4 in 81 overs
11.19 IST: FOUR! Top shot! Full on middle and leg from Ashwin, Karunaratne flicked crisply through midwicket for a boundary. That was really a fine, fine shot! SL 275/4
New ball is taken straightaway! Ashwin only will continue with it.
11.16 IST: SIX! Over mid off this time.This is even better from the former Lankan skipper. Jadeja tosses it up on off, Mathews goes over the long off fence for a maximum.  SL 271/4 in 79.2 overs
11.15 IST: FOUR! Full ball on middle, Mathews lofts it over the bowlers head for a boundary. Good by Mathews he has taken the aggressive approach. SL 267/4
11.11 IST: FOUR! A boundary from Mathews to end the over. The most effective shot to counter the spin. Jadeja darts it on middle, Mathews kneels down and sweeps it through backward square leg for a boundary. SL 257/4 in 78 overs
11.06 IST: 250 comes up for Sri Lanka with a single. 
Time for Drinks! India have got what they wanted, first a breakthrough and then rid of the opposition skipper. Pushpakumara was out to a poor shot selection while sharp turn got the better of Chandimal. The hosts are staring at the defeat and they need more stands like the Mendis-Karunaratne one. India are cruising through at the moment!
11.01 IST: Just one run from Jadeja's over. SL 249/4
10.59 IST: Good over for the hosts, 7 runs from it. SL 248/4 in 75 overs
10.56 IST: FOUR! Low full toss around off, Dimuth gets down on one knee and slogs sweeps it handsomely over mid-wicket for a boundary. SL 245/4
Angelo Mathews is the new man in. The going is getting tough and he needs to step up. Bring all his experience in the middle and show some resistance.
10.52 IST: OUT! Jadeja removes the Sri Lankan skipper Dinesh Chandimal (2). Jadeja gets his first of the innings. As the saying goes if you get one you soon get another one. Jadeja gets his first of the innings. Flatter on off, turning away. Chandimal pokes at it and gets an outside edge to Rahane at first slip who takes a good low catch diving to his right. A huge wicket for India. Has Pushpakumara's wicket opened the flood gates? Can they now trigger a collapse? SL 241/4
10.49 IST: EDGE BUT SAFE! Bowls a carrom ball on leg stump, Chandimal tries to flick it but gets a leading edge wide of first slip and they take a couple. 3 runs and a wicket from Ashwin's over, a good one for India. SL 240/3 in 73 overs
Sri Lankan spinner Dinesh Chandimal strides out to bat.​
10.45 IST: OUT! Pushpakumara what have you done? That was a needless shot there. Malinda tries to bring the reverse sweep out. Ashwin bowls it quicker and full on leg stump and Pushpakumara misses and it hits the leg pole. He was playing so well only he would know why did he do that! India get their first wicket of the day and who else but Ashwin who provides it. SL 238/3
10.40 IST: An appeal in desperation there! Floats it on off, turning into the batsman. Pushpakumara tries to defend it but the ball hits him on his pad and lobs to short leg who takes it easily. The Indians appeal but nothing from the umpire. SL 236/2
10.38 IST: FOUR! He is really playing well here! Bowls it on the leg stump, Pushpakumara sweeps it against the spin through backward square leg for a boundary. SL 235/2 in 70 overs
10.34 IST: 3 runs from the over. SL 230/2 in 69 overs
10.32 IST: Ravichandran Ashwin comes on to bowl. A slip, a gully and a silly point is there for him.
10.29 IST: 6th Test ton for Dimuth Karunaratne! 4 of his 6 centuries have come in the second innings. This shows his character as a batsman.
10.28 IST: HUNDRED! Full and on middle, Karunaratne drives it through mid on for a boundary. He also brings up his century and what a knock it has been. He has had his luck but take nothing away from the will and determination he has shown out there. He still has a long way to go out there. SL 227/2
10.24 IST: 2 runs from Jadeja's over. SL 223/2 in 66 overs
10.23 IST: DROPPED! Another one goes down. A sharp chance for Rahul. Jadeja bowls it on middle, Karunaratne flicks it uppishly with the spin to Lokesh at short leg who spills it. should have taken that he was standing a little behind than a normal short leg position.
10.19 IST: Gavaskar on air mentions about Kohli's slip fielding. He once again committed the same mistake what he did a couple of times yesterday.
10.16 IST: FOUR! SHOT! Tosses it up on middle, Pushpakumara hits it with authority over the mid on fielder for another boundary. SL 221/2 in 64 overs
10.15 IST: FOUR! Streaky boundary. A risky shot shot that. Fires it on off, turning away. Pushpakumara opens the face of the bat and guides it between the two slips for a boundary. SL 217/2
10.12 IST: Sprays on the pads, Pushpakumara tries to flick it but the ball brushes the pads and goes down to fine leg for a leg bye. 2 runs from Shami's over. SL 211/2 in 63 overs
10.08 IST: MAIDEN from Jadeja! Sri Lanka yet to get off the mark on day 4. SL 209/2
Ravindra Jadeja will bowl from the other end.
10.05 IST: MAIDEN! Good start for Shami and India. SL 209/2 in 61 overs
10.01 IST: Dimuth Karunaratne walks out with the night watchman Malinda Pushpakumara. Mohammed Shami to start the proceedings of the day with the ball. He has a wide slip and a gully in place. Here we go...
09.59 IST: We are underway for this session. The players and the umpires are out in in the middle.
09.56 IST: 
Day 4 all set to begin #TeamIndia #SLvIND pic.twitter.com/z5qubL6D1Q

— BCCI (@BCCI) August 6, 2017
09.51 IST: Pitch Report - Russel Arnold inspecting the pitch says that more than the pitch, it's more about the mental strength. The pitch looks tired but there's plenty of wear and tear and the ball is still in the bowler's court. Adds that the Lankan batsmen have to hang in there, trust their defence and try to tire out the Indian bowlers.
09.35 IST: 
Areas! Day 4 #TeamIndia #SLvIND pic.twitter.com/SYHb5ME6YN

— BCCI (@BCCI) August 6, 2017
Brief Report: 
The resilient Sri Lankan pair of Dimuth Karunaratne and Kusal Mendis displayed their best batting performance to keep India at bay after a first innings debacle guiding the hosts to 209/2 on the third day of the second Test. After being bowled out for a paltry 183 in the first innings losing as many as eight wickets in a single session, No 3 Mendis (110 off 135 balls) and opener Karunaratne (92 batting, 200 balls) added 191 as the visitors could get only two wickets in the next two sessions. 
While Sri Lanka still need 230 runs to avoid an innings defeat with two days left, the pitch losing a bit of bite and the effort by the top-order should help the home team make a match out of it. 
Spin twins Ravichandran Ashwin (0/79 in 24 overs) and Ravindra Jadeja (0/76 in 16 overs) looked a pale shadow of their original self, which saw them account for the bulk of the Sri Lankan wickets in the first innings. 
India's all-rounder Hardik Pandya's (1/12 in 5 overs) came in handy as he induced an inside edge of Mendis with Wriddhiman Saha taking a smart catch down leg-side. (Full Day 3 Report)