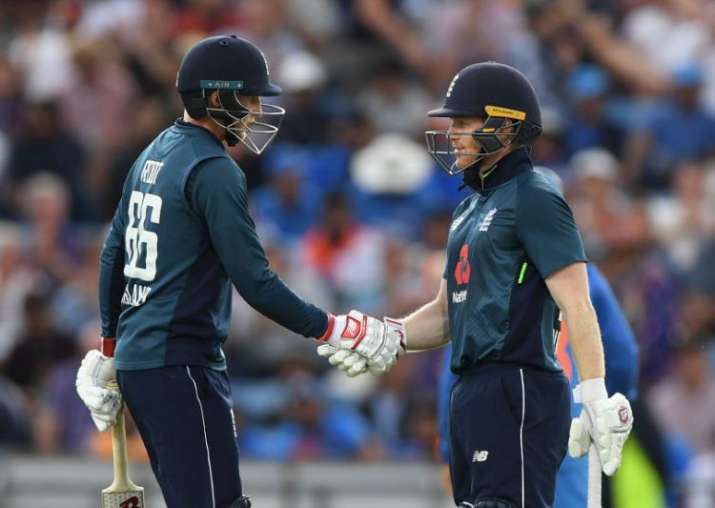 England vs India, 3rd ODI - Highlights:
The number 1 side has strut its stuff. Is this a big statement going into the 2019 World Cup? You never know. Probably, the two finalists have played this series? Too early to say but the roadmap seems to give that indication. A perfectly planned run chase by the home side. First Bairstow set the tone by trying to catch the 7 pm train in a 13-ball 30 which had 7 boundaries in it. That gave England enough runs as a cushion to play out Kuldeep and Chahal with ease. Morgan and Root then eased themselves into form, especially the latter, who will be crucial in the 5-match Test series to follow after this. While we are harping over the ease with which England chased down a fairly competitive total today, one also needs to look at how India bowled and fielded. They seemed to lack intent - as if already having given up on the chase. The fielding was lacklustre too which did not help their cause. And the 'KULCHA' today did not work well for India - wicketless in 20 overs - the FIRST TIME it has happened when both have played in an ODI. Bhuvi was rusty, Pandya was not at his best while Thakur lacked experience.(
SCORECARD
)
INDIA VS ENGLAND 3RD ODI HIGHLIGHTS FROM LEEDS: 
00.12 IST: England (260/2) beat India (256/8) by 8 wickets to win three-match ODI series 2-1. Root 100*, Morgan 88*. FOUR! CENTURY FOR ROOT, SERIES FOR ENGLAND! What a knock... consecutive tons for the man who was 'out of form'. A high full toss outside off, Root heaves it over mid-wicket and finds the boundary! First, we check whether it is a waist-high no ball, but it is fine and Root hugs his skipper! Well played, England. Well played, Root.
Well batted boys! 👏

Fifties for @root66 and @Eoin16 - and a 💯 partnership!

Scorecard/Clips: https://t.co/3LoNzsL6sM#ENGvIND pic.twitter.com/jN5q8racTA

— England Cricket (@englandcricket) July 17, 2018
00.04 IST: Hardik Pandya to Eoin Morgan, 1 run. Landed outside off, on a length, pushed towards third man for another single. 250 UP FOR ENGLAND - Just 7 more needed at run-an-over. ENG 250/2 in 43 overs.
23.57 IST: FOUR! AWESOME! The Test skipper is into the 90s while England are 14 away from a win. Will he get to triple figures? Full and outside off, Root drives this straight back down the ground. Mid on and mid off gives up the chase as soon it bisects them.
23.50 IST: POWERPLAY 3 time. 5 fielders allowed outside the 30-yard circle till the end of the match.
23.43 IST: SIX! FETCH THAT! Dropped way too short outside off, Morgan goes back and deposits this over mid-wicket for a maximum. Raises the 150-RUN STAND in just 172 balls.
23.33 IST: Bhuvneshwar Kumar is back on. Has taken a pounding today - 4-0-36-0 so far.
23.29 IST: FOUR! Puts this away. A high full toss, Root goes back and pulls it over mid-wicket for a boundary! ENG 210/2 in 34.5 overs.
23.27 IST: IT IS A NO BALL! Oh dear... not India's day at all, is it? Chahal has overstepped. It is a crime to bowl a no ball any which ways but by a spinner, well, it is an unpardonable offense. The third umpire has a check multiple times and every time we see with plenty of zoom in angles - Chahal's foot on the line, not behind. The ball is a beauty as is shown in the replays further. Tossed up, Root looking to flick but missing. Dhoni behind had whipped off the bails in a flash. Root was a goner!
23.26 IST: A late hope for India? They have gone up for a stumping appeal against Root. Dhoni looks very confident...
23.24 IST: FOUR! 200 UP FOR ENGLAND and they continue to cruise. 57 more needed now, from 95 balls. A short ball, Morgan goes back and pulls it towards mid-wicket, one bounce and into the fence.
23.21 IST: ENG 193/2 in 33 overs. Yuzvendra Chahal to Eoin Morgan, 1 run. The batsman has swept that one through the leg side. The batsmen have run through for a single.
23.10 IST: Joe Root DROPPED? Yes. MS Dhoni it is. Hard to say whether it would have mattered much in the context of the game but India's fielding has not been of the highest standard today. Down the leg side, Root tickles it fine, but almost gets it to the keeper behind. MS gets low but the ball brushes his left gloves and dies down.
23.07 IST: FOUR! FEROCIOUS! That may seem like a bad ball but Mike Atherton on air feels it is not a bad ploy to Morgan, albeit on a slower pitch. He has got issues against the short ball but he was in total control against this one. Pulls it behind square for a boundary.
23.02 IST: FIFTY! Eoin Morgan scores his 39th half-century in 58 balls. Shardul Thakur to Eoin Morgan, 1 run. The captain continues his wonderful run of form. Consecutive half-centuries for him, following his wonderful 53 at Lord's. Full and wide outside off, the skipper reaches out for it and drives it through the covers for one. England 172/2 in 27.5 overs vs India (256/8).
22.59 IST: FOUR! That is unlucky for the bowler on two counts. First, he induces an outside edge as Morgan looks to run it down to third man off a fuller length. The edge rolls onto the ground, wide of Dhoni and runs towards third man. Should have been a regulation stop by the fielder but Bhuvneshwar Kumar makes a hash of it, diving over the ball. He has had a day to forget so far. 88 more needed from 136 balls. ENG 165/2 in 27.2 overs.
22.54 IST: FOUR! 25TH BOUNDARY OF THE INNINGS! This has been some batting display from the home side. They have strut their stuff and not allowed India to dictate terms at all. Slightly short outside off, Morgan goes back and cuts it behind point. The ball races away.
22.51 IST: FOUR! Smacked! Tossed up ball on middle, Morgan charges towards the ball and smacks it along the turf straight back of the bowler. 150 up for the hosts. 105 more needed now with half the overs left.
22.48 IST: FIFTY! Joe Root scores his 29th half-century in 60 balls. FOUR! And that's fifty for Root. A well-played innings and he has taken the game away from the visitors. Goes forward and drives this ball through covers to get there. This is Root's 4th fifty-plus score against India in the last 5 innings. England 147/2 in 24.1 overs vs India (256/8).
22.39 IST: FOUR! Fuller ball down leg, Root stays back and sweeps this to the deep square leg region for a boundary. All England at the moment. ENG 138/2 in 22.3 overs
22.34 IST: FOUR! Another one by Morgan. Raina has been served a few boundaries. Fuller this time, Morgan lofts another one over cover-point for back-to-back boundaries. England are coasting at the moment. ENG 131/2 in 20.5 over
22.33 IST: FOUR! Inside-out! Glorious! Loopy ball on middle and off, Morgan makes room and lofts this over covers for a boundary. 50-run stand up between these two. ENG 127/2 in 20.4 overs
22.26 IST: FOUR! On the backfoot Morgan slams the delivery for a boundary. No one their to receive it. England need 138 runs in 186 balls at 4.45 rpo ENG 119/2 in 19 overs
22.24 IST: Suresh Raina is given the ball to bowl. Interesting! 
22.16 IST: Gives this air on middle and off, Root eases this to extra cover for a easy run. ENG 112/2 in 17 overs
22.09 IST: FOUR! Full ball from Chahal, Root gets low and sweeps this through mid-wicket. Another boundary. Had he missed that, he would have been plum LBW. ENG 95/2 in 13.4 overs
22.06 IST: FOUR! Misfield and another boundary results. Pandya it is. Root punches this covers. Pandya dives but cannot get a hand to it. Root will get four for it. ENG 91/2 in 12.2 overs
22.06 IST: Howzzzzaaaaattt!!! Going down leg! Leg spin on middle, Morgan misses his block and gets wrapped on his back leg. Long appeal but the umpire stays put. India opt against the review.
22.02 IST: FOUR! Short ball outside off, Morgan transfers his weight to his back foot and flat bats this. A miss field there and the ball has enough to reach the ropes.
21.55 IST: OUT! Chahal has struck with his very first ball, albeit in the form of a run out! What a lucky break for India - another one against the run of play. A touch short on middle, Root taps it towards short mid-wicket and calls for a quick single. Vince responds but it is a very risky run. It is Hardik Pandya whom they are challenging and the one to whom he is throwing - Mr. Dhoni. The throw is a poor one as Hardik has to run to his right and then pick up and throw. But the class of Dhoni converts it into a decent one, getting low to his right and hitting the stumps. He immediately appeals, rather signals that it is out. It is referred upstairs and boy - how many times have we seen MS wrong? The bat is not even touching the line when the bails are dislodged. 183 more needed from 245 balls.  ENG 74/2 in 9.1 overs
21.49 IST: FOUR! Root hammers that bouncer by Thakur for a boundary. Another short ball and Root is well in control of it. Waits for it and directs it square of the wicket for a boundary. ENG 71/1 in 8.2 overs 
21.46 IST: FOUR! How easy are England making it look. Finding the gap on every occasion. Just flicks this ball towards the vacant deep square leg region. Boundary. ENG 67/1 in 7.4 overs
21.45 IST: FOUR! That's 30 runs from Bhuvi now. Length ball outside off, Vince punches it through covers for another boundary. ENG 61/1 in 7.1 overs
21.42 IST: FOUR! Outside edge and Dhoni can't get to that. Sails for a boundary. ENG 57/1 in 6.4 overs
21.41 IST: FOUR! Fifty up for England. Back of a length ball outside off, Root stays back and just punches this through covers. The crowd goes 'ROOOOOOOOTT' as the ball goes to the fence. ENG 53/1 in 6.2 overs
21.39 IST: FOUR! Good length ball around off, it jags back a bit. Vince gets an inside edge trying to play it to the off side. No fine leg and the ball meets the fence once more. ENG 49/1 in 5.5 overs
21.34 IST: OUT! Thakur removes Bairstow for 30. There it is! And India get a wicket against the run of play. The hard-hitting Jonny Bairstow has to walk back. Trying to hit one too many balls and finds the fielder. Length ball on middle and leg, it skids a bit, Bairstow flicks it but finds Raina at short mid-wicket. The Indians rejoice and are in all smiles. England are 214 runs behind. ENG 43/1 in 4.4 overs
21.31 IST: FOUR! Shardul is treated to a boundary.Does not start well either! A short ball, down the leg side, Vince helps it past short fine leg for a boundary. ENG 42/0 in 4.2 overs
21.30 IST: FOUR! Pandya is not being spared at all. Shot! This time through the off side. Bairstow is in some hurry. Punches this length ball through covers for back-to-back boundaries. ENG 38/0 in 4 overs
21.28 IST: FOUR! It's Hardik's turn to be taken for a ride. Through the covers once again and Kohli can only watch that sailing for a boundary. ENG 32/0 in 3.3 overs
21.27 IST: FOUR! ENG 28/0 in 3.2 overs
21.26 IST: FOUR! That's four boundaries of the over. Bairstow is on the charge here. Length ball outside off, Jonny guides this past backward point to get 16 runs of the over. All through boundaries. ENG 23/0 in 3 overs
21.25 IST FOUR! Overpitches this on off, Bairstow just drives this to the right of mid off. The ball runs to the fence. ENG 19/0 in 2.4 overs
21.23 IST: FOUR! Smashed! Over the covers and no one is there to get that. This is not a good length from Bhuvi. He is gone short again and gets the punishment again. Bangs this short on off, it sits up nicely for Jonny who pulls this over mid-wicket. ENG 15/0 in 2.3 overs.
21.22 IST: FOUR! Bairstow smashes that through the covers. Gift again from Bhuvi. Short and wide outside off, enough time for Bairstow to cut it through point. A boundary results. ENG 11/0 in 2.2 overs
21.21 IST: Brilliant over by Pandya. Concedes just two off it. ENG 7/0 in 2 overs
21.18 IST: Five runs of the first over. Hardik Pandya comes into bowl. 
21.14 IST: FOUR! James Vince begins the match with a boundary on Bhuvneshwar's delivery. Runs in and lands one short and wide outside off, Vince just eases this through covers for the first runs. ENG 4/0 in 0.1 over
21.012 IST: Out come the Indian players. Kohli has some words of wisdom before the players take their place. James Vince and Jonny Bairstow will open for the Three Lions. We saw that the English bowlers were getting some swing, we expect Bhuvneshwar Kumar to do the same as he will open the bowling. 2 slips in place for him.
21.09 IST: And we're back with the chase. 257 on the board for England to chase. Can India defend this total at Leeds? Let's find out..
21.00 IST: As predicted by the Indian skipper at the toss, the pitch appears to be on the slower side, although it has something for the pacers as well. The home side will have to bat well to chase down this target, and the bowlers from the sub-continent should feel at home at Yorkshire's home ground. The second half of the remaining story continues in a short while, hang around!
20.34 IST: India score 256/8 in 50 overs against England at Headingley. Kohli 71, Rashid 3/49, Willey 3/40. Bhuvneshwar Kumar OUT!  Kumar's falls off the last delivery. A full toss he receives with all his might, tries to clear the fence but fails to generate enough power. It goes high in the air but not long enough. Bairstow moves across to his left from deep mid-wicket and takes the skier easily. INDIA END ON 256/8!
Innings Break!#TeamIndia 256/8 in 50 overs.

Follow the game here - https://t.co/aTRjmJ3rd7 #ENGvIND pic.twitter.com/C9lp3wD7H1

— BCCI (@BCCI) July 17, 2018
20.28 IST: SIX! Thakur is playing a gem. Fetches a short ball from around off, once again swings his blade powerfully and smokes it over mid-wicket. 250 up for India! IND 250/7 in 48.5 overs.
20.26 IST: Ben Stokes to Shardul Thakur, 2 runs. What an effort, Plunkett! Saves 4 runs for his side. Thakur has thumped another delivery, this time down the ground. It's destined to go over the line but Plunkett moves across to his right from long on, stretches his hands to catch the ball but then realizes that he's going over the rope. Immediately releases the ball behind and then returns to send it back in play. The umpire checks upstairs for the cleanliness of his effort and it's fine. His feet were close to the boundary line but stayed inches away from it. Well done.
20.24 IST: SIX! That was a big one the moment it left the bat. First for India today, in fact they didn't hit any at Lord's. Shortish and on off, Thakur swings his bat and gets it away from the sweet spot. It flies and goes over the fence at mid-wicket.
20.22 IST: David Willey to Shardul Thakur, 1 run. A length ball in line of the stumps, Bhuvneshwar tries to play the big shot but fails to make proper connection. It flies over mid on and goes on one bounce to the fielder in the deep. A single taken. IND 234/7 in 48 overs.
20.19 IST: FOUR! Innovative from Kumar. He jumps across the stumps to a full ball and spoons it over short fine leg for a boundary. Vital runs for India. IND 228/7 in 47.1 overs.
20.14 IST: Shardul Thakur is the new batsman.
20.13 IST: OUT! Willey removes Dhoni for 42. Willey has removed Dhoni! Excellent delivery by him. He serves it on the shorter side around off and it changes it direction slightly after landing. Dhoni gets squared up in defense and it shapes away to take the outside off. Buttler takes yet another safe catch behind the wickets to end MS' stay at the crease.  India 221/7 in 45.5 overs vs England at Headingley.
20.03 IST: FOUR! Nicely done by Dhoni. A length ball on a length, he waits for it and guides it in the gap through square leg. A boundary results. IND 213/6 in 43.4 overs.
19.59 IST: FOUR! Dhoni pushes it into the gap. Short and smacked by Dhoni. He is staying out in the middle and making things happen somehow. A boundary taken from the square leg region and the ball flies off the bat. IND 206/6 in 42.5 overs.
19.53 IST: Ben Stokes to Bhuvneshwar Kumar, 1 run. Similar delivery from Stokes, Kumar works it through the third man region for a run to bring up 200 for India. How many more can they score in the next 8?
19.47 IST: Ben Stokes to MS Dhoni, no run. Bumper! Left alone by MSD. It looks too high but no signal by the umpire. IND 196/6 in 40 overs.
19.43 IST: Ben Stokes in back on.
19.40 IST: Bhuvneshwar Kumar is the new batsman.
19.39 IST: OUT! Mark Wood removes Hardik Pandya for 21. Once again Morgan has done the trick. He does the bowling change, brings Mark Wood into the attack and the pacer gets rid of the dangerous Hardik Pandya. Bowls it on a good length just outside off and it skids back in after hitting the deck. Pandya with an unsure footwork pushes inside the line and gets a faint nick behind to Buttler. He makes no mistake and India slip further. India 194/6 in 38.2 overs vs England at Headingley.
19.32 IST: FOUR! What a good looking shot that is from Pandya and almost a screamer taken by Plunkett in the deep. A floated delivery around off, Pandya lofts the cover drive and manages to get it just wide of the Plunkett there sweeping the fence. IND 190/5 in 36.5 overs.
19.29 IST: IND 181/5 in 36 overs. Moeen Ali to MS Dhoni, 1 run. Rocks back and pushes it to the off side to take a single.
19.22 IST: Drinks break. This game has turned on its head in between the two drinks break. India were going great guns but a run out by Stokes opened the floodgates and Adil Rashid barged into it with a 3-fer. The Men in Blue are reeling at the moment and need MS Dhoni and Hardik Pandya to form a big alliance. The last 16 overs (if it goes till there) promises to be exciting.
19.20 IST: FOUR! Lucky, very lucky. Rashid almost had another one. He bowls this one around off and pushes it through. Pandya chops it off the back foot but only manages an under edge. The ball goes inside the legs of Jos and races towards boundary. Stokes runs after it but even a desperate dive couldn't stop the ball going over the fence.
19.15 IST: FOUR! Slapped! Tossed up outside off, Dhoni gets forward and creams the drive through covers. A boundary taken. End of an interesting over to put it subtly.
19.11 IST: In comes Hardik Pandya with India struggling.
19.08 IST: OUT! Adil Rashid removes Suresh Raina for 1. India have lost their fifth wicket. Eoin Morgan, you beauty. Great pro-activeness shown by him to plant a leg gully for Raina. Rashid dishes out a leg spinner around middle and off, Raina gets forward to work it across the line but it takes the upper half of his bat and goes behind to Root at leg gully. He crouches low to catch it inches off the ground and India lose half their side now. Once again Adil has hunted down Raina. England have roared back in this contest all thanks to the leggie. IND 158/5 in 31 overs.
19.06 IST: Suresh Raina walks out into the middle.
19.01 IST: OUT! Adil Rashid removes Virat Kohli for 71. Adil Rashid strikes gold! The smile on his face says it all. Kohli is completely bamboozled. He is standing there shell-shocked. A leg-spinner by Rashid, drifting in and landing around middle. Kohli stays back to keep it out but it spins past his willow and disturbs the stumps. Big celebration from England. And maybe, Kuldeep Yadav too will be celebrating within himself after seeing this ball spin viciously. You need some magic from the deck to go through the defense of one of the best in the business at the moment, if not the best. Kohli not converting his fifty into a hundred is also a rare phenomenon. IND 156/4 in 30.1 overs.
19.00 IST: FOUR! IND 155/3 in 29.5 overs.
18.58 IST: FOUR! Superb shot by MSD! Flighted and full on off, Dhoni goes forward and across before kneeling down to play a sweet sweep shot. Times it well and places it behind square leg to find the fence. IND 149/3 in 29.2 overs.
18.52 IST: FOUR! Poor delivery, it's short and around leg, Kohli goes deep inside the crease and pulls it powerfully through square leg for a boundary. Good start to the over for India, pressure straightaway on the leggie. IND 141/3 in 27 overs.
18.50 IST: MS Dhoni is the new batsman.
18.43 IST: OUT! Dinesh Karthik falls for 21. IND 125/3 in 24.2 overs.
18.38 IST: FOUR! Kohli scores hi 48th fifty! In sublime form, the Indian skipper. Gets to his 48th ODI fifty with a fine shot. Plunkett is on the shorter side and bowls it around off, Kohli stays back footed and spanks it through point for a delightful boundary. Ominous signs for England. Kohli going great guns with the Test series approaching. He has peaked quite well on this tour, not too early, not too late.  IND 124/2 in 23.4 overs.
18.32 IST: FOUR! Cheeky by 'Cheeku' Plunkett bowls it on a length and lands it just around off. Kohli decides to play it close to his body and opens the face of the bat at the last moment. Makes a proper connection and guides it to third man for a boundary. IND 110/2 in 22 overs.
18.22 IST: FOUR! What timing, he has been in great form! A leg-spinner outside off, Karthik gets his front leg forward and drives it crisply through covers. IND 98/2 in 19 overs.
18.18 IST: FOUR! Wow, nicely done. Allows the ball to spin back in and glides it past the keeper. The short third man fielder has no chance and it races away to the fence.
18.17 IST: In walks Dinesh Karthik. Finally he gets an opportunity to play but can he make it count?
18.16 IST: OUT! Shikhar Dhawan run out for 44. As soon as the first replay is shown on the giant screen, England start to celebrate, one can hear Stokes screaming - Yayyyy!!! A tossed up ball on middle, Kohli works it towards mid-wicket and looks for a run initially. Then he aborts but Dhawan has comes down a long way. In the meantime, Stokes gets to the ball and scores a direct hit at the bowler's end. They appeal and the third umpire is referred. The replays show that Dhawan is inches short of the crease. The growing and a dangerous looking partnership is cut short. Good start for England after the drinks break. India 84/2 in 17.4 overs vs England at Headingley.
18.14 IST: Direct hit! Dhawan seems to be in danger here. Ben Stokes is quite ecstatic after hitting the bull's eye. It has been referred upstairs...
18.08 IST: FOUR! Eased away! Stokes continues to be on the shorter side. This time it's outside off and Virat has the opportunity to play the ramp shot.
18.07 IST: FOUR! Fine way to begin an over. Stokes is on the shorter side outside off, Kohli stands tall inside the crease and plays a crunching pull shot through mid-wicket.
18.06 IST: Moeen Ali to Virat Kohli, 1 run. Oh well played! The Indian skipper allows the ball to spin back into him from outside off and then at the last moment, he plays it down past the keeper for a single towards third man. IND 71/1 in 16 overs.
18.02 IST: FOUR! Bang! Dhawan is only dealing in boundaries at the moment. Stokes changes his angle for the southpaw and angles in a length ball on off from 'round the wicket. Dhawan just picks it up and whips it over mid-wicket for a boundary. 50-run stand up between the two. India recovering well after a slow start.
17.58 IST: FOUR! And again. 3 in 3. This is best of the lot. Plunkett sticks with the length ball outside off, Dhawan punches from his crease thorugh covers and the fielders are turned into spectators. Third boundary results.
17.56 IST: FOUR! That has gone to the fence like a tracer bullet. Dhawan is flying here. Another fuller ball from Plunkett, Dhawan comes forward and plonks it through covers this time. 2 in 2.
17.54 IST: FOUR! Shot! How well has he timed that? A length ball on middle, Dhawan punches it from his crease and beats the short mid-wicket fielder. The balls races to the fence. IND 47/1 in 12.4 overs. 
17.44 IST: FOUR! He finds the gap this time. A mere punch to the length ball, this time he gets it through covers and beat the attacking fielder. The ball races to the fence and even Willey in the deep can't stop this. He is looking good and he needs to stays out in the middle for the sake of India.
17.40 IST: FOUR! Should I call this a perfect chip or a lucky escape? It went off the middle of the bat but Kohli had his heart in his mouth for a moment there. A fuller ball in line of the stumps, Kohli punches it off the front foot and gets it up and over the mid on fielder. A boundary results.
17.38 IST: Mark Wood to Shikhar Dhawan, no run. A back of a length ball around off, played to the off side by Dhawan. Tight stuff from Wood, not allowing the batters any easy runs.
17.30 IST: FOUR! Edgy but effective. A fuller ball outside off, Kohli goes fetching and gets it from the outer half of the bat. The ball just to the left of point fielder and races to the boundary. The skipper opens his account in a streaky fashion.
17.25 IST: Virat Kohli is the next man in.
17.24 IST: OUT! Willey removes Rohit for 2. And Rohit succumbs to pressure finally. Willey is pumped and rightly so. A length ball on middle and off, Rohit flicks it towards deep square leg from outside his crease. No runs in the last two overs meant he has to become innovative. The connection isn't right and Mark Wood takes and easy catch at deep square leg. England have their first. India 13/1 in 5.4 overs vs England at Headingley.
17.22 IST: David Willey to Shikhar Dhawan, no run. Dhawan comes down the track to play the length ball but ends up getting and inside edge on to his pads. The ball rolls towards gully as Rohit at non-striker's end comes charging for a run. Dhawan sees him and sets to run but goes back. The throw comes in at the bowlers end but Rohit is back in his crease by then. Nervy moment for the duo.
17.12 IST: FOUR! IND 11/0 in 2.5 overs. Wood errs in line and Dhawan punishes him. A shortish ball on middle and leg, he pulls it with his front leg in the air. A traditional looking shot from Dhawan. Moeen Ali looks to cut it down but the ball races to the fine leg fence.
17.10 IST: Bang! Hammered this from Dhawan. He doesn't miss out on the driveable ball. Frees his arms and punches it through covers. The ball races to the fence for the first boundary.
17.05 IST: Mark Wood starts with a maiden over. India - 0/0 (1 over). Mark Wood to Rohit Sharma, no run. Similar delivery, Rohit misses it again. What a good start from Wood.
17.00 IST: And we're all set to go. The players are out in the middle and we're ready to rock'n roll. Rohit Sharma and Shikhar Dhawan is the opening pair for India. Mark Wood will take the new cherry for England. Get, set, go!
16.50 IST: Stat attack - India haven't lost the decider of a 3-match ODI series in the past 21 years! England have won their previous 4 ODIs at Headingley.
16.46 IST: Pitch report 
Alan Wilkins doing the pitch report says that it is the BEST one for ODI cricket in the entire country. The average score at this venue is 298 in the last 5 years. Sanjay Manjrekar says that small boundaries do not help the cause either with the average distance being 75 meters. The pitch looks good, he says but there is a slightly dark greyish look to it, which suggests that there will be a bit of moisture on the surface. Wilkins observes that there is a tinge of tufty grass on the track which suggests that although runs should come in aplenty, the pitch will turn. On this, Sanjay observes that in England, with the sun out the whole day, the tracks tend to get dried up very quickly due to the heat, as observed at Lord's. Wilco adds that the strong breeze blowing across the ground should help in drying out the pitch as well. The opinion from both is 'better lose the toss' because it is a tricky decision to make whether to bat or bowl. With the spinners India have, bowling second may not be a bad option, comments Manjrekar.
16.40 IST: Playing XIs
India: Rohit Sharma, Shikhar Dhawan, Virat Kohli (c), Dinesh Karthik, Suresh Raina, MS Dhoni (wk), Hardik Pandya, Bhuvneshwar Kumar, Kuldeep Yadav, Shardul Thakur, Yuzvendra Chahal
England: Jonny Bairstow, James Vince, Joe Root, Eoin Morgan (c), Ben Stokes, Jos Buttler (wk), Moeen Ali, David Willey, Liam Plunkett, Adil Rashid, Mark Wood
16.35 IST: Captain's Corner
Virat Kohli: Not much grass on it, so we expect the spinners to come into play in the second half. Rahul misses out for Karthik. Dinesh was a tactical change and the other two because they haven't got a game yet. If you're playing against the No. 1 ODI side in the world, you expect them to bounce back. Today is another opportunity for us to go and prove ourselves. We just have to come out and express ourselves.
Eoin Morgan: I think it's a really good wicket, the wickets here have always been good throughout 100 overs, so it should be the same today. Very rarely do we get occasions like this and against a side like India it'll be great. Vince has been in fantastic form for Hampshire, so, unfortunately, Roy misses out.
England wins the toss and elects to bowl first in the 3rd ODI.#ENGvIND pic.twitter.com/TPFoUwVwPs

— BCCI (@BCCI) July 17, 2018
16:30 IST: England win toss, opt to bowl against India in Leeds. The three-match series is levelled at 1-1
16:20 IST: It is also an opportunity for India to ascertain their ODI supremacy over England, for they haven't lost a bilateral contest to this opposition since 2011.
16:10 IST: England bowler Mark Wood has also revealed the strategy to tackle their nemesis on this tour so far - Kuldeep Yadav.
16:00 IST: England, on the other hand, are looking to use this match as a rehearsal for the knock-out stages of the ICC World Cup next year.
15:50 IST: Indian swing bowler Bhuvneshwar Kumar was seen bowling smoothly in the nets. If fully fit he should replace Siddharth Kaul in the Playing XI.
15:40 IST: The common attribute in India's three white-ball victories against England on this tour has been a century from one of the top three. The visitors will be hoping for a repeat of the same today.
15.30 IST: Welcome to our Live Blog of the third and final ODI between India and England from Headingley, Leeds. Stay tuned with us for all the latest updates.
Brief Preview: 
Their middle-order frailties laid bare in the previous match, India would be aiming to plug the loopholes in tomorrow's deciding third and final ODI against England, where a win would fetch Virat Kohli's men their 10th successive series triumph. Starting from their 86-run loss at the Lord's after winning the first game in Nottingham by eight wickets, India have their task cut out.
Victory in London confirmed England's spot as the No.1 ODI side in the ICC Rankings. A win for India at Headingley will only help close the gap and hand them the bragging rights before the Test series begins on August 1.
India had previously won the T20I series 2-1. With all to play for at Leeds, not only will the Men in Blue aim to go for the kill, but also impose their dominance with the bat this time after a collapse in the top order saw the lower order helpless at Lord's. (READ FULL PREVIEW HERE)