Follow us on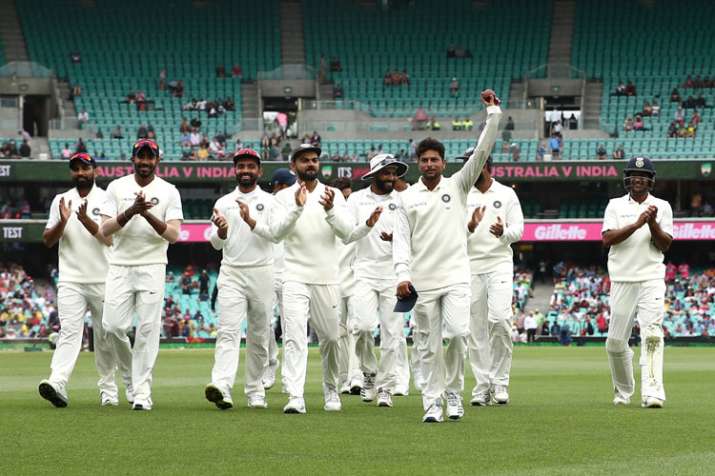 Team India coach Ravi Shastri announced that Kuldeep Yadav will be India's No.1 spinner in Test cricket ahead of the veteran Ravichandran Ashwin and Ravindra Jadeja.
Shastri was mighty pleased with the way Kuldeep performed in Sydney, where he picked up five wickets for 99 runs despite sitting out the first three matches and a horrendous outing at Lord's.
India, who have been predominantly playing with Ashwin and Jadeja as their 1-2 in whites, have provided limited chances to the chinaman bowler since he made his debut against Dharamsala in 2017, where he rattled the Aussie batsman and picked up 4/68 in the first innings.
Since then, the 24-year-old has only played 6 Tests and picked up 24 wickets at an average of 24.12, which also include two five-wicket and four-wicket hauls each.
And with Ashwin struggling with injuries recently, Shastri feels that the left-arm leg-spinner has done enough to seal the spot ahead of Ashwin and Jadeja if India play one spinner.
"Yes, and I was very impressed with the way Kuldeep bowled in Sydney. Even in Test cricket, it is going to be the age of wrist spin, especially in overseas Test cricket. The way he bowled in Sydney, he becomes our number one spinner in overseas Test cricket.
"He plays overseas Test cricket and he gets five wickets, so he becomes our primary overseas spinner. Going ahead, if we have to play one spinner, he is the one we will pick. There is a time for everyone (referring to Ashwin's poor fitness record in 2018). But now Kuldeep is our frontline number one overseas spinner," Shastri told Cricbuzz.
This will come as a bad news for Jadeja especially as he has stepped up at every given opportunity so far.
Jadeja has been scoring runs and taking wickets and played a perfect all-rounders role in the last Test against England at the Oval as well.
For Ashwin however, he has to start all over again when India play abroad as his injuries have pegged him back in the recent past.
India next tour the West Indies after the World Cup and will play two Tests in their opening series of World Test Championship. It will be followed by three ODIs and T20Is each.