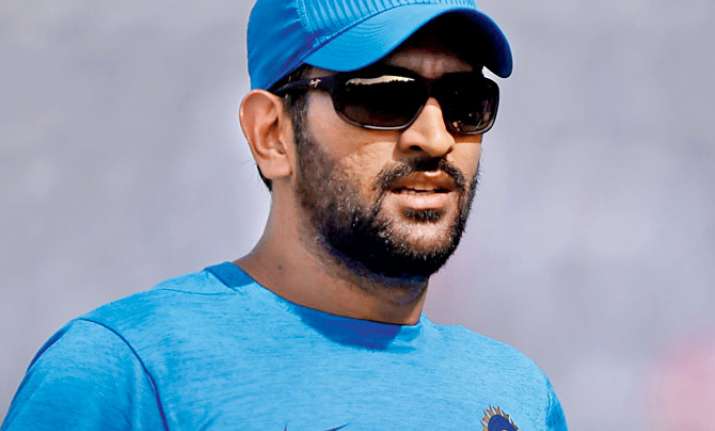 New Delhi: Mahendra Singh Dhoni today came out before the media for the first time since relinquishing captaincy in the limited-over format of the game. 
Coming out in praise of the new ODI skipper, Dhoni said Virat had all the makings to lead a team that had the potential to win in all formats of the game.
Dhoni said that Kohli is ready to lead the limited-over team and that his Team India will rewrite history. 
"Virat Kohli's India will rewrite history. Hope there will be no serious injuries to any member of the team and I am sure they will do very well," said Dhoni. 
He clarified that he was waiting for the right moment to leave the role and wanted Kohli to ease himself into the Test format. 
"I was waiting for right time, was waiting for Virat to ease in into test format. Feel this team has the potential to win in all formats," said the wicketkeeper-batsman. 
Dhoni also said that while he has stepped down as the skipper, he will help Kohli with his captaincy and also keep an eye on the field positioning. 
"He said he will do all he can to help Kohli with his captaincy and keep a close eye on the field positioning," he said. 
Speaking about his decision of stepping down as the captain of the limited-over side, Dhoni said that he in his view split captaincy doesn't work which is why he decided to move on. 
"Split captaincy doesn't work in my view and since I have retired from Test cricket, I decided it was time to move on," he said. 
Dressed in India's new jersey, Dhoni was speaking publicly for the first time since resigning from his post as India's limited overs captain.
He said that a lot has changed since he took over as the captain in 2007 and also that he will change his role according to the responsibilities given to him.
"A lot has changed since I took over the captaincy in 2007 to now. The requirement of the team has changed as well. No fixed batting order for me. The guys at the top did remarkably. I will change my role as per the responsibilities given to me. Depending on where I am batting, I will bat accordingly," he said. 
Stating that he maintains a very close relationship with Kohli, he said, "Kohli and I have always been very close. He was never worried when he missed out but he always wanted to contribute whenever he got a chance."
With Dhoni relinquishing his position, Virat Kohli took over as captain saying that he hoped Dhoni would play fearlessly after shedding the burden of leadership. 
While Dhoni has made himself available for the limited-over series against England starting January 15, he is expected to bat higher up the order.