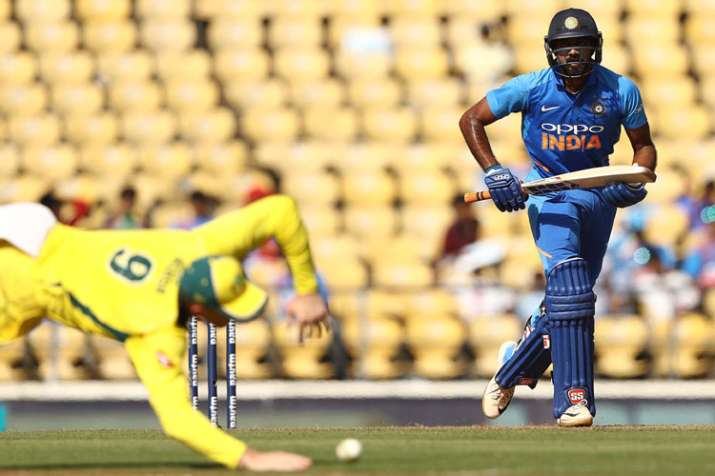 Countdown to the biggest cricket carnival is on as just over a week is left for 2019 World Cup which is to be played in England from May 30. This time only 10 teams will participate in the big-ticket event and with the new format of 'Round Robin' in the charge, all teams have to face each other during the course of the tournament.
According to many cricket pundits, India have a good chance to lift the trophy this time after 1983 and 2011. The Virat Kohli-led team for is very well balanced with marquee players in every department. The only loophole in India's squad for World Cup is a not so settled number 4 batting position. The Men in Blue have two talented openers in Rohit Sharma and Shikhar Dhawan, on number 3 they have the best batsman in the world -- Virat Kohli but after him, the management is very unsure about who will take the responsibility.
From the past one year, India bet high on Ambati Rayudu as their number 4 batsman in English conditions. Even captain Kohli said many times before that the Andhra batsman is their choice for the role. But when the World Cup team was announced, it changed the entire script as due to poor form and inconsistency, Rayudu lost his place in the 15-man squad.
Rayudu's loss became Vijay Shankar gain as the selector vouched for him as the '3-dimensional' player and chose him as their number 4 batsman. Looking at Shankar's number in the recently concluded Indian Premier League, he might not be ready for the big role in the World Cup. Shankar scored only 244 runs in 15 matches for Sunrisers Hyderabad at an underwhelming average of 20.33.
With the ball, SRH's skipper Kane Williamson didn't show much faith in the 26-year-olds's ability as he just bowled 8 overs throughout the tournament. Shankar picked only 1 wicket in IPL 2019 and that doesn't justify his '3D' player tag.
Before the IPL, Shankar had a decent run (looking at the match situation) with the Indian team as he scored 120 runs in 5 matches at an average of 30. His partnership with Kohli in 2nd ODI vs Australia in Nagpur gave him a new life. Shankar missed his maiden half-century by 4 runs in that innings but his 81-run stand Kohli was very crucial for the team at the moment.
In a big tournament like the World Cup, you have less chances to make errors in the team combination and an unsettled batting spot could be a disaster for any team. Shankar is a promising player but is he ready for the big role is yet to get answered, Kohli might go with him as his number 4 batsman in the initial games but if he failed what are the other options he had in the squad, we take a look on that -
The gifted batsman has got his Midas touch back in IPL 2019 where he was the second highest run-scorer in the tournament with 572 runs. The 26-year-old batsman is maybe the best technically gifted batsman that Indian team has right now after Kohli. Rahul might not have rich experience at number 4 position but with skillset he possesses, the Karnataka born player surely deserves a place in playing XI. Many cricketing legends like Gautam Gambhir and Dilip Vengesarkar had also chosen him as their no 4 batsman in the Indian team for English conditions where we generally see ball swinging both ways.
He has the ability to deliver for his team at any position, he has done it in past and he can surely do for the Indian team in World Cup. The safest bet for the Indian team at number 4 right now is MS Dhoni, who has been in outstanding form this year, the veteran has reinvented himself after a dull phase last year and scored 327 runs in 9 matches at an astonishing average of 81.75. If Dhoni comes after Kohli in batting position then he might set a perfect stage for power hitter Hardik Pandya to finish off the innings in style for Team India at World Cup.
Karthik might be picked in the World Cup squad as the back-up wicketkeeper but he is surely not a bad option for Kohli and coach Ravi Shastri at number 4 position. DK has been performing the role of a finisher for Team India in the past few months but his experience can also help in at upper in the order. Karthik is an intelligent batsman who can create singles at every ball and can also clear the boundary rope at his own will and that is the perfect skill-set for any batsman at number 4 position.