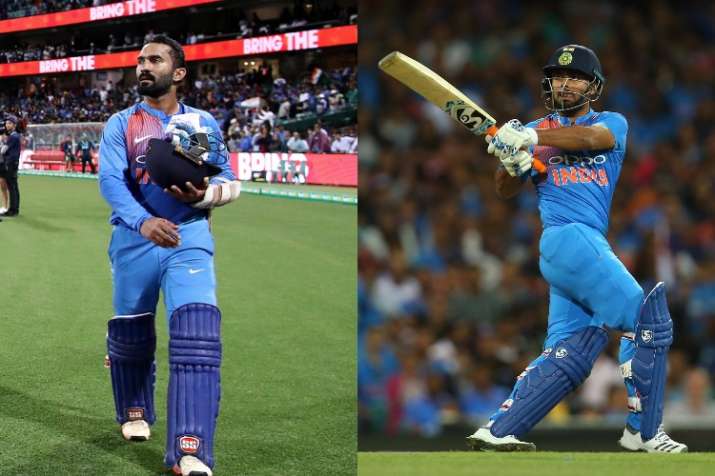 Dinesh Karthik's exclusion from India's ODI squad against Australia and Rishabh Pant's inclusion could most likely see the former's role in One Day internationals nearly but over. The Indian selectors announced the ODI squad for Australia's limited-overs tour which surprisingly saw DK dropped, but included him in the two-match T20I series.
Pant comes in as second fiddle to MS Dhoni, who is still going strong behind the stumps as the selectors look to finalise a World Cup squad. Despite Karthik playing a few crucial knocks in the four ODIs he has played this year, Pant has been handed the opportunity to prove himself to be a part of the World Cup squad.
Former Indian cricketer Sanjay Manjrekar feels that Karthik's role in ODIs seems very bleak as the selectors will look at him as a T20 specialist. 
"His fans will feel sorry because with the opportunity he has got, he has done as well as he could but I feel with this selection or non-selection of Karthik, India have told everyone that we look at Karthik as a T20 batsman and his 50-over future is over as far as we are concerned," Manjrekar told ESPNCricinfo.
Karthik has been exceptional with the bat for India in the last 20 matches he has played since the 2017 Champions Trophy, however, despite his gritty knocks in recent matches, Manjrekar feels that he has not put up a match-defining performance which can cement his place in the ODI squad. 
"He has done well in the opportunities he has got, but he has been around for a long time and the selectors are thinking just like me - World Cup, big stage, big match, 50-overs cricket, Dinesh Karthik. Ambati Rayudu by playing that innings in New Zealand when he put India on the track of recovery and got the team to get a big score. Dinesh Karthik hasn't played that kind of an innings. He has mostly played the role of a finisher. So this is where the numbers are disregarded by the selectors, the captain, the management and they are thinking temperamentally so far what we have seen of Karthik, is he someone who will excite us a 50-overs cricket at World Cup and they have said no and I don't grudge them for that," Manjrekar explained. 
However, Manjrekar is not totally favouring Pant as the former cricketer feels that DK is a 'little better' than the youngster on field.
"Both have got distinct weaknesses in the field with Dhoni keeping wickets. Karthik is actually little better than Pant who is a liability in the field. But because of Pant's recent exploits, he has given a sort of hope. But I am not a big supporter of Pant as a batsman because he still hasn't set the stage on fire in 50-overs cricket and so you play him no matter what," Manjrekar added.
Virat Kohli, KL Rahul and Jasprit Bumrah return to the ODI squad as India are slated to play to two T20Is and five ODIs against the defending World Cup champions, Australia.