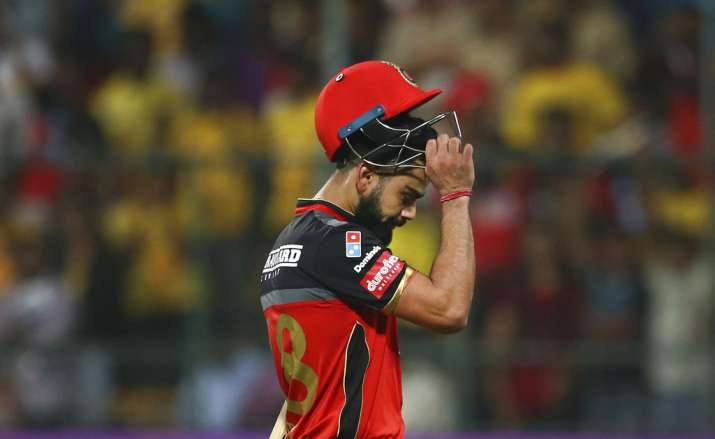 Royal Challengers Bangalore have lost seven matches in the ten they have played so far and their season has only been going downhill after a series of defeats. A dejected skipper, Virat Kohli said that his team haven't been good enough after RCB threw away the match against Sunrisers Hyderabad, where the Kane Williamson side pulled off a miraculous win by 5 runs at the Rajiv Gandhi International stadium in Hyderabad on May 7. 
Captain Kohli said that his team "deserved to lose" its do-or-die IPL game against Sunrisers Hyderabad as players didn't show the kind of strong character that is crucial to winning crunch games. (SRH vs RCB MATCH HIGHLIGHTS)
"We were not good enough and not up to the mark. We deserve to lose this game. We didn't show enough application. The kind of shots we played were not on at that stage. This has been the story of our season," Kohli said at the post-match presentation ceremony.
The Indian captain lauded Sunrisers Hyderabad for defending 25 runs from 18 balls with Siddarth Kaul and Bhuvneshwar Kumar bowling brilliantly to win the match by five runs. (SRH vs RCB MATCH SCORECARD)
"If you have strong characters, you will always do well. SRH had a few guys who did well under pressure, that's been the story of their season. They understand strengths, know their limitations. That's why they've been successful," Kohli said.
Asked if Kane Williamson's team are the best, Kohli observed that CSK or Kings XI Punjab look more solid as an all-round outfit but undoubtedly the best bowling attack of IPL belongs to Hyderabad franchise.
"From the bowling point of view, SRH is the strongest. Overall, maybe you'd pick Kings XI or CSK." 
Kohli's opposite number Kane Williamson said that on a tricky surface like the one at the Rajiv Gandhi Stadium, a target around 150 would always have been challenging.
"I think it was another varied surface. We were certainly targeting about 150 (147), so we weren't far away from that. In terms of the game, it ebbed and flowed," Williamson said in the post-match press conference.
Williamson said that being able to take wickets at crucial phases was important.
"Even with the ball, it was fairly similar where we sort of took wickets, stemmed flow of runs and then, some partnerships. We did feel that if you are able to be at our usual standard in the field, we could have operated a little bit better."
"But, it is something that we can build on going into the next game. But, at the end of the day, it was very nice to fight hard in the field again and come away with the win," the winning captain said.
Asked if the lack of finishers is a worrying factor for him, Williamson agreed that his batsmen need to play with a bit more freedom.
"Moving forward, we are off to Delhi now and it will be another different surface. It is important we adapt and prepare for whatever we are faced with," he said.
RCB's Mohammad Siraj hoped that his team would do better in the coming matches.
"It was a crucial match for us. We lost the match. But, we did very good bowling," said Siraj.
(With PTI Inputs)