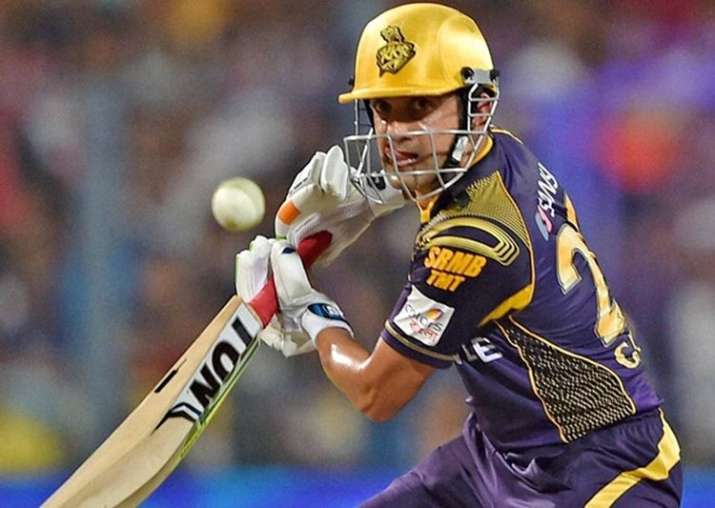 Team India discard Gautam Gambhir, who led Kolkata Knight Riders (KKR) to the title twice in the Indian Premier League, will be among 16 marquee players that are scheduled to go under the hammer in the IPL 2018 Auction, to be held in Bengaluru on January 27-28.
However, the fear of uncertainty doesn't bother the 36-year-old Delhi batsman as desite having an "emotional" connect with the purple camp, it won't be difficult for him to don other team's jersey in the 11th edition of the cash-rich league.
In fact, on the cusp of another mega-auction, Gambhir is also ready to act as an "elder statesman" for any franchise that he turns up for.
"Back in 2011, I remember it was January and the only worry I had was whether I will be picked for the 50-over World Cup later that year or not. It was only on the day of the auction, I had a few butterflies in my tummy. Now, seven years later, I have a broader view to life and cricket," Gambhir said.
"I am at a stage of my career where I want to be a senior statesman, a mentor to the younger cricketers. Whether that happens in KKR, Sunrisers, Delhi, Mumbai I am absolutely fine with it," Gambhir said.
KKR has been a huge "emotional investment" for the World Cup winner and he admitted that it would be difficult if he doesn't wear the purple jersey again. The franchise has released him.
"Yes it will be, it will be tough as KKR gave a platform to express myself as a batsman, a leader, as a human. But at the end of the day I respect the call KKR has taken, they have some solid reasons behind the move which they have explained and I am fine with them.
"There are no hard feelings at all, may be there are fresh challenges waiting for me. I will be glad to accept them and turn things around. Lets see what happens," he said.
He is always considered captaincy material for his exploits at KKR but he believes a skipper is as good as his team.
"A leader is as good as his team. So, in that case, I was fortunate to have led KKR. My team is the real hero, I am not. Other than all this, I think it is upto the franchisees to think what I bring to the table. I am content with the fact that I have been a part of two teams that have won the IPL title."
Gambhir didn't want to comment on what is his choice of a franchise.
"Again this is a question that only the franchisees can answer. People know what I bring in the package as a captain and as a player. I'll be happy to take any group to the next levels wherever I am picked."
He has played first three years for Delhi Daredevils but he dead-batted queries on whether the franchise is looking at him as rumours are to be believed.
"See, this is a hypothetical question, something which is not in my hands. There are a lot of variables which have to go right to have a wishful auction. I can only say that I am happy to play anywhere the auction lands me whether it is Delhi or any other franchisee.
"At the end of the day, it is a simple game -- you can only control your bat in hand, thinking about the rest of the aspects can only add to your stress."
The class of 2011 -- Yuvraj Singh, Harbhajan Singh and Gambhir -- are back in the auction. Gambhir called it the cycle of life.
"It is a life circle and I completely understand this part. The bottom-line is that I am absolutely ready to compete with players of any age-group or talent pool.
"I have had an almost 700-run season in Ranji Trophy, I have been working hard on my fitness for last 5 years and this is what matters. Rest are mere details," he concluded.
(With PTI inputs)