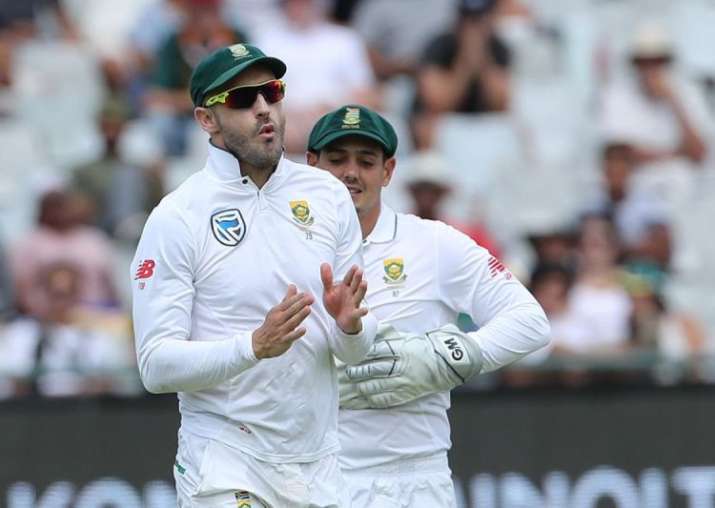 Under the captaincy of Virat Kohli, India might get to see 'bounce' more than Cape Town when they take on hosts South Africa in the second Test, to be played from January 13 to 17 in Centurion, hinted Proteas skipper Faf du Plessis on Friday.
"From what I got from the groundsman, the grass on the wicket has been burned from the heat last week when it was very hot. We've asked for pace and bounce, so hopefully we will get that over the next five days," du Plessis said on the eve of the second Test.
The South African skipper, however, believes an 'unknown' pitch awaits both the hosts and the visitors. The two sides are all set to lock horns on Saturday, with the Kohli-led side trailing the series by 0-1 following their 72-run defeat in the opening match in Cape Town.
Newlands groundsman Evan Flint was applauded for producing the seam-friendly wicket, with the highest total in the match being 286 during South Africa's first innings.
The match saw South Africa's Vernon Philander taking career-best figures of six for 42 and finishing with overall nine wickets to eventually bag 'man-of-the-match' award.
It seems that Centurion curator Bryan Bloy will be under a little more pressure, with the captain of the two sides had already given good reviews of the 22-yard strip in Cape Town.
According to du Plessis, South Africa are preparing for unknown Centurion pitch before revealing that they had asked for a pitch with pace and bounce.
"For us, at the moment, it's unknown. We'll see how it plays over the next five days. For us to get the conditions we would like, the ball must spin as little as possible.The wicket looks a bit browner than I thought it would be," du Plessis told the reporters.
Though Du Plessis is expecting the batsmen to be more comfortable on this wicket, he is completely in the dark when it comes to the possibility of spin.
"As you can see over there, there is not a lot of green grass. I expect a good cricket wicket and hopefully a bit of pace and bounce.To be really honest, I don't know. Generally, Centurion doesn't spin that much but there is a thick layer of brown grass on it so it's not something that we're used to seeing at Centurion," he said.
Heading into the match tomorrow, South Africa will aim to wrap the three-match Test series. India, on the other hand, will look to bounce back to keep themselves alive in the series. 
(With ANI inputs)