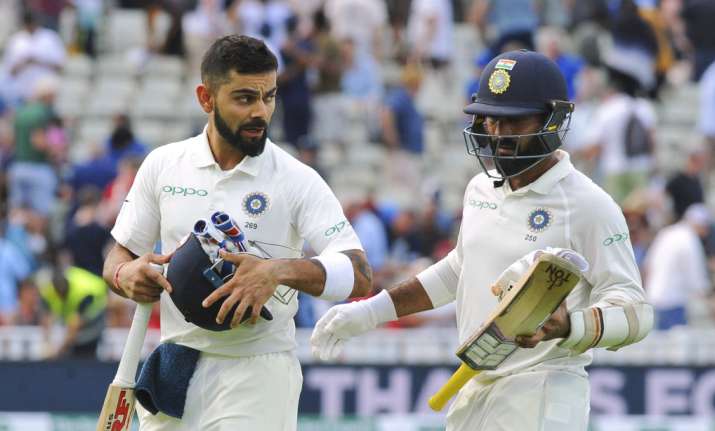 After India's 31-run defeat to England in the first Test in Birmingham, former captain Sunil Gavaskar has adviced the current team skipper Virat Kohli to include an extra batsman in the playing XI for the second game of the five-match Test series, starting Thursday at Lord's.
"I always believe that in overseas conditions, you need to play an additional batsman. They got to believe in themselves that they can do well. I believe in this team," Gavaskar said.
Critical of the way India prepared for the Test series against England, Gavaskar said lack of serious practice ahead of the Birmingham game hurt India dearly as batsmen's poor technique against moving deliveries was thoroughly exposed.
Gavaskar is livid with the fact that India played only eight days of competitive cricket (3 ODIs and T20Is against England and 2 vs Ireland) and that too limited overs before the Test series.
After the ODI series defeat, Indian team was given a five-day break and the players spent time in Europe.
"It was no preparation at all. I can understand that you need to switch off after a series but that can't be five days at a stretch. It can be three plus three day breaks between matches but not five days," he added.
Gavaskar was also critical of Indian team for changing an official first-class game into a glorified practice session in the name of warm-up game with all 18 players taking part.
"They should have played at least two three-day games and proper first-class games. Not 18 players but 11 players. They should have prepared in such a manner to give themselves a chance in the Test match. They cancelled a warm-up game in South Africa and were thrashed in the first two Tests," he said.
You can have as many match simulations, take throw-downs but in match situations, it is different. While taking throw-downs, you can get out or in nets you can bowl no balls," said the legendary opener.
Gavaskar also doesn't like the common notion that Indian team being in England for more than a month was a recipe for success.
"They deluded themselves that they are in England for one month. They played white ball cricket where the bat speed is different from red ball cricket. So there was no preparation at all," he reasoned.
He also feels that Virat Kohli's method of preparation can't be emulated by one and all in the Indian team.
"Kohli can take 50 days off and then come back and score a hundred next day. He is an exceptional talent and if he takes time off, no issues. But the team management need to understand that others need practice. Like he wanted to play county cricket and skipped the Afghanistan Test. I don't believe it was a correct decision," he said.
(With PTI inputs)