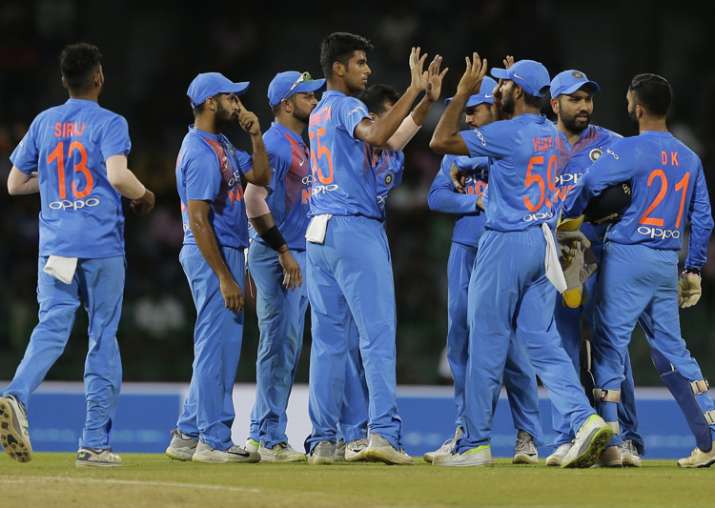 HIGHLIGHTS, INDIA VS BANGLADESH, 5TH T20I, NIDAHAS TROPHY: Rohit Sharma smashed five sixes and five boundaries to score 89 runs and lead India to a 17-run win over Bangladesh in the 5th T20I of the Nidahas Trophy tri-series in Colombo on Wednesday. Bangladesh captain Mahmudullah Riyad won the toss and asked India to bat first and they scored 176/3 in their allotted 20 overs. Suresh Raina well complemented Sharma with 47 runs scored off 30 deliveries. In reply Bangladesh could manage only 159/6 in their 20 overs with off-spinner Washington Sundar leading India's bowling with a career-best 3/22. Mushfiqur Rahim fought hard with an unbeaten 72 off 55 deliveries for Bangladesh. Get all the latest cricket scores from Nidahas Trophy 2018 here. (SCORECARD) (LIVE STREAMING)
HIGHLIGHTS, INDIA VS BANGLADESH, NIDAHAS TROPHY, 5TH T20I
22.30 IST: India (176/3) beat Bangladesh (159/6) by 17 runs in Colombo to enter tri-series final. Washington Sundar 3/22
22.16 IST: END OF 19TH OVER. BAN NEED 28 RUNS IN LAST OVER.
22.11 IST: FOUR! Hasan takes full toss of the free hit! The night keeps getting worse for Siraj. He concedes 16 from this one. He bowls it wide outside off, Hasan slices it over point and there is no fielder in the deep and the ball races away. 33 now in 12.
22.08 IST: Mohammed Siraj to Mushfiqur Rahim, No ball it is! Siraj bowls a high full toss which Rahim mistimes and hits it straight up in the air towards the bowler who takes a catch. However, he has a chance of a run out as Rahim goes for a run and is way short. he though misses his shy at the non-striker's end and the batsmen complete a run. The umpires though are not sure about the no ball and they go upstairs to check. The replays show the ball to be above the waist and it is given in the favor of the batsman. Free Hit coming up.
22.06 IST: FIFTY! Mushfiqur Rahim hits his 4th T20I half-ton off 42 balls. FOUR! Siraj is welcomed with a boundary! He has had a day to forget so far. Short and wide outside off, Rahim cuts it through point and the ball races away. He also brings up his 4th T20I fifty and it is also back-to-back fifties for him. The question here is though, can he pull a rabbit out of the hat? Bangladesh 132/5, need 45 runs vs India (176/3) in Colombo.
22.03 IST: Mehidy Hasan is the next man in.
22.02 IST: OUT! Thakur removes Sabbir Rahman for 27. TIMBER! Shardul Thakur gets the wicket which probably seals the game and the spot in the final for the Indians. A brilliant slower ball on off, it stays a touch low. Sabbir had to go for it and he goes across the line. He misses it completely and the ball kisses the off pole. Shardul is off for a celebratory run as he has broken the 65-run stand. Nevertheless, a good innings by Sabbir comes to an end but his team needed him to be there till the end. 51 needed of 20.  Bangladesh 126/5, need 51 runs vs India (176/3) in Colombo.
21.55 IST: Washington Sundar to bowl out. Can he break this partnership before he's done with the ball tonight?
21.50 IST: Shardul Thakur to Mushfiqur Rahim, Excellent over just 5 from it! Short and outside off, cut towards point for a run. 2 short of 70 needed now in 36 deliveries. BAN 109/4 in 14 overs.
21.44 IST: SIX! THAT IS HUGE! Sabbir Rahman hits his first six.  An excellent end to the over for Bangladesh! 10 from this one also. A poor ball, a half-tracker on middle, Sabbir rocks back and pulls it over the mid-wicket fence for a biggie. 73 in 7 overs.
21.39 IST: 12 overs gone, Bangladesh are 94/4, need 83 runs in 48 balls. Vijay Shankar to Mushfiqur Rahim, 2 runs. Two is the call and they get it easily! 14 from this over. Fuller ball on middle, Rahim works it away with soft hands through mid-wicket and bags a brace.
21.36 IST: FOUR! Rahman is on the charge now! He dances down the track, gets it short on his hips. He pulls it with authority through backward square leg for a boundary.
21.34 IST: SIX! BOOM BOOM GOES RAHIM! 15 from the over till now! Rahim once again uses his feet, gets to the pitch of the ball and lofts it over mid off for a maximum.
21.32 IST: FOUR! Cleverly done! Siraj lands it on a length around off, Rahim makes a little room and opens the face of the bat late. The ball goes fine towards third man and into the fence. Back-to-back boundaries. Is this the big over Bangladesh need?
21.31 IST: FOUR! A much-needed one! A boundary after 22 balls. He comes dancing down the track, gets a short ball and he pulls it hard over mid-wicket. They need a lot more.
21.30 IST: Skipper Rohit Sharma roared back to form with a blazing 89 as India scored a competitive 176 for three against Bangladesh in the final league encounter of the Nidahas T20 Tri-Series in Colombo. After a prolonged bad patch starting from the tour of South Africa, the stand-in captain was in his element, starting cautiously before finishing with a flourish as he hit five fours and an equal number of sixes off only 61 balls. (HERE'S HOW ROHIT SHARMA RETURNED TO FORM)
21.24 IST: Sabbir Rahman is the next batsman in.
21.23 IST: OUT! Chahal removes Mahmudullah for 11. Mahmudullah's little cameo comes to an end. Shorter in length on the stumps, Mahmudullah camps back and pulls it over mid-wicket looking to clear the fence. Doesn't connect well at all, and it's a simple catch for KL Rahul out in the deep who comes in a few steps and pouches it.  Bangladesh 61/4 in 8.4 overs vs India (176/3) in Colombo.
21.20 IST: Vijay Shankar to Mahmudullah, 1 run. Just ahead of a length, gets it to move away a little. Mahmudullah guides it towards short third man to keep strike. BAN 57/3 in 8 overs.
21.12 IST: Mahmudullah to bat next.
21.11 IST: OUT! Sundar removes Tamim for 27. Third wicket in this third over! Young Washington Sundar is ripping through the Bangladesh batting line-up. And the Powerplay isn't even over yet. He's got the big fish this time. Bowls it quicker and flatter on middle, it keeps angling down, Tamim moves inside to play the slog sweep but misses it completely and the ball takes the leg bail after that. India rejoice, they know this could be their moment.  Bangladesh 40/3 in 5.4 overs vs India (176/3) in Colombo.
21.07 IST: Yuzvendra Chahal to Tamim Iqbal, No run. Defended solidly from inside the crease. End of a decent over from the leggie.  BAN 39/2 in 5 overs. 
21.05 IST: Yuzvendra Chahal is on to bowl.
21.03 IST: Mushfiqur Rahim walks in next.
21.02 IST: OUT! Sundar removes Sarkar for 1. BOWLED 'EM! Second in as many over for Washington Sundar. The kid is pulling off yet another magical performance in the Powerplay. After that beating in the previous over, this is just what India needed. A tidy over and a vital wicket. From around the wicket, it's bowled full. It drifts in as Sarkar plays an expansive drive. Right through the gate and the bails are knocked off. Bangladesh need 142 to win off 99 balls. Bangladesh 35/2 in 3.4 overs vs India (176/3) in Colombo.
21.00 IST: FOUR! 18 off the over so far. Tamim is on fire here. Thakur is being taken for a ride. Just behind a length, it's pulled hard over mid-wicket for one more boundary.
20.59 IST: SIX! This has gone all the way! Poor bowling from Shardul though, he needs to get his radar right. Down the leg side, Tamim moves inside the line and lifts it over fine leg for a maximum.
20.57 IST: FOUR! Two in two for the opener! Full again, wide outside off, Tamim throws the kitchen sink at it and crashes it square through the off side this time for another boundary. 
20.55 IST: FOUR! That's a glorious shot! Fuller in length and well outside off, Iqbal thrashes it through the gap in the covers to find the fence.
20.54 IST: Soumya Sarkar is in at No.3.
20.53 IST: OUT! Sundar removes Liton Das for 7. Sundar picks up a wicket in his first over. 50th T20 stumping for Dinesh Karthik. Das give the charge again and this time the bowler darts it wide outside off. Das can't get to it and this allows the keeper to take the bails off with ease.  Bangladesh 12/1 in 1.5 overs vs India (176/3) in Colombo.
20.51 IST: NOT OUT! Wasted review to be honest. Looked clearly not out to the naked eye to begin with. Das give the charge to this loopy full toss. Misses and is hit high on the thigh pad. Appeal goes up, but nothing from the umpire. The impact is outside off and the batsman is way down the track, but for some reason the review is taken. Maybe Dinesh Karthik asks to take it. It goes upstairs and replays show the batsman is clearly safe. Poor call. The review should never have been taken.
20.50 IST: And the review is taken. Drama on the first ball of Sundar's spell. Liton Das is the man in question, let's see what happens here...
20.49 IST: Mohammed Siraj to Liton Das, 1 run. Touch wide outside off, guided behind point, down towards third man for a run. Decent first over for the Tigers, 8 off it.  BAN 8/0 in 1 over.
20.33 IST: Rohit Sharma run out for 89! Misses out on a ton and this is an excellent over from Rubel Hossain. Conceded just 4 off it. Full on off, Rohit smashes it hard back to him. Rubel stops it, and since it's the last ball of the over, the batsmen run. This allows the bowler to run back and take the bails off. Rohit is out but it's been a superb knock to say the least from him. India post 176/3 in 20 overs.
Bangladesh need 177 runs to win.#BANvIND #NidahasTrophy2018 pic.twitter.com/KeDHAt69Kv

— Bangladesh Cricket (@BCBtigers) March 14, 2018
20.29 IST: OUT! Rubel removes Raina for 47. Suresh Raina just misses out on his fifty! Bit unfortunate, played exceptionally well, fully deserved it. But, he's done his job nonetheless. Full on the pads, Raina lofts it over mid-wicket. Not enough distance on this one as it's into the hands of Soumya Sarkar who takes it after moving to his left.  India 172/2 in 19.2 overs vs Bangladesh in Colombo.
WICKET! Rubel gets his second. Raina gone for 47.#BANvIND #NidahasTrophy2018 pic.twitter.com/GHLULxYmtV

— Bangladesh Cricket (@BCBtigers) March 14, 2018
20.26 IST: FOUR! What a placement. Rohit is in incredible form today. Back-to-back boundaries for the Indian captain! The 100-run stand between these two comes up with that as well. Fine hit by Rohit Sharma. Full toss outside off, he opens the face and runs it down to the third man boundary.
20.23 IST: SIX! Rohit Sharma, you beautiful, beautiful man! Speechless at this. His power hitting is just something else. High full toss, not enough for the umpire to signal a no ball. Rohit swings hard across the line and it's high into the night sky. Has the height and the distance as well as it clears the mid-wicket boundary with ease.
20.21 IST: SIX! That's AUTHORITATIVE! 44 off 25. What is he up to? Raina's been immaculate since he's walked out in the middle. This isn't that short, but he still takes on the pull off the front foot. Swings hard and sends it sailing over the mid-wicket fence for a maximum.
20.18 IST: SIX! Might be struggling, but he's connected this one really well. Full ball on the pads, Sharma kneels down and brings out the slog sweep. Dumps it over square leg and into the stands, where a spectator manages to take the catch. Nicely done, good man. Maybe the Tigers could have used him on the field.
20.15 IST: FOUR! Raina smashes it smoothly for a boundary. Beautiful! He's such a delight to watch when he's in full flow. Short ball just outside off, Raina cuts this over short third man and picks up a boundary.  IND 131/1 in 16.2 overs.
20.13 IST: Mustafizur Rahman to bowl again.
20.08 IST: FOUR! Raina stretches his muscles here. Consecutive boundaries for Suresh Raina! He picked this up perfectly. Expected the yorker to come, so he leaned ahead and just lofted it over mid on for a boundary. IND 115/1 in 14.5 overs.
20.07 IST: FOUR! Edged and away! Short ball banged in, Raina clears his front leg and takes on the pull, but gets a top edge over the keeper's head. Mustafizur from fine leg comes across to cut it off, but his sloppy effort allows the ball to go through him and away to the fence behind.
20.03 IST: FOUR! That's blasted away! Raina holding nothing back on that. He dances down the track, gets close to the pitch and hammers it straight back down the ground for a boundary.
20.01 IST: SIX! Connects this one to perfection! BANG! Tossed right up there by Hasan, Raina gets down to this one and slog sweeps it high and handsome over the mid-wicket fence for a biggie.
19.58 IST: FIFTY! Rohit Sharma hits his 13th T20I half-ton off 42 balls. India 91/1 in 12.4 overs vs Bangladesh in Colombo. Abu Hider to Rohit Sharma, Fifty for Rohit Sharma! His 13th in this format and a much-deserved one. He needed this. He comes down the track and hits it through covers.
19.56 IST:  FOUR! That's a very good shot from the Indian skipper! Too full from the left armer, Rohit is able to get low to it and sweep it over short fine leg for a scintillating boundary.
19.53 IST: Mustafizur Rahman to Suresh Raina, no run. Cutting back in from around off, on a good length, goes off Raina's pads and falls on the off side. Dot ball to end the over. IND 84/1 in 12 overs.
India are 84/1 after 12 overs.#BANvIND #NidahasTrophy2018 pic.twitter.com/hjoRWoYwCH

— Bangladesh Cricket (@BCBtigers) March 14, 2018
19.48 IST: SIX! Rohit Sharma uses her feet and the result is SMOOTH. A much needed one for India! Sharma comes down the track, gets to the pitch of the ball and sends it sailing over the mid-wicket fence. This should break the shackles now. IND 78/1 in 10.5 overs. 
19.44 IST: Suresh Raina is the next man in.
19.43 IST: OUT! Rubel removes Dhawan for 35. A CORKER OF A YORKER! What a delivery by Rubel Hussain. That dropped catch has not cost Bangladesh a lot. Liton Das will surely be breathing a sigh of a relief here. Rubel comes steaming in and bowls an effort delivery. A yorker to be precise and also gets it to tail away from leg stump. Dhawan plays all around it and misses it to see his middle stump get knocked out. A brilliant sight for the bowler and a much-needed wicket for the bowling side. They have broken the 70-run stand. It has also been a good phase for them and they would now look to build on it. India 70/1 in 9.5 overs vs Bangladesh in Colombo.
WICKET! Rubel bowled Dhawan out for 35. #BANvIND #NidahasTrophy2018 pic.twitter.com/xbum1vF9eN

— Bangladesh Cricket (@BCBtigers) March 14, 2018
19.39 IST: Rubel Hossain is back on.
19.35 IST: FOUR! Excellent shot! Just a little short by the bowler. Dhawan picks the length up early and pulls it through square leg and the ball races away.
19.30 IST: FOUR! It was high in the air but Liton Das fails to make it a stellar catch. DROPPED AND FOUR! That has been horribly misjudged by Liton Das! Dhawan comes down the track and tries to go big over the leg side. He, however, only gets elevation but no distance. It goes towards deep mid-wicket where Das does not judge it and then dives to his right with his hand stretched out. He gets his hand to it but can't hang on. To add salt to the wound, it rolls away for a boundary. A reprieve for Dhawan, he has been in form, bow costly will this prove?
19.27 IST: FOUR! Good finish to the powerplay. Dhawan takes full toll of it! A full ball on off, Shikhar lofts it over the mid off fielder for a boundary. A good Powerplay for India, they are 49 for no loss. IND 49/0 in 6 overs.
19.25 IST: FOUR! Full points to the bowler there but runs for the batsman. A slower ball which completely deceives Rohit. He tries to force it through the off side but gets an outside edge through the vacant slip cordon for a boundary.
19.22 IST: Mehidy Hasan to Rohit Sharma, 3 runs. Very full and wide outside off, Rohit squeezes it through point. Liton Das gives it a chase and saves a run for his team. IND 38/0 in 5 overs.
19.21 IST: SIX! First six for Rohit Sharma and chants of his name goes on... BANG GOES ROHIT! Hasan tosses it up and pays the price. Rohit goes down on one knee and slog sweeps it over the mid-wicket fence for a maximum.
19.19 IST: Marvelous! That goes across the boundary elegantly. Dhawan displays some confidence here. No, he can't! What a hit, son! Dhawan comes down the track, expecting a slower one and he gets it. He sends it sailing over the bowler's head and he has hit it well enough for it to go all the way. First of the game. IND 27/0 in 4 overs.
19.15 IST: Mustafizur Rahman is into the attack.
19.12 IST: In the air... But no, Rohit gets a chance this time. Rubel Hossain to Rohit Sharma, 1 run. Rohit almost bagged another failiure. Rubel lands it on a length around middle, Sharma tries to go over the top but mistimes it completely. It goes uppishly over the bowler's head and there are two fielders coverging for it one from mid on and the other from mid off. Rony from the former position goes for it with a full stretch dive but can't reach it. A run taken by the batsmen.
19.10 IST: FOUR! Second off the over! A good way to get off the mark for Dhawan. Short and down the leg side, this is the bowler's sixth consecutive short delivery. Dhawan goes on the back foot paddle sweeps it very fine towards the fine leg fence. 9 runs from this over. A poor over by the spinner, could have been hit for more.
19.07 IST: FOUR! Rohit Sharma finds the gap, gets the best out of this delivery. First of the match! Very slow and on the shorter side on the stumps. Rohit Sharma has all the time in the world to rock back and whip it through wide mid on for a boundary. IND 6/0 in 1.2 overs.
19.06 IST: Nazmul Islam will bowl the second over.  
19.05 IST: Abu Hider to Shikhar Dhawan, no run. Another slower ball on off, defended to point. A couple off the first over, a good one by the bowler.  Just two runs from the first over. 
19.00 IST: We are all set for the first ball to get underway. Rohit Sharma and Shikhar Dhawan will open the batting for the Indians.
18.55 IST: The players are out for their respective national anthems. The Indians will sing their anthem first, followed by the Bangladesh's.
18.52 IST: India Playing XI: Rohit Sharma (C), Shikhar Dhawan, Lokesh Rahul, Suresh Raina, Manish Pandey, Dinesh Karthik (wk), Vijay Shankar, Washington Sundar, Shardul Thakur, Mohammed Siraj, Yuzvendra Chahal
IND XI: RG Sharma, S Dhawan, L Rahul, S Raina, M Pandey, D Karthik, W Sundar, V Shankar, M Siraj, S Thakur, Y Chahal

— BCCI (@BCCI) March 14, 2018
18.48 IST: "It's always a good thing when you're batting first. We have to come out and bat well. Wicket's not going to change much. We were clinical in the last game. Dinesh and Manish finished the game well. It's about continuing that (good performance). No concerns about my own form. Spending more time is important; not playing too many shots early on. For me, the team performance matters the most," Rohit Sharma says at toss.
18.40 IST: Bangladesh Playing XI: Tamim Iqbal, Soumya Sarkar, Liton Das, Mushfiqur Rahim (wk), Mahmudullah (C), Sabbir Rahman, Mehidy Hasan, Rubel Hossain, Abu Hider Rony, Mustafizur Rahman, Nazmul Islam
18.34 IST: "The wicket looks quite dry, so spinner might come into play. So want to use the conditions early on. The wickets here gets better and better. And we're playing two specialist spinners, so would like to take advantage. Lot of questions were being asked about oiur abilities (before the last game). Abu Hider comes in, Taskin misses out," Mahmudullah says after winning the toss.
18.32 IST: Bangladesh have won the toss and opted to field first against India in the 5th T20I of the Nidahas Trophy. Mohammed Siraj comes in place of Jaydev Unadkat.
Bangladesh have won the toss and will bowl first. One change for #TeamIndia - Siraj in place of Unadkat pic.twitter.com/ydJa8WHli0

— BCCI (@BCCI) March 14, 2018
18.30 IST: Both Indian cricket team openers, Rohit Sharma and Shikhar Dhawan, take a close look at the Colombo pitch ahead of the 5th T20I.
Both #TeamIndia openers taking a close look at the pitch before the start of the T20I against Bangladesh #TeamIndia pic.twitter.com/Y0LIpYWXQS

— BCCI (@BCCI) March 14, 2018
18.22 IST: Thakur was a happy man after his heroics laid the foundation of India's clinical six-wicket win over Sri Lanka in the fourth T20I of the ongoing Nidahas Trophy T20 tri-series. "I loved it. Happy to receive the award. Always dreamt of winning a game for India and here I am. Frankly there were some nerves but no pressure. Nothing special, we just discussed how to execute our plans and it worked out for the better," Thakur said after the match. (Read full story)
18.10 IST: Young India pacer Shardul Thakur, claimed a four-wicket haul in 4th T20I, knows that opportunities in a settled limited overs line-up won't come easily and that's the reason he is ready to "step up" in an unenvious role of India's stop-gap third seamer in absence of Bhuvneshwar Kumar and Jasprit Bumrah. (Read full story)
17.48 IST: Here are the complete squads for the Nidahas Trophy 5th T20I.
India: Rohit Sharma (C), Shikhar Dhawan, KL Rahul, Suresh Raina, Manish Pandey, Dinesh Karthik (wk), Deepak Hooda, Washington Sundar, Yuzvendra Chahal, Axar Patel, Vijay Shankar, Shardul Thakur, Jaydev Unadkat, Mohammad Siraj and Rishabh Pant
Bangladesh: Mahmudullah (C), Tamim Iqbal, Soumya Sarkar, Imrul Kayes, Mushfiqur Rahim (wk), Sabbir Rahman, Mustafizur Rahman, Rubel Hossain, Taskin Ahmed, Abu Hider, Abu Jayed, Ariful Haque, Nazmul Islam, Nurul Hasan, Mehidy Hasan, Liton Das
​17.40 IST: Riding a momentum that India built with convincing back-to-back wins recently, Rohit Sharma & Co will aim for an easy final-berth of the Nidahas Trophy Tri Series when they take on Bangladesh in the fifth T20I in Colombo on Wednesday. India's victory on Wednesday will throw all the mathematical possibilities out of the window. Having suffered an unexpected defeat against Sri Lanka in their tournament-opener, it is highly unlikely that India will experiment against a resurgent Bangladesh in their final league stage match. (Read Full Match Preview)