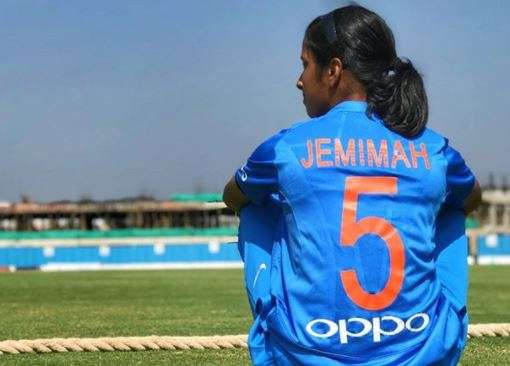 17-year-old Jemimah Rodrigues is keen on leaving her mark in South Africa as the debutant aims to make it big as India tour South Africa for a limited-overs format series. The new girl on the block is quite nervous but has said that her teammates have comforted her at all times.  
"I am really looking forward to the SA tour. It's my first trip with the Indian team," said Mumbai girl Jemimah Rodrigues ahead of the team's departure to the Rainbow Nation.
"Everyone has supported me really well and they have not made me feel like I am a new girl or the youngest one in the team. They have gelled up well with me. I am a bit nervous, but I am excited too," said Rodrigues, who has made headlines with her breath-taking performances in the domestic circuit.
The Indian's women team is to take on hosts South Africa in a three-match ODI series which starts at Kimberly on February 5, followed by a five-match T20 series, which begins on February 13.
Rodrigues was pleased to meet cricket icon Sachin Tendulkar, who gave a pep talk to the members of the women's cricket team, before they flew to South Africa.
Rodrigues cherishes the moment saying Tendulkar gave the team members a lot of confidence ahead of their tour.
"Meeting Sachin sir was an awe moment for each one of us. He's one of the best examples of a good batsman, but more than that a humble human being. He spoke to each one of us, gave us many fine tips, and made us feel comfortable and answered our questions," she said.
"I think he gave us a lot of confidence before travelling to South Africa. Meeting him was a blessing for us," said the young cricketer.
"Whenever I get a chance, I will be happy to play there, perform and do well for the team," the right-handed batswoman said about her chance of making into the playing eleven.
Rodrigues said she did get nervous when she first met teammates - skipper Mithali Raj and Jhulan Goswami - and termed the former as her idol.
"The first time I got very nervous. Mithali Raj is my idol in Indian cricket and seeing them batting and working so hard in the nets is an inspiration for me," she said.
"The commitment and effort they put in even at their age is amazing. So I am really glad and looking forward to many more experiences with them," she said.
The young cricketer also threw light on her journey so far saying she had worked hard to get into the national team.
"Honestly speaking, I have been working really hard for many years. Even last year, I had good performances in the U-19. But in the senior level I wasn't performing, so this time I worked even harder with my dad and my coaches, trying to improve on areas that I was failing in last year," she said.
"I was preparing for the Challengers because I had my performances backing me up at the U-19 and other domestic tournaments. I knew that the Challengers would be important. If I did well there, I could get through to the Indian team," she said.
"Everybody was really supportive and talking about the tips, they would come up to me individually in the nets (like when I was batting with Smriti Mandhana or Poonam di Raut) and give me some feedback. So that's really good. Its fun and exciting to be with the team," she signed off.
(With PTI Inputs)