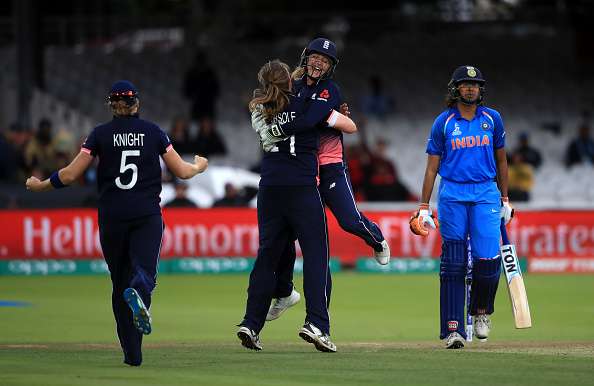 England beat India by 9 runs in a thrilling final of ICC Women's World Cup at the iconic Lord's Cricket Ground in London. Player of the Match - Anya Shrubsole picked up 6/46 to lead England to their fourth World Cup title. For India, opener Punam Raut played an important knock of 86 runs (115 balls), Harmanpreet Kaur also notched up a crucial half-century but at the end, it was not enough to take India over the line. India's chase were right on track but the women in blue dramatically lost seven wickets for 28 runs and ended up on the losing side. 
Earlier, skipper Heather Knight has won the important toss and elected to bat first in front of a capacity crowd. Both India and England are going with unchanged squads from the semi-finals. England openers started off well as Lauren Winfield and Tammy Beaumont conjured up an important 47-run stand but spinners - Poonam Yadav (2/36) and Rajeshwari Gayakwad (1/49) pulled things back with the ball. Natalie Sciver (51) and Sarah Taylor (45) lifted the spirits of the hosts but experienced pacer Jhulan Goswami (3/23) bowled a brilliant spell to restrict the strong English batting line-up to 228/7 in 50 overs.
HIGHLIGHTS FROM INDIA vs ENGLAND, ICC WOMEN'S WORLD CUP FINAL at LORD'S
INDIA INNINGS
22.10 IST: OUT! It's all over here at Lord's. Shrubsole picks up her sixth wicket, Rajeshwari Gayakwad (0). IND 219-all out. England lift their fourth World Cup title, India were so near yet so far from their maiden triumph at the Home of Cricket - Lord's. Well done England, hard luck India!
22.07 IST: OUT! Shrubsole picks up a fifer, Deepti Sharma gone (14). IND 218/9 in 48.1 overs
22.03 IST: OUT! Shikha Pandey (4) finds herself short of the popping crease. IND 218/8 in 47.3 overs
21.59 IST: A stumping appeal now! Sarah Taylor has shown great reflexes in the crunch situation. Deepti survives as the third umpire rules the decision in her favour. IND 215/7 in 47 overs
21.53 IST: FOUR! Deepti Sharma hits it straight down the ground. IND 208/7 in 46 overs  
21.50 IST: OUT! This is simply brilliant from England, Jhulan Goswami (0) departs. IND 201/7 in 45 overs 
21.47 IST: OUT! Veda Krishnamurthy (35) starts the long walk back to the pavilion, Shrubsole strikes. IND 200/6 in 44.4 overs
21.47 IST: 200 up for India. 29 needed off 33 balls
21.43 IST: OUT! Sushma Verma has gone for a duck. England has pulled things back in the last couple of overs, Hartley strikes. IND 198/5 in 44 overs
21.39 IST: FOUR! Veda hits a brilliant drive to deep extra cover. IND 195/4 in 43.1 overs
21.38 IST: OUT! Punam Raut (86) gone, Shrubsole gets the crucial breakthrough. IND 191/4 in 43 overs
21.35 IST: FOUR! Consecutive boundaries for India, Veda is turning the heat on at the moment. She tonks it down the ground. IND 190/3 in 42.2 overs
21.34 IST: FOUR! Brilliant shot from Veda, she attacks Shrubsole with a slash over point. IND 186/3 in 42.1 overs
21.27 IST: 7 runs of the over. IND 173/3 in 40 overs.
21.18 IST: Just 1 run from the over as India need 63 runs from 66 balls to win. IND 166/3 in 39 overs. 
21.10 IST: FOUR! Raut hits a beautiful shot towards gully. IND 160/3 in 36 overs
21.06 IST: FOUR! 150 comes up for India as they continue to chase the score. IND 154/3 in 35.5 overs.
21.03 IST: FOUR! Veda hits a brilliant shot to long off. IND 145/3 in 35 overs.
Veda Krishnamurthy comes to the crease as India need 91 more to win.
20.57 IST: OUT! Harmanpreet Kaur (51) departs, Alex Hartley gets the big wicket. IND 138/3 in 33.3 overs​
20.54 IST: Fifty comes up for Harmanpreet Kaur. IND 136/2 in 33 overs.
20.46 IST: 7 runs from Brunt's over. IND 127/2 in 31 overs
20.41 IST: FIFTY for Punam Raut! Big final and she steps up to the occasion brilliantly. India need 109 runs off 20 overs. 
20.37 IST: FOUR! Boundary for Harmanpreet, a lucky one.  IND 114/2 in 29 overs
20.31 IST: FOUR! Kaur places it brilliantly in the gap behind square. IND 106/2 in 27 overs
20.29 IST: Single from Harmanpreet brings up 100 for India. 129 runs required from 143 balls.
20.26 IST: FREE HIT! Punam Raut hits it over the top, gets a couple. IND 99/2 in 26 overs
20.24 IST: Fifty-run partnership comes up between Harmanpreet and Punam. IND 93/2 in 25.3 overs
20.19 IST: SIX! Another powerful maximum from Kaur, clean as ever. IND 88/2 in 24 overs
20.15 IST: Dot ball from Marsh to end the over, 4 off it. IND 79/2 in 23 overs
20.06 IST: SIX! Harmanpreet Kaur uses her feet and dances down the pitch to hit it over long-on. IND 69/2 in 20 overs
20.02 IST: England is chipping in with some really tight overs here. IND 59/2 in 19 overs
Time for Drinks.
19.53 IST: 4 runs from Laura Marsh's third over. IND 54/2 in 17 overs
19.50 IST: MAIDEN! Harmanpreet Kaur plays six dots in a row. IND 50/2 in 16 overs
19.47 IST: 50 up for India. IND 50/2 in 15 overs
19.45 IST: FOUR! Extremely risky shot from Harmanpreet Kaur, but she gets a boundary for it. IND 49/2 in 14.3 overs
19.37 IST: OUT! The Indian captain Mithali Raj (17) is gone, the confusion has cost India big time. IND 43/2 in 12.1 overs 
19.32 IST: FOUR! Class written all over this one, it shows the quality of the highest-run getter (Mithali Raj) in the world. IND 41/1 in 11 overs
19.29 IST: FOUR! This will release some pressure from India, Punam Raut picks up the slower one sends it to the boundary. IND 35/1 in 10.2 overs
19.28 IST: ANOTHER MAIDEN! England is building up some pressure backed up by some really good bowling. IND 31/1 in 10 overs
19.25 IST: MAIDEN! Good stuff from Natalie Sciver. IND 31/1 in 9 overs​
19.20 IST: SIX! A terrific blow from Punam Raut, she packs some real power. IND 30/1 in 7.3 overs
19.16 IST: FOUR! A Little bit too full from Brunt and Mithali pounces on it in style. IND 24/1 in 6.1 overs
19.11 IST: FOUR! That was sheer timing from the Indian skipper, beautiful drive from Mithali. IND 18/1 in 5 overs
19.06 IST: FOUR! Quality strike from Punam Raut, she hits it straight down the ground. IND 12/1 in 3.3 overs
19.04 IST: Tidy stuff from Brunt, just 2 runs from it. IND 8/1 in 3 overs
Skipper Mithali Raj comes to the crease.
18.58 IST: OUT! A big blow for India as Shrubhole sends Smriti Mandhana (0) back to the pavilion. IND 5/1 in 1.4 overs
18.51 IST: Punam Raut and Smriti Mandhana come out to open for India IND 1/0 in 1 over 
ENGLAND INNINGS
Mithali Raj and Co. need 229 runs to script history at Lord's. Will they write a new chapter in India Women's cricket history or England win their fourth title? We have to wait for the result.
18.22 IST: Top stuff from Deepti, just the 7 runs off this last over! ENG 228/7 in 50 overs
Young Deepti Sharma [8.0-0-32-0] comes in to bowl the last over of the innings.
18.15 IST: FOUR! A big over for England, 14 runs coming off it. ENG 215/7 in 28 overs
18.10 IST: 200 up for the hosts with a couple. ENG 201/7 in 47 overs
18.06 IST: OUT! Bull's-eye from Deepti Sharma, dangerous looking Brunt (34) gone. ENG 196/7 in 46 overs
17.59 IST: FOUR! Good shot from Katherine Brunt, she drives it through the covers. ENG 188/6 in 44 overs
17.55 IST: 5 runs from Gayakwad's eighth over. ENG 179/6 in 43 overs
17.45 IST: 3 runs from Goswami's final over. She finished her quota with impressive figures of 10 overs-23 runs-3 wickets. ENG 168/6 in 40 overs
17.38 IST: WICKET MAIDEN! Impressive stuff from Goswami, she has bowled her heart out in the big final. ENG 164/6 in 38 overs
17.32 IST: OUT! Jhulan Goswami strikes for the third time, Sciver has taken a review. The third umpire rules the decision in favour of India. ENG 164/6 in 37.1 overs
17.31 IST: FOUR! Brunt smashes it towards long-on, great shot. ENG 164/5 in 37 overs
17.28 IST: FIFTY! Natalie Sciver scores a crucial half-century for the hosts. She brings up her fifty off 65 balls. ENG 158/5 in 36.2 overs
17.26 IST: Another tidy over from pacer Jhulan Goswami. ENG 157/5 in 36 overs
17.22 IST: A run-out chance for India and they have fluffed it. Wicket-keeper Sushma Verma had a chance at both ends and she misses her shy at the striker's end.
17.18 IST: 150 comes up for England. 5 runs from Yadav's over. ENG 151/5 in 34 overs
17.12 IST: OUT! Two in two for India. Brilliant Yorker from Goswami, she picks up Fran Wilson for nought. ENG 146/5 in 32.5 overs 
17.09 IST: OUT! Big blow for India, Jhulan Goswami removes Sarah Taylor (45). ENG 146/4 in 32.4 overs
17.04 IST: 7 runs from Goswami's over.  ENG 140/3 in 31 overs
India is looking for a breakthrough, the partnership between Taylor and Sciver looks pretty solid - 75 runs (86 balls) at the moment. Jhulan Goswami comes back into the attack.
16.54 IST: FOUR! Brilliant innovation from Sciver. ENG 128/3 in 29 overs
16.47 IST: FOUR! This shot from Sciver at long-off brings up the important fifty-run stand between her and Taylor. ENG 114/3 in 27 overs
16.38 IST: FOUR! Sciver plays a beautiful sweep, covers the line and hits it towards fine leg. 100 comes up for England. ENG 100/3 in 24.3 overs
Ohh, that's sad! The rain has started pouring in and the groundsmen are busy strategizing. It looks really gloomy here in London at the moment.
16.33 IST: Just 3 runs from Harmanpreet's first over. ENG 91/3 in 23 overs
16.31 IST: Player of the Match against Australia, Harmanpreet Kaur comes into the attack. 
16.25 IST: 20 overs gone, England - 80/3
16.17 IST: FOUR! Full toss from Poonam Yadav punished by Sciver. ENG 73/3 in 18.1 overs
16.15 IST: FOUR! Fine hit from Natalie Sciver, she hits it straight down the ground. ENG 68/3 in 17.3 overs
16.10 IST: OUT! England captain Heather Knight departs (1). The hosts are in trouble here. ENG 63/3 in 16.1 overs
16.09 IST: Appeal for LBW from Poonam Yadav. 
15.58 IST: OUT! Poonam Yadav gets the big fish. Tammy Beaumont (23) departs. ENG 60/2 in 14.3 overs
15.55 IST: FOUR! Beaumont carries her brilliant form in the tournament, she's batting beautifully at the moment. ENG 59/1 in 14 overs
15.49 IST: A wicket and four runs from Gayakwad's over. ENG 50/1 in 12 overs
15.45: OUT! Rajeshwari Gayakwad bowled Lauren Winfield (24). INDIA get the first breakthrough. the innings. ENG 47/1 in 11.1 overs. 
15.40 IST: Good over from Rajeshwari Gayakwad. 0 runs of the over.  ENG 43/0 in 9 overs. 
15.34 IST: Jhulan's appeal for LBW denied! Pitching in line, impact in line but wickets missing. Winfield survives. ENG 43/0 in 8.3 overs. 
15.31 IST: FOUR! 12 runs from the over for Winfield. ENG 42/0 in 8 overs
15.30 IST: FOUR! Lauren Winfield hits a beautiful boundary towards cover. ENG 34/0 in 7.1 overs
Rajeshwari Gayakwad replaces Shikha Pandey
15.28 IST: MAIDEN! Brilliant stuff from the veteran pacer Jhulan Goswami. ENG 30/0 in 7 overs
15.22 IST: FOUR! Back to back boundaries for the England opener. ENG 29/0 in 5.2 overs
15.21 IST: FOUR! That's a thunderous drive from Beaumont. She drives it hard towards the cover and also completes her 400 runs in the tournament. ENG 25/0 in 5.1 overs
5.17 IST: Another good over from India. No freebies at the moment. ENG 17/0 in 4 overs
15.12 IST: FOUR! Another beautiful from Beaumont. This was short and wide from Goswami. ENG 15/0 in 3 overs
15.08 IST: FOUR! First boundary of the England innings. Tammy Beaumont hits a beautiful drive towards deep mid-wicket. ENG 11/0 in 2 overs
Shikha Pandey shares the new ball from the other end.
15.06 IST: Tidy over from Goswami, just one came off it. ENG 1/0 in 1 over
15.01 IST: Experienced Jhulan Goswami will start the proceedings for India. Winfield and Beaumont are at the crease for England.
14.56 IST: The National Anthems are done. The players are ready to take the field, the stage is set.
14.45 IST: The pitch looks fairly green, the sun is out there, there might be something for the bowlers. It can get a little drier as the day progresses, said Ian Bishop.
14.32 IST: England Women have won the toss and have opted to bat.
Teams:
England Women (Playing XI): Lauren Winfield, Tammy Beaumont, Sarah Taylor(w), Heather Knight(C), Natalie Sciver, Fran Wilson, Katherine Brunt, Jenny Gunn, Laura Marsh, Anya Shrubsole, Alex Hartley
India Women (Playing XI): Smriti Mandhana, Punam Raut, Mithali Raj(C), Harmanpreet Kaur, Deepti Sharma, Veda Krishnamurthy, Sushma Verma(w), Jhulan Goswami, Shikha Pandey, Rajeshwari Gayakwad, Poonam Yadav