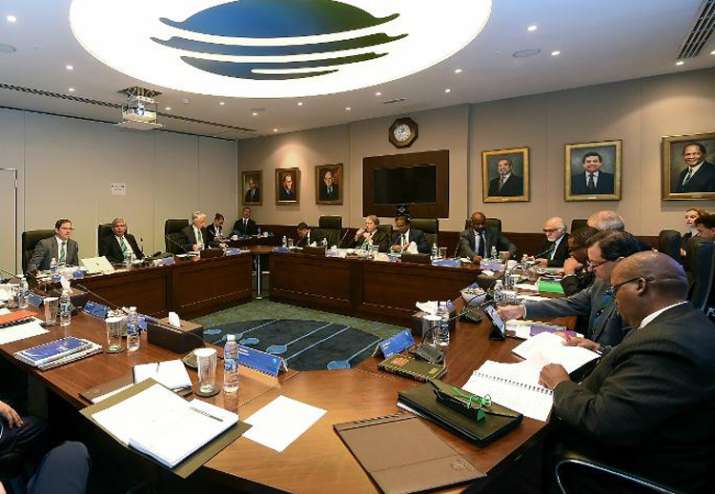 In what is being seen as a major blow to the BCCI, the world's most powerful cricket board, the International Cricket Council (ICC) on Wednesday approved a new model for revenue sharing and governance. 
The BCCI has suffered a whopping cut in its revenue under the new model which was approved by a vote of 13-1 at a meeting of the ICC in Dubai yesterday. 
The only board which opposed the new model was the BCCI but was hugely out-voted in its opposition. The new revenue model has nearly halved India's share from the USD 570 million (Rs 3,650 crore) it was getting till last year. 
The Board had rejected an additional USD 100 million offer from ICC Chairman Shashank Manohar, refusing to accept the new revenue model. 
This is what the boards will get during an eight-year cycle from 2016-2023: 
Board of Control for Cricket in India (BCCI): USD 293 million (Rs 1,875 crore)

England and Wales Cricket Board (ECB): USD 143 million (Rs 915 crore)

Zimbabwe Cricket: USD 94 million (Rs 601 crore)

Cricket South Africa (CSA): USD 132 million (Rs 844 crore)

West Indies Cricket Board (WICB): USD 132 million (Rs 844 crore)

Bangladesh Cricket Board (BCB): USD 132 million (Rs 844 crore)

Pakistan Cricket Board (PCB): USD 132 million (Rs 844 crore)

Sri Lanka Cricket (SLC): USD 132 million (Rs 844 crore)

Cricket Australia (CA): USD 132 million (Rs 844 crore)

New Zealand Cricket: USD 132 million (Rs 844 crore)
39 Associate Members will receive a total funding of USD 280 million (Rs 1,782 crore). 
"Based on current forecasted revenues and costs, BCCI will receive USD 293 million across the eight-year cycle, ECB (England) USD 143 million, Zimbabwe Cricket USD 94 million and the remaining seven Full Members USD 132 million each," the ICC said in a statement. 
"Associate Members will receive funding of USD 280m. This model was passed 13 votes to one," it added. 
The decision came at the end of five days of ICC's Board and Committee meetings. 
In addition to the revenue model, agreement on a new constitution to be put before the ICC Full Council was also reached. On this too, India had been out-voted in its opposition to dilute the 'Big Three' structure. 
A revised constitution was approved by 12 votes to two. It will now be presented to the ICC Full Council in June for adoption. 
"The constitution reflects good governance, expands on and clarifies the roles and objectives of the ICC to provide leadership in international cricket" the ICC stated.