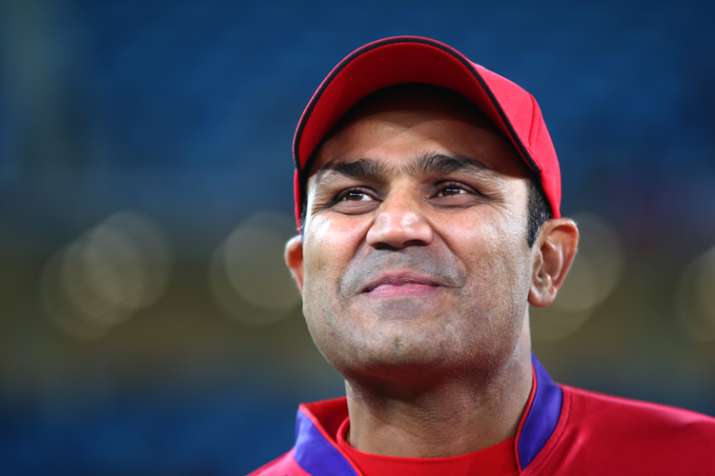 Former Indian opener Virender Sehwag is celebrating his 40th birthday today. The swashbuckling player changed the dynamics of opening the innings in Tests with his attacking mindset at the top while emerging as one of the best openers the game has ever seen. While his 17,000+ runs in international cricket are a testament to his greatness, the impact Viru had on the game can't be measured based on statistics alone.
Sehwag's batting affected Test batting in such a way that openers around the world began to be classified in pre-Sehwagian and post-Sehwagian periods. His batting exploits meant that every team around the world started looking for openers who could match Viru shot-by-shot. Today we use the occasion of his birthday to remind our readers about some of his finest innings in international cricket.
1) 309 vs Pakistan, Multan 2004
If there is one innings that put his stamp of authority on world cricket it has to be the first ever triple century by an Indian. It also marked an upsurge in India's record against their arch-rivals Pakistan that has continued till date. The knock also laid the platform for some of India's rarest overseas victories which were to follow in the coming years and Viru played an important part in most of them. Aptly nicknamed 'Multan ka Sultan' after the match, Sehwag also cast his name in stone in the opening slot after the stupendous knock.
2) 319 vs South Africa, Chennai 2008
What is most puzzling about Sehwag's batting was the fact that he could produce marathon innings even though he was such an attacking opener. Just four years after owning the record for the highest Test score by an Indian, Sehwag bettered it against one of the most potent attacks of his generation as he dispatched the Protea bowlers all over the park as he completed a rare feat of two triple-tons. No surprises for guessing who won the match as the result was often a foregone conclusion whenever Viru played the way only he could.
3) 293 vs Sri Lanka, Mumbai 2009
The Island nation has been on the receiving end of Viru's wrath more times than what they would be comfortable with as is evident from the fact that they feature as the opposition in three entries on this list. In what was easily his most attacking innings, Sehwag took the world by a storm as he hit 284 runs in a single day and was on the verge of equalling Don Bradman's record of being the only man to hit 300 in a day's play. Also, as often was the case with Sehwag, he perished while trying to attack regardless of the fact that he could have become the only cricketer to have hit three triple centuries. Typical Viru is all I can say!
4) 219 vs West Indies, Indore 2011
The above three instances somehow don't quite show how destructive the Delhi batsman could be in limited overs cricket. As if to prove the same, Sehwag smashed his way to a double century against the Windies after his icon and fellow teammate Sachin Tendulkar had breached the milestone just over a year ago. Having already won the World Cup, Viru was at his destructive best as he punished every minute error from the West Indian bowlers while compiling one of the greatest ODI innings.
5) 201* vs Sri Lanka, Galle 2008
One of his most underrated knocks even though he hit a double ton and was the difference between the two sides in one of India's famous victories on foreign soil. And this Lankan team comprised of some of their all-time greats including the legend Muttiah Muralitharan but none of this mattered to Viru as he carried his bat through the Indian innings while only two other batsmen reached double-digit scores.
*Honorable mention: 195 vs Australia, Melbourne 2003