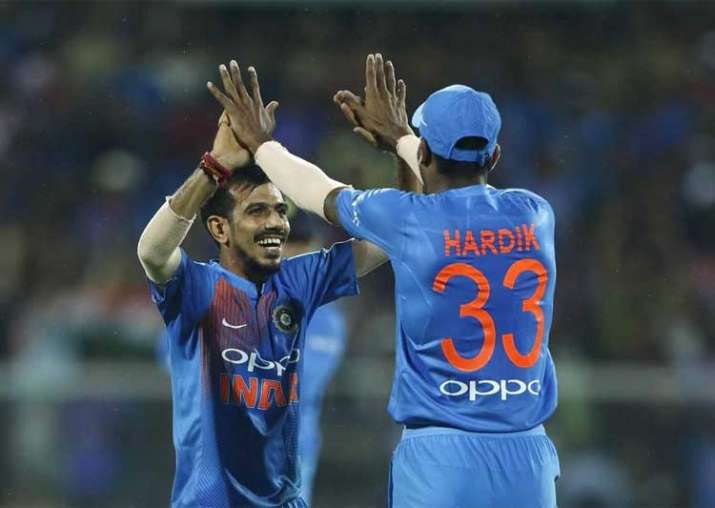 Former India opener Virender Sehwag praised the bowlers after India defeated New Zealand in the third and last T20I to clinch the three-match series 2-1. Indian bowlers defended a modest-looking 67 with admirable discipline as the hosts pipped New Zealand by six runs in the rain-hit game  at Thiruvananthapuram on Tuesday. "All the bowlers, including Jasprit Bumrah, Bhuvneshwar Kumar, Kuldeep Yadav and Yuzvendra Chahal bowled really well. It was a short game and the bowlers did their job," Sehwag told India TV after the match. 
Playing spoilsport, the rains reduced the decisive match of the series and first ever International match at Greenfield Stadium to an eight-overs per side affair.
Stroke-making was not easy under the conditions and all the hosts could manage to put on board was 67 for five, featuring only seven boundaries, including three sixes. 
However, the Indian pacers and spinners bowled their hearts out in a short but exciting contest. They were well supported by agile fielders. 
A wily Bhuvneshwar Kumar mixed it up nicely after being hit for a gigantic six by Colin Munro (7) while Jasprit Bumrah was splendid with his line and length. 
Bhuvneshwar cleaned up Martin Guptill (1) with a slower one while Bumrah saw the back of dangerous Munro. 
The early wickets pegged New Zealand back and they could never settle and eventually buckled under pressure. 
Young leg-spinner Yuzvendra Chahal too contributed in choking the Kiwis, giving away only eight runs in his quota of two overs. 
Hardik Pandya bowled the last over with the Kiwis requiring 19 runs. A massive six by Colin de Grandhomme threw tension in the air for the home fans but Pandya managed to pull it off. 
Lauding the spirit of the Indian team, Sehwag said "this team knows how to fight."
"This is a fantastic win for India in a tight match. You have to give the credit to the bowlers. This is a sign of a great team. Virat Kohli has won 11 consecutive series because whenever the batsmen have failed, the bowlers stepped up or vice versa. Batsmen and bowlers have complemented each other well. This team has performed well on all departments.
"This is the spirit of the current Indian team. This team knows how to fight and the players never give up. This team is capable of winning abroad," he said.