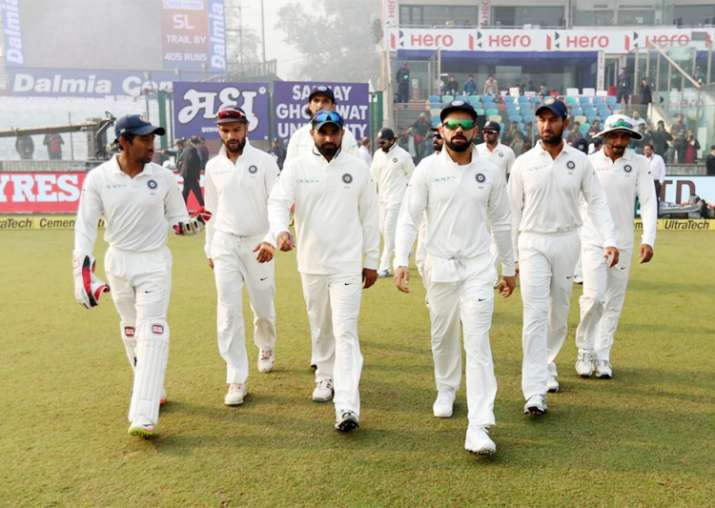 As India embark upon their journey to South Africa, eyeing a maiden Test series win, former India opener Virender Sehwag is confident that captain Virat Kohli will lead his side from the front during the three-match Test series, starting with the opening Test to be held in Cape Town on January 5-9.
"I am sure Virat Kohli will lead from the front. He will score a lot of runs," Sehwag, who is India TV's cricket expert, spoke on "Cricket Ki Baat" show.
Following a successful home season that saw India routing teams like England, New Zealand and Sri Lanka, Kohli-led India are set to begin their away season. India will first face South Africa in an entertaining series, including three Tests, six ODIs and three T20Is, following which they are scheduled to tour England and Australia.
Talking about how important this season is going to be for Kohli, Sehwag said: "The year 2018 is starting with a big challenge. The tour of South Africa will be India and Virat Kohli's biggest challenge this year. If Virat manages to win the series, he will be the first Indian captain to do so."
"As a captain, you need to have a clear strategy in place in South Africa... how to get rid of their batsmen, how to handle their fast bowlers. It is important to implement them on the field," Sehwag added.
Earlier, Shewag's former teammate Rahul Dravid told India TV in an exclusive interview that "the balanced Indian cricket team will put up a strong performance this time in South Africa".
Sehwag echoed with Dravid, saying: "This team has the ability to implement the strategies well. All the individuals are capable of handling their responsibilities. I think if the bowlers are able to implement their plans against the South African batsmen, India will win the series."
The aggressive opener, who scored 8,586 Test runs for India during his enthralling span of international cricket, emphasised on how important it is for batsmen to shoulder responsibility in challenging conditions.  
"The form of the batsmen will be very important in South Africa. If your batsmen can match the South African batsmen in first innings then the pressure will be on them because they are playing at home. So, Kohli and the boys have to match South Africa's first innings total," he added.
According to Sehwag, Australia will be the "biggest challenge" for Kohli & Co. as their recent Ashes triumph talks enough about the shape they are in at the moment.
"The biggest challenge for Team India this year will be Down Under. Australia have recently won the Ashes and they have the best bowling attack. Australia is also a challenging place to play cricket."
Sehwag, who is the first Indian to score a triple hundred in Tests, said Kohli will face his biggest challenge as a batsman in England. Kohli failed miserably in his previous tour to England in 2014, scoring just 134 runs in 10 innings with a paltry average of 13.50.
However, following his failure in England, Kohli made a tremendous turnaround and scored heavily in Australia later that year, slamming four hundreds in four Tests. And since then, there has been no looking back for the Indian captain.
Sehwag said Kohli would relish batting in England again as he is now a more confident batsman and also has a great record as captain.
"As a batsman, Virat will face his biggest challenge in England and I think he is also looking forward to it. I am sure he will perform better this time. 2014 was his first tour to England and he was very young that time... he might not have been completely aware of the conditions there. But this time, he will go there as a player and as a captain. He will have that confidence in himself this time around. Before touring England, he will play in South Africa and in the IPL, so he will be more confident," he concluded.