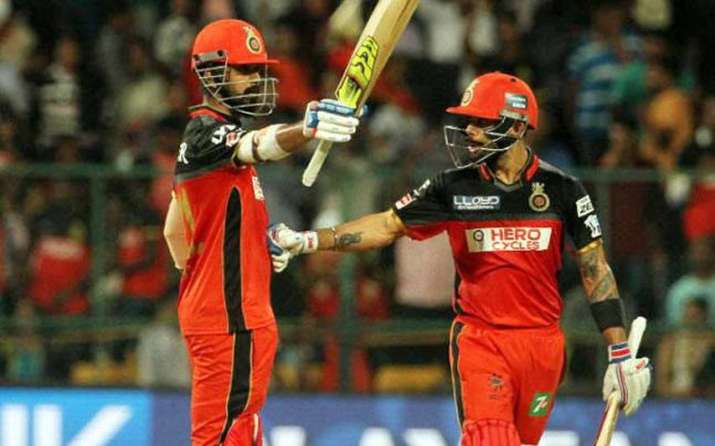 Kings XI Punjab opener KL Rahul, who was bought by the franchise for whopping Rs 11 crore, is happy to be in the centre of their batting force this season as he claimed that Virat Kohli and AB de Villiers shared the maximum responsibility in his former Indian Premier League (IPL) team Royal Challengers Bangalore.
"With a new franchise, I have a lot of responsibility to shoulder. When I was in RCB, the major responsibility was on Kohli and AB. They were always at the centre of the batting force, for me it wasn't that pressurising," Rahul told India TV during the show 'Cricket Ki Baat'.
"I enjoy my role here. The form has been favorable, and I believe, I continue to do well in the season ahead," he added.
The 26-year-old Bengaluru wicketkeeper-batsman scripted the history this season when he scored the fastest IPL fifty, off just 14 balls on his debut match for KXIP against Delhi Daredevils at Chandigarh on April 8.
Talking about the blistering 51-run knock (off 16 ball) on his first game for KXIP, Rahul said: "I had a clarity in mind that all I need is to enjoy and play my best game. I am going through a good form and I am happy that the hunger is there this season."
Rahul revealed that he didn't practice much before the match as he was coming fresh from an injury. "I had a little niggle in my shoulder before I came. I hadn't batted much this season. After Nidahas Trophy, I came to Chandigarh and just practiced a bit before the first match."
"I am in a good mindspace and have a hunger to score runs. KXIP have showed so much of faith in me, so I have to deliver and win games for them. It's in my nature that when I go on ground, I assess the situation and try to win the game for my team," the Bengaluru boy added.
Having played 15 Test matches for India, Rahul has accumulated 500 runs with a highest knock of 110 (not out). He has one century and three fifties to his name so far in his promising Test career. However, Rahul doesn't feel good when people brand him with one format of the game.
"It's not fair to brand a player for one single format. I strongly believe that the one who can perform well in Test can perform in other formats as well. There's no bar. As a sportsperson, you always want to improve and try to take your game to the next level. Shorter format is also challenging for a cricketer in India," he said.
Much to his relief, Rahul shares the dressing room with former teammate Chris Gayle, the star West Indian who recently scored a century against Sunrisers Hyderabad at Mohali this season.
"He is a complete entertainer. He is a destructive batsman, so you enjoy when you play along with him. With his intimidating stats, he always remains to be one of the best T20 batsman in the world," he commented.