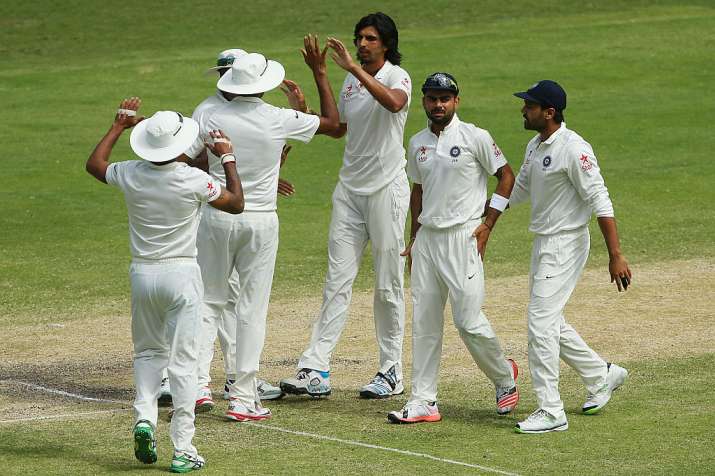 The ongoing tour of England has seen mixed results for India whereby they won the T20I series 2-1 before losing the subsequent ODI leg by an identical margin. Notwithstanding the white-ball results, the visitors are gearing up for a gruelling five-match Test series starting in Birmingham on August 1. 
In an exclusive interview with IndiaTV, Indian pace spearhead Ishant Sharma, while talking about India's chances of winning the series, also remembered his record-breaking performance of 7/74 at Lord's on India's last tour to the island nation in 2014.
"I will try to repeat my performance at Lord's. As a sportsperson, the country comes first and our main aim is to win the Test series in England. I believe that it's the fast bowlers who can make a difference between the two sides," said Ishant told IndiaTV.
"It was a great feeling overall. It didn't matter much whether it was Lord's or some other ground. Many historical events have been scripted there, but for me, it was just a normal ground. Personally, history is created when you win the team a match," he added.
With 238 wickets in 82 Test matches, Ishant is the most capped player in the current Indian Test team and will lead the pace attack comprising of Umesh Yadav and Mohammed Shami. The lanky pacer has also been playing county cricket before the tour in order to be better prepared for the series. He shed some light on how he benefitted from the episode.  
"The County experience will come in handy for this Test series. I learnt about the conditions, what lengths to bowl at, how the climate affects the wicket and the game and so on. Playing county gave me plenty of benefits which I will be applying in the upcoming series," he said. 
 
His skipper Virat Kohli, on the other hand, missed out on the county opportunity due to a neck injury he sustained during the IPL. With a poor 2014 Tour of England lurking in the shadows, Kohli is under pressure to perform in England. When Ishant was asked whether Kohli would silence his doubters with a Test century in England, the 6.3 ft. tall Delhi bowler said that the latter's record speaks for itself and it doesn't matter as long as he wins matches for his team.
"For many it makes a huge difference if Kohli hits a century. You cannot judge him if he hits a century or not. His record speaks for itself. His runs while chasing have led India to win many matches," quipped Sharma.
Finally when asked what he thinks about playing Tests - the only format in which Sharma is a regular fixture nowadays - he replied: "For every player, it's the ultimate dream to play Test cricket. It tests your character, fitness and the mental preparedness. Tests are quite challenging," concluded Ishant. 
(As told to IndiaTV Sports Correspondent Vaibhav Bhola)
​