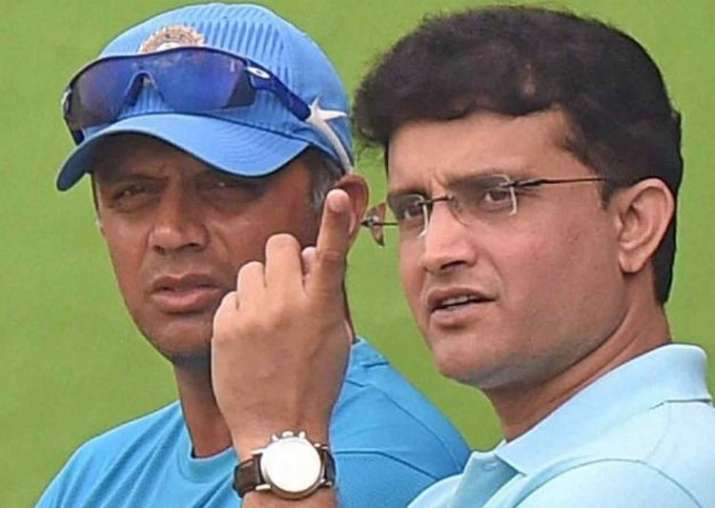 Former India captain Sourav Ganguly strongly believes that his successor Rahul Dravid had no role in then-coach Greg Chappell's decision to evict the left-handed batsman out of the Indian cricket team. The infamous Ganguly-Chappell dispute started in late 2005 and resulted in the removal of Ganguly as captain. Then vice-captain Dravid replaced Ganguly as India skipper in November 2005.
"I don't think Rahul Dravid had any role (in Greg Chappell's decisions). It happens that when a coach is really after something, the captain must listen to the coach," Ganguly told IndiaTV during the show 'Cricket Ki Baat'. 
"I had a word with Rahul a couple of times and he told me that you'll be back. But yes, one thing is for sure, it was evident that the coach was against me," he added.
Ganguly was dropped from the ODI team in November 2005 and Test team at the end of January 2006. The removal of the aggressive captain stirred up fiery protests in West Bengal and discussions in the Parliament of India.
"I don't know what the thinking of Greg Chappell was. Maybe he wanted to build his own team and to do that he thought he needs to remove the captain first. And later, I later released that even Sachin Tendulkar faced this," the 45-year-old explained.
The southpaw made a comeback to the Indian cricket team in late 2006 after his replacements lost form. He made best out of the given opportunity and was included in the squad for the 2007 Cricket World Cup.
Talking about his inspiring comeback to Team India, Ganguly said: "I had immense self-belief in myself. When you know that every game is a do-or-die match, there is a different level of determination. I was lucky that I had the experience of handling such a situation. For any young player, it won't be easy to handle because people break down mentally."
Under the captaincy of Ganguly, India registered 21 Test wins in 49 matches. He brought in the winning mindset in the team and made them confident against the best of the world teams.
"I had to change the mindset, system and fitness levels. We had the players, the talent but not belief that we can win abroad. We had to change our tactics and bring in the team first mindset.
"We had to tell the players that if you want to stay in this team, you have to win. You will fail as failure is a part and parcel of the game but 'whenever you perform well, India needs to win'. That's how we got players like Viru (Virender Sehwag), Zaheer Khan, Yuvraj Singh and Harbhajan Singh, who came at that time and took the team ahead. It was a different perspective... the team first approach and the winning mindset. And even if you lose in this journey to victory, it won't be a problem. But we will not play for a draw," Ganguly continued.
The president of the Cricket Association of Bengal was full of praise for current Indian team that recently registered a 5-1 ODI series win in South Africa. "If India play like the way they did in South Africa in the ODIs, then definitely this team can create many milestones in future."
According to Ganguly, India have strong chances of a series win on their upcoming tours to England and Australia. But captain Virat Kohli will have to play a crucial role to make it possible. "They can win in England and in Australia. But Virat Kohli's performance is very crucial for this team. If he scores, this team will win," he said.
Heaping praises on the dynamic Indian skipper, Ganguly added: "Whenever I see Virat play or see him captain the team, I always feel that he is so passionate about the game."