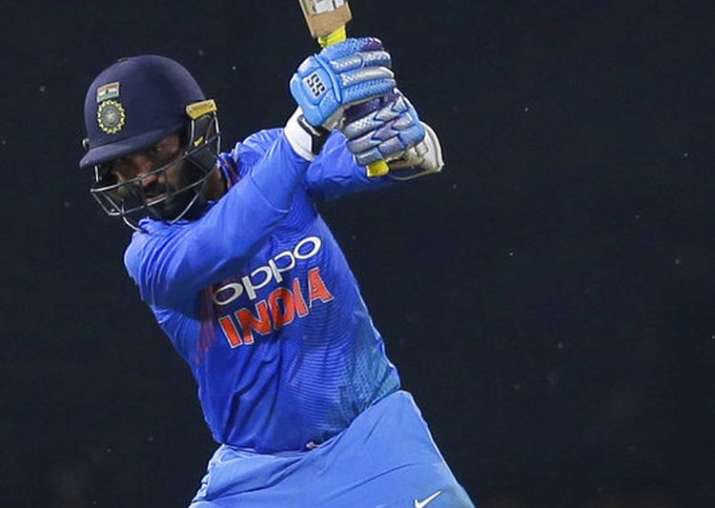 HIGHLIGHTS INDIA VS BANGLADESH, NIDAHAS TROPHY FINAL: Wicketkeeper-batsman Dinesh Karthik (29 runs off eight balls) played a brilliant cameo towards the end as India beat Bangladesh by four wickets in the final of the Nidahas Trophy T20 tri-series at the R Premadasa Stadium, Colombo, on Sunday. Coming in the second last over with scoreboard reading 133/5, Karthik announced his arrival at the crease with two sixes and a four in first three balls which narrowed the gap between remaining balls and required runs. The drama unfolded in the last over when India needed five runs in the last ball. Karthik slammed a flat six over extra cover to clinch the issue. Catch all the latest cricket scores from Nidahas Trophy 2018 here. (SCORECARD)
HIGHLIGHTS, INDIA VS BANGLADESH, NIDAHAS TROPHY FINAL MATCH
22.38 IST: Dinesh Karthik hits a six to propel India to a 4-wicket win over Bangladesh to lift Nidahas Trophy.
22.37 IST: OUT! Soumya Sarkar removes Vijay Shankar for 17. Shankar's forgetable first innings in international cricket comes to an end!  India 162/6, need 5 runs vs Bangladesh (166/8) in Colombo.
22.35 IST: FOUR! Shankar gets runs for India. Four more runs needed. This is the result what Bangladesh didn't want. It is hurled outside off, Shankar slices it past short third man for a boundary.
22.30 IST: FOUR! Karthik concludes the 19th over with a boundary. Another one, 22 have come off this over! Initially, Karthik's movement was away from the stumps, before he moves across them. Rubel slips in a full one on off. Dinesh has enough to ramp it well over short fine leg for another boundary. Is his middle name 'Nonchalant'?  India 12 runs in the last over.
22.28 IST: SIX! Karthik - 16 off 3, Shankar at the other end - 12 off 15! What was the Indian wicketkeeper doing in the dressing room all this while? Batting or what!
22.27 IST: FOUR! Karthik on fire! Is the Nidahas trophy coming home? 10 off the first two deliveries already! This is on a length around off, Karthik makes some room and hits it wide of long on and earns himself a boundary.
22.26 IST: SIX! And he lifts the first ball gracefully. He has walked out with all the confidence in the world. Gets a full ball in the slot, he tonks it well over long on for half a dozen. What a way to get going!
22.25 IST: Finally, Dinesh Karthik makes his way out. Does he have it in him to take India home? Or is it too late?
22.24 IST: OUT! Mustafizur removes Manish Pandey for 28. The pressure has brought a wicket here. Bangladesh rejoice as if they have already won it. To be honest, they don't seem to be far off. Another slower delivery on the stumps, Pandey clears his front leg to go downtown. Finds Sabbir at long on to perfection. He catches and goes up in celebration. 34 needed off the last two overs.  India 133/5, need 34 runs vs Bangladesh (166/8) in Colombo.
22.21 IST: Four dots on the trot! Mustafizur, you Beauty!
22.15 IST: FOUR! Shankar trying to bring the match closer. Gap found! Slower delivery from a slow-paced bowler. Shankar gets his left leg out of the way and slog it towards deep mid-wicket. Finds the gap between the fielder there and long on. 36 more needed for India.
22.10 IST: FOUR! Pandey gets a much-needed boundary for India. Wonderful to see such strokes played. This is a low full toss well outside off. Would have been a wide if Manish would have let it be. But he reaches out to it and slices it over backward point for a boundary. IND 123/4 in 15.5 overs.
22.05 IST: FOUR! Another one for Pandey. Much better. Pandey gets down the track and powers it over the non-striker. Long on gets to his left, only to retrieve the ball from the fence.
22.04 IST: FOUR! Pandey contributes to lessen some pressure. Edged but Pandey won't mind. Full length ball outside off, he gets his front leg out of the way and looks to go big over covers. Ends up getting a thick outside edge and the ball flies over short third man for a boundary.
22.02 IST: FOUR! Shankar tries to get the best out of this given opportunity. Wow, this lad can bat! Gets a flighted delivery on the stumps, he gets down and nails the sweep to perfection. IND 104/4 in 13.5 overs.
22.01 IST: Surprise, surprise! Vijay Shankar is sent up the order, ahead of Dinesh Karthik.
22.00 IST: OUT! Nazmul Islam removes Rohit for 56. Massive, massive wicket for Bangladesh, this! Loopy delivery around middle and leg, Rohit kneels down and looks to go big. Ends up offering a skier for Mahmudllah at long on, who accepts it calmly. Perhaps Pandey's struggles put extra pressure on Rohit to take that extra chance. This is Nazmul's first wicket in the series and what a one it is. 69 off 40 needed. India 98/4, need 69 runs vs Bangladesh (166/8) in Colombo.
21.56 IST: Mustafizur Rahman to Manish Pandey, 1 run. Run out chance goes abegging! Pandey hits it straight to covers and sets off. Das has just one stump to aim at and he misses. Would have been curtains for Manish. IND 97/3 in 13 overs. They need 70 runs in 42 balls.
21.52 IST: Mustafizur Rahman is back.
21.50 IST: FIFTY! Rohit Sharma hits his 14th T20I half-ton off 35 balls. Nazmul Islam to Rohit Sharma, 1 run. He is leading from the front here. He works this one through mid-wicket and gets to the other end. India 87/3, need 80 runs vs Bangladesh (166/8) in Colombo.
21.43 IST: Manish Pandey strides out to bat.
21.42 IST: OUT! Rubel removes Rahul for 24. Rahul goes after making 500 T20I runs. Short ball, looked like he was in control of it. Pulled this from the middle but the ball goes straight to Sabbir Rahman, as if he was waiting for it. Didn't have to move a bit and takes a simple catch. India 83/3 in 9.3 overs vs Bangladesh (166/8) in Colombo.
21.39 IST: After 9 overs, India are 81/2. Ends the over by taking a run towards mid on. They need 86 runs in 66 balls.
21.35 IST: Nazmul Islam is brought back.
21.29 IST: SIX! This time, it has come from the bat of Rahul. Confidence flowing in Colombo. Flat one! Drags his length back, Rahul rocks back and pulls this over deep square leg for half a dozen.
21.26 IST: End of powerplay! Mustafizur Rahman to Rohit Sharma, 1 run. Rohit plays this towards mid-wicket and will retain strike for the next over. IND 56/2 in 6 overs.
21.23 IST: FOUR! Elegantly done by Rohit. He is looking in good touch. Outside off, Rohit guides it between point and backward point for a boundary.
21.21 IST: SIX! Bazooooka! What a shot! Rohit has walked in some different mood altogether, that's the consensus around here. He nicely gets under the ball and smites it high and handsome over the long off fence for half a dozen. India are 119 runs away from the target now.
21.18 IST: FOUR! Lovely use of the feet. Seeing the flight on this one, Sharma shimmies down the track and hits it inside out over mid off. Makes nice contact and gets a boundary as a result.
21.14 IST: FOUR! Rahul starts in style! Lovely shot. Short and wide outside off, Rahul slaps this over cover-point for a one-bounce boundary.  IND 36/2 in 3.5 overs.
21.13 IST: OUT! Rubel removes Raina for 0. A short stay from Raina. Shorter in length again, down to the leg. Raina decides to have a tickle at it at the last moment. Pulls this and gets a feather to it as the keeper takes the catch. The umpire signals a wide but Rahim is confident that Suresh has nicked that. Straight away takes this upstairs. On seeing the replay we see that Raina has managed to get bat on it as the spike shows us. Two quick wicket for Bangladesh now. India 32/2 in 3.3 overs vs Bangladesh (166/8) in Colombo.
21.09 IST: Suresh Raina walks in next.
21.08 IST: OUT! Shakib removes Dhawan for 10. Dhawan has to deprat trying to score more quickly. Shakib gives this air, and serves this outside off. Dhawan charges down and goes for the loft. Doesn't get to the pitch of the ball as the ball just spins a bit after pitching. Gets it off the lower end of the bat and the ball goes towards mid off. India 32/1 in 2.4 overs vs Bangladesh (166/8) in Colombo.
21.07 IST: SIX! Dhawan steps to the party. Shakib drags his length back, Dhawan pulls this over square leg for a maximum.
21.05 IST: SIX! Oh My! This is huge! What a shot from the skipper! Darts this in line of the stumps, Rohit pulls this once again over mid-wicket for a biggie!
21.03 IST: FOUR! Brilliant batting display by Rohit Sharma. Short ball and Rohit has ample of time to rock back and pull it past square leg to the fence. IND 18/0 in 1.4 overs.
21.02 IST: SIX! What a massive shot this is. Rohit Sharma hits it huge! Confidence from the last match 89 is showing. Floated ball on middle, Rohit gets on one knee and heaves this over mid-wicket.
21.00 IST: Seven runs from the first over, India are 160 runs away from the Nidahas Trophy. Shakib Al Hasan to Rohit Sharma, no run. Rohit pushes this to covers to end the first over.
20.58 IST: FOUR! Tossed up ball and Rohit swings this over mid on for the first boundary. Good intent shown by the Indian skipper.
20.55 IST: Indian openers Rohit Sharma and Shikhar Dhawan are on the crease as India start their chase of 167 runs.
20.45 IST: Bangladesh post 166/8 in 20 overs against India in Colombo. Sabbir 77, Chahal 3/18, Unadkat 2/33. Shardul Thakur to Mehidy Hasan, 2 runs. On a length on off, pushed with soft hands towards wide long off. Gets a couple as a result. 18 runs off the last over. 167 IS INDIA'S TARGET TO WIN THE FINAL!
.@yuzi_chahal picks three for the match and Bangladesh finish with 166/8 in their 20 overs. The Indian chase in a bit #TeamIndia pic.twitter.com/A8Dr0dk9cz

— BCCI (@BCCI) March 18, 2018
20.43 IST: THIS TIME A SIX! Plus it's a no ball and a free-hit for Bangladesh. Ho, ho, ho! Mehidy Hasan is out to have fun there. But it looked to be a no ball for being over waist height.
20.42 IST: FOUR! Mehidy Hasan doesn't mind some quick runs here. A knuckle ball on a length outside off, Hasan moves across and ramps it over short fine leg for a boundary. Good start for Bangladesh to the last over.
20.39 IST: Mustafizur Rahman walks in at no. 10 for Bangladesh.
20.38 IST: OUT! Unadkat removes Rubel for 0. Timber! Clever from Unadkat. He delivers a length ball but rolls his fingers over it before letting it go. Hossain fails to read the change in pace and looks to play the pull over mid-wicket. Is through with the shot much before the ball arrives only to see his stumps shattered. An angry expression from Jaydev shows his frustration. Bangladesh 148/8 in 18.3 overs vs India in Colombo.
20.37 IST: OUT! Unadkat removes Sabbir Rahman for 77. Why go for DRS when you can clean him up! Full and straight in line of the stumps, Rahman goes for the agricultural slog. Misses and finds his stumps disturbed. He departs after a decent knock.  Bangladesh 147/7 in 18.2 overs vs India in Colombo.
20.33 IST: Shardul Thakur to Sabbir Rahman, 1 run. Short ball, pulled away through square leg for one. 11 runs off this one.  BAN 145/6 in 18 overs.
20.31IST: NOT OUT! Never looked out. Full ball on the pads, Sabbir misses his flick and gets hit on the pads. The ball goes to the off side. Unaware, he comes down in search of a run only to retreat. After putting in an appeal, Shardul runs to the ball, takes it and has a underarm shy at the stumps at the batter's end but misses. Would have been curtains if he'd hit. Now the DRS is taken by India for LBW. It is seen that the ball first hit the front pad and then went onto the back one.
20.29 IST: REVIEW! Almost unnoticedly, a review for LBW against Rahman is taken upstairs by India. Doesn't look to be close in the first view.
20.27 IST: Mehidy Hasan is the next man in.
20.26 IST: OUT! Shakib run out for 7. Bangladesh 133/6 in 16.5 overs vs India in Colombo.
20.21 IST: SIX! Now Shankar is overdoing his slow ball stuff. Delivers it full outside off, Rahman waits for it and treats it like a spinner's delivery. Banishes it over deep mid-wicket for another biggie.
20.19 IST: FIFTY! Sabbir Rahman hits his 4th T20I half-ton off 37 balls. He has done well to be in the middle, even with wickets falling at the other end. Pushes this through mid off for a single that gets him to the milestone.  Bangladesh 118/5 in 15.3 overs vs India in Colombo.
50! Sabbir Rahman brings hp his 4th half-century in T20I.#BANvIND #NidahasTrophy2018 pic.twitter.com/9NVTjSZ367

— Bangladesh Cricket (@BCBtigers) March 18, 2018
20.18 IST: SIX! Beauty! Floated outside off, Rahman gets down on a knee and slog-sweeps it over deep mid-wicket for half a dozen. Moves to 49 now.
20.14 IST: Skipper Shakib Al Hasan walks out at number 7. Can he provide the final impetus for Bangladesh?
20.13 IST: OUT! Mahmudullah run-out for 21. Comedy of errors ends in a tragedy for Mahmudullah and Bangladesh! Let's take it step by step. Shankar delivers a slow leg cutter on off, Mahmudullah gets deceived and is early into the flick. Seems to have gone off the pads. The ball rolls towards the right of the keeper and the Indians appeal. Rahman meanwhile comes down in search of a run. Karthik is alive to the occasion but has a shy at his end, which is a mistake. In this case, fortunately for him, he misses the stumps and Shankar dives to his right while backing it up. Mahmudullah at this point has responded positively to his partner's call but then stops in the middle. That's not all. Bangladesh 104/5 in 14.2 overs vs India in Colombo.
20.08 IST: FOUR! Back-to-back boundaries. Authoritative! Full length ball on off, Rahman clears his front leg and hits it over the bowler's head for a boundary. BAN 98/4 in 13.2 overs.
20.07 IST: FOUR! Sabbir Rahman welcomes Shardul Thakur with a boundary. Not a good effort from Chahal. On a length around middle and off, Rahman tries to be cute. Gets out the paddle and just makes enough contact. Chahal at short fine leg puts in the dive but does so over the ball. It then has enough to trickle away to the fence.
20.06 IST: Shardul Thakur is brought back for another spell.
20.04 IST: FOUR! Top quality shot alright, but this has been Unadkat's problem this series. He has given far too many boundary balls. Lands it on a length outside off, Mahmudullah just gives it direction. Finds the gap between backward point and short third man and accepts the result that follows.
20.00 IST: Bharat Arun had a quick chat on the sidelines. He says that Sundar has a good calm head and that shows in his game. Praises the bowler's effort in the Powerplay.
19.56 IST: Vijay Shankar is back on.
19.52 IST: Mahmudullah walks in with his side not having any momentum with it.
19.51 IST: OUT! Chahal removes Rahim for 9. That's all from Rahim in this series. The spinner's bait is too hard to resist and he pays the price. Chahal floats it outside off, Rahim charges down the track with some movement away. Goes with the attempted smash over covers and ends up getting it off the top edge. Shankar covers some ground in the circle to his right and takes a good diving catch. On another look, it is seen that it was the googly that Mushfiqur didn't pick. Bangladesh 68/4 in 10.1 overs vs India in Colombo.
19.46 IST: Washington Sundar comes back into the attack.
19.45 IST: Yuzvendra Chahal to Mushfiqur Rahim, 1 run. Flighted ball outside off, Rahim pushes it to covers to rotate the strike well. After 9 overs, Bangladesh are 63/3 with Sabbir and Mushfiqur looking to revive the Tigers.
19.40 IST: FOUR! Rahman strikes it smartly through the gap. Clever. Knew that Vijay will pitch it up and premeditates this. Length ball around off, Rahman cutely flicks this over short fine leg for a boundary.  BAN 56/3 in 7.3 overs.
19.39 IST: SIX! Sabbir Rahman tries to get some quick runs here. Short ball and pulled away handsomely. Well in control of the pull and smokes it over deep square leg for a biggie.
19.33 IST: Shardul Thakur to Sabbir Rahman, no run. Low full toss, Rahman misses his flick. Thakur thinks that he has got him LBW but Karthik tells him that there was bat involved. After a word with his skipper, they don't take it upstairs. 6 overs gone, Bangladesh are 40/3. 
19.31 IST: FOUR! Cannot set a field for that. Bangs this short Rahman goes for the pull but gets a top edge and the ball flies behind the keeper's head for a boundary.
19.28 IST: Wicketkeeper batsman Mushfiqur Rahim makes his way out at no. 5. He is in decent form in this tourney and should look to bail his side out of trouble.
19.27 IST: OUT! Chahal removes Soumya Sarkar for 1. Another one bites the dust! India are getting over Bangladesh like a rash. Loopy delivery around middle and leg, Sarkar thinks it okay to get down and sweep it over backward square leg and get some runs in the form of a boundary. Executes the shot but finds Dhawan at that position to perfection. Gabbar takes the offering and thumps his thigh in celebration. Bangladesh slide further. Praky, my mate here, states that all these signs point to a sub-100 score for them.  Bangladesh 33/3 in 5 overs vs India in Colombo.
19.26 IST: FOUR! Shot! Loopy delivery in line of the stumps, Rahman gets down on one knee and blasts it over mid-wicket for a boundary. He has the ability, it's time to realise it now.
19.24 IST: Soumya Sarkar walks in next. He needs to spend some time in the middle.
19.23 IST: OUT! Chahal removes Tamim for 15. Whatttaaaaa catch! Shardul Thakur, you little beauty! He has pulled off an amazingly controlled catch on the long on fence. Seeing the tossed up delivery on the stumps, Tamim charges down the track to banish it out of the ground. But he ends up getting more height than distance. It seems as if it just has enough to clear long on, but no. Thakur there judges it and catches it with a leap. After that he keeps his balance to not go beyond the ropes. Seems to have done well and the umpires are happy after having multiple looks at the replays. Bangladesh lose two inside the Powerplay.  Bangladesh 27/2 in 4.2 overs vs India in Colombo.
19.18 IST: Sabbir Rahman is the next man in.
19.17 IST: OUT! Sundar removes Liton Das for 11. An early blow for Bangladesh and the fast scoring Linton Das falls to Washington Sundar. That's another wicket for Sundar in the Powerplay. Not afraid the toss it up and gets his man. Simple off spin, Das goes for the sweep, gets a top edge to it and the ball skies in the air towards backward square leg. As the shouts of 'caaatttccchhh ittt' follows, Raina settles under it and takes a good catch. Just the start the Indians wanted.  Bangladesh 27/1 in 3.2 overs vs India in Colombo.
19.12 IST: SIX! Excellent foot work. Around off, Das charges down and lofts this over deep backward point for a biggie.
19.07 IST: Washington Sundar will bowl from the other end.
19.06 IST: Good Start! FOUR! Boundary to end the over. Length on the legs of Tamim who flicks it away over the short fine leg fielder to the fence. BAN 9/0 after the first over. 
19.01 IST: Bangladesh openers Tamim Iqbal and Liton Das are on the crease, Jaydev Unadkat starts proceedings for India.
18.55 IST: The players have made their way out for their respective national anthems. Start of play is moments away now.
18.49 IST: Bangladesh Playing XI: Tamim Iqbal, Liton Das, Sabbir Rahman, Mushfiqur Rahim (wk), Soumya Sarkar, Mahmudullah, Shakib Al Hasan (C), Mehidy Hasan, Mustafizur Rahman, Rubel Hossain, Nazmul Islam
Unchanged Bangladesh Playing XI against India.#BANvIND #NidahasTrophy2018 pic.twitter.com/pWH2LkOYTJ

— Bangladesh Cricket (@BCBtigers) March 18, 2018
18.44 IST: "It is not a bad thing to bat first. Put the runs on the board in the final game. Looks to me a very good wicket. In the last two weeks, Premadasa has produced some very good batting wickets. Hopefully, it will remain the same and we can put a good total on the board and defend it. Everything under control and everyone is focussing on this game. It is a very important game for us. I thought we have played really well in all the 4 games and given ourselves the best chance to win all of them. We need to do little bit extra to win it against India, they are a very good side," Shakib al Hasan says at toss.
18.40 IST: India Playing XI: Rohit Sharma (C), Shikhar Dhawan, Suresh Raina, Dinesh Karthik (wk), Lokesh Rahul, Manish Pandey, Vijay Shankar, Washington Sundar, Shardul Thakur, Jaydev Unadkat, Yuzvendra Chahal
IND XI: RG Sharma, S Dhawan, S Raina, D Karthik, L Rahul, M Pandey, V Shankar, W Sundar, S Thakur, Y Chahal, J Unadkat

— BCCI (@BCCI) March 18, 2018
18.35 IST: "It looks a good track. Looks drier. We have seen in the tournament, that the wicket keeps getting better. I am a firm believer in runs on the board but the conditions don't permit us. The tournament suggests us that chasing is better. Unadkat comes in for Siraj," Rohit Sharma says after winning the toss.
18.32 IST: India win toss, opt to bowl first against Bangladesh in the Nidahas Trophy final. Pacer Jaydev Unadkat comes in for India, while Bangladesh decide to play unchanged in the summit clash.
The coin flip for one final time and #TeamIndia have won the toss and elected to field first in the final of Nidahas Trophy. One change - Unadkat in place of Siraj. pic.twitter.com/a7dMnsihN3

— BCCI (@BCCI) March 18, 2018
18.25 IST: Team India all set for the final clash. "Let's do this," the BCCI says on Twitter.
Let's do this 💪💪💪 #TeamIndia pic.twitter.com/qTVXmtkkTo

— BCCI (@BCCI) March 18, 2018
18.20 IST: Here are some glimpses of Bangladesh cricket team sweating heard in nets ahead of the Nidahas Trophy final.
Snaps of Bangladesh team practice session ahead of the Final of Nidahas Trophy 2018 against India tomorrow (Sunday). pic.twitter.com/yv0DC2pP63

— Bangladesh Cricket (@BCBtigers) March 17, 2018
18.10 IST: India's vice-captain Shikhar Dhawan practices in nets ahead of the Nidahas Trophy final.
Looking good is the vice-captain @SDhawan25 #TeamIndia pic.twitter.com/bOckmzHiCT

— BCCI (@BCCI) March 17, 2018
18.00 IST: Here are the squads for the Nidahas Trophy final match.
India: Rohit Sharma (C), Shikhar Dhawan,, Suresh Raina, Dinesh Karthik, Manish Pandey, Jaydev Unadkat, Yuzvendra Chahal, Vijay Shankar, Shardul Thakur, Rishabh Pant, Washington Sundar, Lokesh Rahul, Axar Patel, Deepak Hooda and Mohammed Siraj
Bangladesh: Shakib Al Hasan (C), Mushfiqur Rahim, Tamim Iqbal, Mahmudullah, Rubel Hossain, Sabbir Rahman, Soumya Sarkar, Nazmul Islam, Liton Das, Taskin Ahmed, Mustafizur Rahman, Mehidy Hasan, Imrul Kayes, Ariful Haque, Nurul Hasan, Abu Hider Rony and Abu Jayed
​17.50 IST: After a hat-trick of comfortable wins, Rohit Sharma-led Indian cricket team will take on a fiery Bangladesh in the final of the Nidahas Trophy T20I Tri-series in Colombo on Sunday. While India made their way to the final inspiringly after their opening loss to Sri Lanka, Bangladesh reached the summit clash with a couple of dramatic wins over hosts Sri Lanka. (Read Full Match Preview)