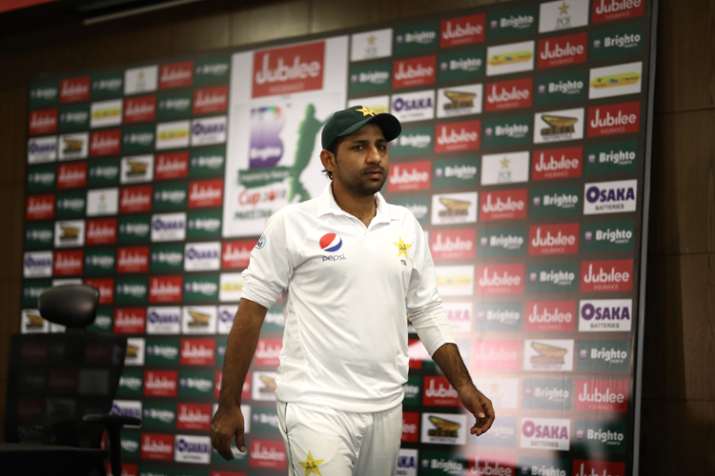 Chairman of newly-formed Cricket Committee of the Pakistan Cricket Board, Mohsin Khan believes leading Pakistan in all three formats has put too much pressure on Sarfraz Ahmed and he should be relieved of Test captaincy.
The former Test batsman suggested that the PCB can hand over the Test captaincy to some other senior player to allow Sarfraz to focus completely on the 50-over and T20 formats.
"I have only made a suggestion because I personally feel there is too much pressure on Sarfraz as the wicketkeeper-batsman in the team. He looked exhausted during the Test series with Australia," Khan said.
Mohsin, who is also the chief selector and head coach of Pakistan cricket, said some relief should be given to Sarfraz.
"Sarfraz's body language was so down in the tournament (Asia Cup) that I felt sorry for him. I was saying you got a new guy in, don't put the burden of (captaining the side in all) three formats on him. It will make him exhausted," he said.
Mohsin said he had already given suggestion to the board to make any senior player, the captain in Tests for a year and a half until Sarfraz is able to handle the pressures of all three formats after the World Cup.
"I just want to see him more relaxed. He will become a a better captain with time and would be able to handle the pressures of being captain in all three formats." 
The former Test batsman insisted it was just a suggestion as the cricket committee didn't have the authority to remove or appoint anyone.
"Our job is to study a situation and give recommendations to the board Chairman." 
Mohsin confirmed he had spoken to PCB chief, Ehsan Mani over the issue and he would take the final decision if he decides a change is needed in Tests.
He also felt the coming series against New Zealand in which Sarfraz will lead in all three formats will give a clearer picture on whether the keeper-batsman can handle the pressures of being captain in three formats.
"The series will give an indication if he is mentally strong enough for the job in all the formats." 
Mohsin has already come under fire for agreeing to sit with the former captain, Wasim Akram on the cricket committee after repeatedly mentioning in earlier television channels that he would never work with any tainted player mentioned in the Justice Malik Qayyum report.