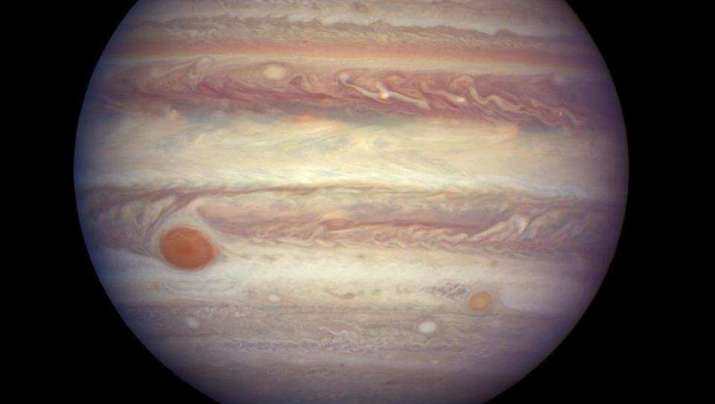 Looking at the depths of the Great Red Spot of Jupiter, NASA scientists have found water above the planet's deepest clouds. They believe that the planet has two to nine times more oxygen than the Sun. 
The team led by Gordon l. Bjoraker was looking from ground-based telescopes at wavelengths sensitive to thermal radiation leaking from the depths of Jupiter's persistent storm when they detected the chemical signatures of water above the planet's deepest clouds. 
Bjoraker is an astrophysicist at NASA's Goddard Spaceflight Center in Maryland, US. Theoretical and computer-simulation models have already predicted abundant water on Jupiter. 
[YOU MAY ALSO LIKE TO READ] Bihar: NDA finalises seat-sharing formula for 2019 Lok Sabha polls, BJP may contest 20 seats, JDU 12
The water cloud's location combined with the amount of carbon monoxide that the researchers identified on Jupiter, confirmed that the planet is rich in oxygen and, thus, water, said Bjoraker.
Great Red Spot is a storm that has been raging on the planet for over 350 years. It is full of dense clouds. They make it hard for electromagnetic energy to escape and teach astronomers anything about the chemistry within the planet.
Catch all the latest news about Lok Sabha elections 2019 HERE
The data collected will supplement the information NASA's Juno spacecraft is gathering. The spacecraft circles the planet from north to south once every 53 days.
If Juno returns similar water findings, thereby backing Bjoraker's ground-based technique, it could open a new window into solving the water problem, said Goddard's Amy Simon, a planetary atmospheres expert.
"If it works, then maybe we can apply it elsewhere, like Saturn, Uranus or Neptune, where we don't have a Juno," she said.
(With IANS inputs)