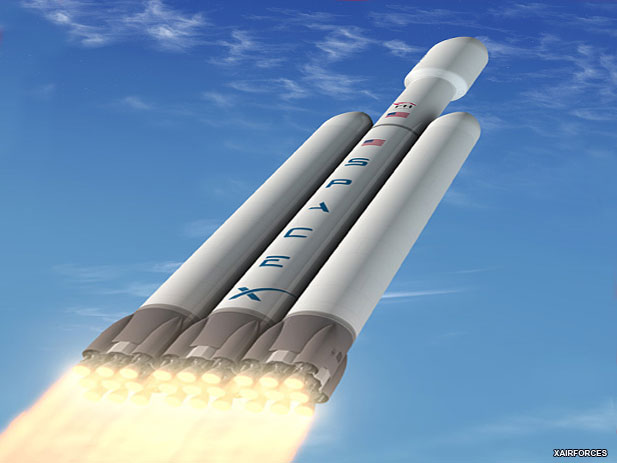 Elon Musk's SpaceX will be launching the Falcon Heavy rocket sometime in November, drawing to close the wait for the lift-off of the much-anticipated spacecraft.
The information in this regard was obtained from a data page at NASA's Kennedy Space Centre, which was inaugurated for those who are interested in attending this inaugural launch and flight.
"Currently, this launch is targeted for no earlier than (NET) November 2017, with a date and time TBD," NASA's Kennedy Space Center said. Viewing time has to be approved by USAF (US Air Force) and NASA.
Those interested in catching the launch event live can purchase some tickets to get a closer look at the launch pad. Those enthusiastic but unwilling to spend the money can opt for other live streaming options available.
The information regarding the launch of Falcon Heavy rocket will be available on Kennedy Space Centre's official page for the event.
The page further reads, "the most powerful rocket this generation has ever seen, SpaceX's new Falcon Heavy rocket, launches no earlier than this November. Kennedy Space Centre's historic launch pad 39A has not supported this much thrust since the last Saturn V rocket nearly 45 years ago."
The officials have also done some modification of the launch pad to enable Falcon 9 and Falcon Heavy Rocket launches.
"Falcon Heavy's three first stage cores have all completed testing at our rocket development facility in McGregor, Texas. This side booster previously launched SpaceX's ninth resupply mission to the @ISS," SpaceX posted on its Instagram handle.
In September Elon Musk's company has also posted a separate video on Instagram account portraying Falcon Heavy Rocket being tested for launch.
Besides in January, on its official YouTube channel, the company has posted an animated video of the forthcoming launch showing the complete launch procedure with the initial phases of the recovery of the rockets.
SpaceX is also set to launch a communications satellite — Koreasat 5A — using a regular SpaceX Falcon 9 rocket on October 30, 2017, spaceflightnow.com has revealed.
Earlier this week, the Falcon 9 carried the third set of 10 Iridium-NEXT communication satellites which further deployed into low Earth Orbit. The launch was scheduled to take place from SLC-4E at 05:37 local time.
While, a month ago, SpaceX successfully launched its Falcon 9 rocket and deployed the US Air Force's X- 37B spaceplane in the Earth's orbit. SpaceX has signed a contract with communications company Iridium to launch 75 Iridium NEXT satellites so as to create a constellation of 66 telecommunication probes in lower Earth orbit along with nine in-orbit spares.
SpaceX will conduct total 8-rocket launches to deploy all those 75 satellites. The first set of 10 Iridium satellites were launched in the month of January and the second batch of ten was launched in June and on Monday Falcon 9 will deploy the 3rd set of 10 satellites.