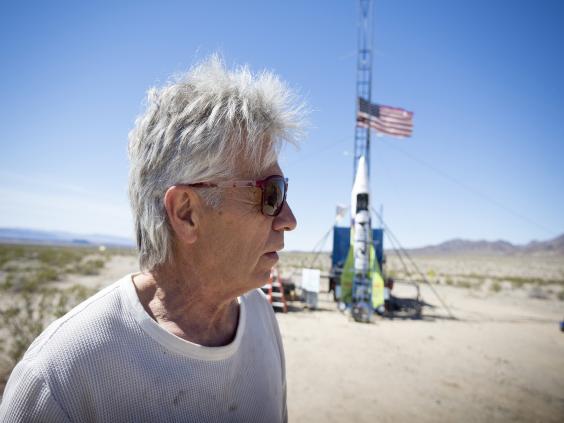 A flat earth researchers and self-proclaimed rocket man finally launched himself on March 24 in a home-made rocket after several delays. 
'Mad' Mike Hughes blasted himself 1,875 feet into the airinto the sky in a homemade rocket on Saturday before landing hard in the Mojave Desert, in an effort to reach orbit and reassure himself the world is shaped "like a Frisbee".
The 61-year-old limo driver said he was fine – apart from his aching back – after the launch near Amboy, California. "I'm tired of people saying I chickened out and didn't build a rocket," he said after being checked out by paramedics. "I'm tired of that stuff; I manned up and did it."
Hughes worked on overhauling his rocket in his garage for months before the launch on Saturday, which was given the go-ahead by Albert Okura, who owns Amboy.
He converted a mobile home into a ramp and modified it to launch from a vertical angle so he would not fall back to the ground on public land, the Associated Press reported.
Social media users mocked Hughes' mission. "I hope he doesn't blow something up," retired Nasa astronaut Jerry Linenger said as Hughes' plans captured widespread attention. Linenger orbited the globe more than 2,000 times during four months in 1997.
"Rocketry, as our private space companies found out, isn't as easy as it looks," he added.
Hughes often sparred with his critics on social media leading up to the launch, through Facebook comments and a 12-minute video addressed to his doubters.
(With inputs from AP)