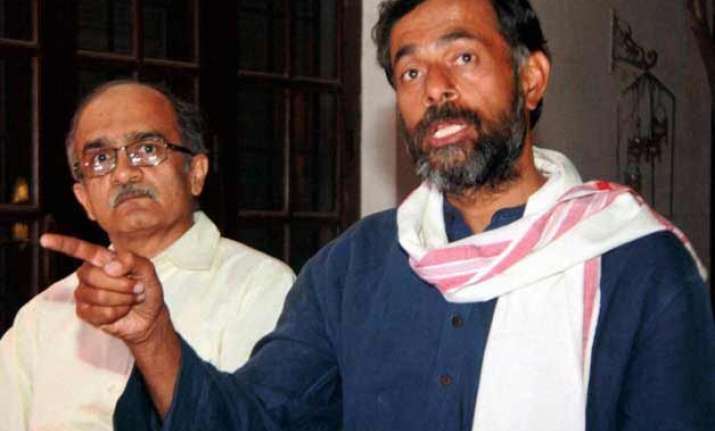 New Delhi: After the sacking of Prashant Bhushan as AAP's national disciplinary committee chief, Yogendra Yadav is likely to be next to face the axe as the party's chief spokesperson.
Sources in AAP said the party will soon release a new list of spokespersons which will not figure Yadav's name. "We will soon come out with a fresh list of party spokespersons. Yadav will of course not be in the list," a senior party leader requesting anonymity said.
Also Read: AAP exposed: Party launched agitation for national Lokpal, but sacks its own
The decision to remove Yadav from the post is an expected one following his removal along with Prashant Bhushan from the party's Political Affairs Committee and National Executive. Removal of Bhushan and Yadav from key panels is being seen as a precursor to their expulsion from the party.
Interestingly, Yadav was the only leader who had been designated as chief spokesperson when AAP constituted the panel of its spokespersons. On Sunday, the party sacked Bhushan from the disciplinary committee and replaced him with a panel of three members known to be close to AAP chief Arvind Kejriwal.
Also Read: Don't worry, all is well within AAP: Arvind Kejriwal
AAP's internal Lokpal Admiral (retd) L Ramdas was also shown the door for airing critical views about the party leadership. He has been replaced by a three-member Lokpal panel comprising two former IPS officers and one educationist.