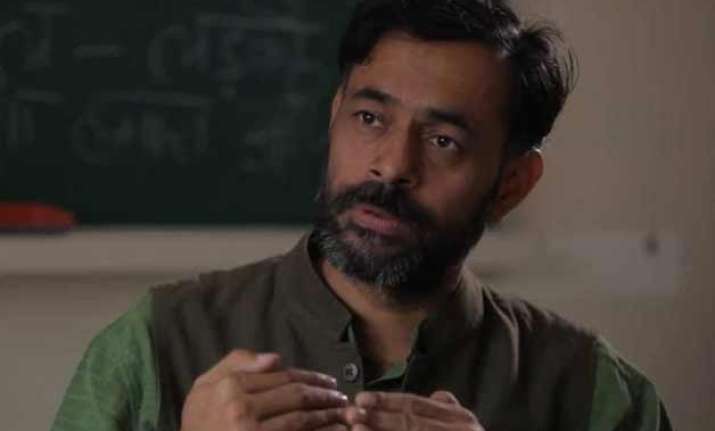 New Delhi: Senior Aam Aadmi Party (AAP) leader Yogendra Yadav on Monday ridiculed the reports about 'internal crisis' in the party terming them 'fictitious ', 'imaginative' and 'laughable'.
"From last two days, I am reading news about myself and Prashant Bhushan. New stories, new conspiracies are formed... After going through these reports, sometime I laugh and sometime I am hurt. All stories are fictitious. Some people have so much imagination... The intentions behind these stories are very painful. Delhiites have given us a huge mandate and this is the time to work more with a large heart. We should not lower that expectation with our petty actions," Yadav said in a Twitter post.
ALSO READ: Yogendra Yadav, Prashant Bhushan offer to resign from PAC
Yadav's reaction came in the wake of reports suggesting that he and Prashant Bhushan have offered to resign from party's highest decision making body parliamentary affairs committee (PAC).
The differences between AAP chief Arvind Kejriwal and Prashant Bhushan and Yadav have been out in the open for quite some time now.
A meeting of AAP's national executive was held on Thursday in national capital, which Kejriwal did not attend and had instead offered his resignation, which was unanimously rejected.
ALSO READ: AAP's rift wide in open; veteran leader writes open letter to Kejriwal, others
According to party members, there was a heated exchange between a section of the national executive and Yadav. The conversation got heated up with Yadav's role in the run-up to the Delhi elections coming under criticism.'
Prashant had differences with Kejriwal over candidate selection for the Delhi polls. He had on February 26 wrote a letter to the national executive of the party slamming Arvind Kejriwal for overturning collective decisions of the party.
ALSO READ: Prashant Bhushan questions decisions taken by Kejriwal
One-man-centric campaigns during Delhi elections made AAP look like any other political party, he said while referring to Kejriwal.
"I am not interested in holding any post in the party. I just want to ensure that the party should not compromise on its founding principles. There are certainly some problems with internal democracy and transparency which need to be corrected. I do not wish to say any more," Bhushan said.
He also accused the party of seeking Congress' support, after Lok Sabha poll debacle, to form government in Delhi.
In his letter, Bhushan said that the party has not come under the ambit of Right of Information though it had slammed other parties for not doing so.
It should also be noted that Prashant's father Shanti Bhushan, who had given Rs 1 crore to the party when it was set up, had said a few days before the Delhi election that Kejriwal should quit as the party's national convener.
Yesterday, Yogendra Yadav had said that no decision on any reconstitution within the party had taken place.
"Changing the division of responsibility is a constant process in any party. We have to be ready to give the party at least 20 years of our lives. I have fulfilled whatever responsibility the party has given to me in the past and will continue to do so even now. The organisation is bigger than any individual," said Yadav.