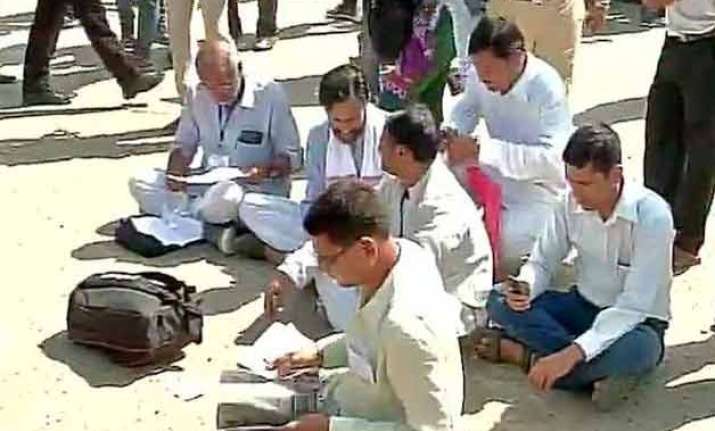 New Delhi: Aam Aadmi Party (AAP) leader Yogendra Yadav claimed that some party members, part of the Lokpal as well as a few National Council members were denied entry to today's NC meeting.
"Legitimate members were stopped and not allowed to attend the meeting. I will sit on dharna here only, till the last member is allowed in," he said.
ALSO READ: Kejriwal abuses Yadav and Bhushan in new audio sting 
Yadav also claimed that party has asked Admiral L Ramdas (AAP Lokpal) not to attend today's meeting.
"I just received a letter from Admiral L Ramdas informing me that he has been asked to not to attend today's meeting," he said. 
"It's an important day, the fate of the social movement out of which AAP was born, will be decided. It's a day which will decide the future of one of the most extraordinary movements this country has witnessed," he added.
Supporters of Arvind Kejriwal camp also raised slogans against Yadav and Prashant Bhushan when the duo arrived at the venue of National Council meeting. 
Yadav said that he is hurt to see this condition of the party.
A proposal to remove the duo from the party is likely to be moved by the Arvind Kejriwal camp on the allegation that the duo were trying to remove him from the post of the party's National Convenor, party sources said.
However, in the build-up to the meeting, the Prashant Bhushan-Yogendra Yadav camp said that it won't be easy to remove them from the party.
"They can remove us from the National Executive but not from the party. If we have to be removed from the party, the matter has to be referred to the Lokpal or the disciplinary committee," they claimed.
Both the groups claimed to have the numbers with them, ahead of the National Council meeting.
The party's constitution states that action cannot be taken by the party unless the member is given an opportunity to explain his stand.
The National Council, the third most important body of AAP, has over 350 members. The meeting will also be attended by AAP MLAs and MPs.