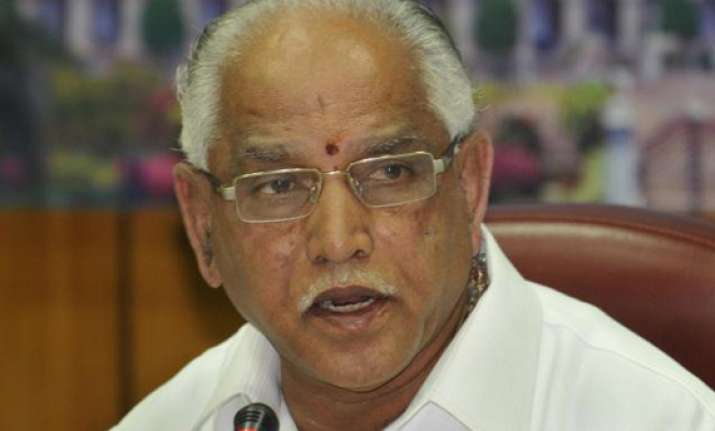 Haveri (Kar), Dec 9: Opening a new chapter in Karnataka politics, former Chief Minister B S Yeddyurappa today formally launched Karnataka Janata Party (KJP) and took over as its President at a massive rally here in North Karnataka.
In a potential sign of trouble for the BJP government in the state, at least 10 ruling party MLAs attended the rally ignoring the party warnings to legislators and other leaders to keep away from it.
Prior to the launch, Yeddyurappa also hosted a breakfast meeting which was attended by at least 21 BJP MLAs, seven MLCs and four Lok Sabha MPs.
Ahead of the launch of KJP, Chief Minister Jagadish Shettar had yesterday cracked the whip sacking Cooperative Minister B J Puttaswamy, a loyalist of Yeddyurappa, from the cabinet with BJP also suspending another staunch supporter and Tumkur MP G S Basavaraj from the party. Both were issued show cause notices.
Talking to reporters before the rally, Yeddyurappa dared the BJP leadership to dissolve the assembly and go before the people.
Yeddyurappa said BJP should understand that the Shettar government survived on the support of his loyalists.  "If they (BJP) want the continuance of this government, which is nothing but a KJP-BJP coalition, they should desist from taking any disciplinary action against my supporters," he said.
The action against Yeddyurappa's supporters yesterday came a day after 23 legislators and seven ministers attended the breakfast meet hosted by him in Belgaum, in an expression of solidarity with the Lingayat strongman who quit the BJP on November 30, snapping his 40-year-association with the party.
Minister for Public Works C M Udasi, Minister for Power Shobha Karandlaje and Minister for Water Resources Basavaraj Bommai, loyalists of Yeddyurappa, were seen seated among party workers.
In the event of BJP taking disciplinary action against MLAs, the five-month-old Shettar ministry will face serious threat to its survival with assembly polls due in May next.  In the 224-member assembly, BJP has a strength of 118 and it requires 113 for a simple majority.
Congress has 71 members and JDS 26. There are seven independents and two vacancies.
Yeddyurappa strongly justified the formation of a regional party, saying he saw a bright future for it and noting such parties' role in Tamil Nadu, Uttar Pradesh and West Bengal. 
He said he would begin a state-wide tour, starting from Bidar in the next four-five days, to build the new party.
Three MLCs—Mumtaz Ali Khan, Sajjan and M D Lakshminarayana (who is KJP General Secretary)-- also attended the rally.
Yeddyurappa's new political chapter after a 40-year-long association with the BJP climaxes a 16-month power struggle within the party and running feud with the central leadership after he was asked to quit as chief minister in July last year over the Lokayukta report on illegal mining indicting him.
The 70-year-old Lingayat leader's attempts to regain chief ministership were cold-shouldered by the party top brass who asked him to come clean on corruption cases.  
His bid for state party president had also failed and the party sidelining him proved to be the last straw.