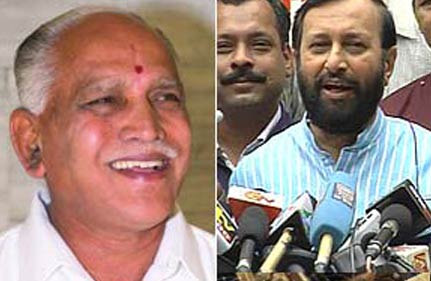 New Delhi, Nov 24 (PTI) Beleaguered Karnataka Chief Minister B S Yeddyurappa, facing allegations of corruption and nepotism, yet again staved off a mounting challenge to his leadership as BJP today announced that he will continue in office.
"After consultations with senior party leaders and state leaders, the party has decided to continue with B S Yeddyurappa as Chief Minister of Karnataka," BJP chief
Nitin Gadkari
said in a statement that set at rest political uncertainty in the ruling party in the state.
Reading out the statement, party spokesperson Prakash Javedekar quoted Gadkari as saying that while the Commission of Inquiry appointed by the Karnataka government would go into the allegations of land allotment against him, the party was also requested by the Chief Minister to go into these or any other allegations.
"I shall take adequate assistance to look into the same," Gadkari said.
With Gadkari's statement, the 67-year-old leader, the first BJP Chief Minister in south, has successfully defied the party leadership which had veered round to his removal in the wake of mounting allegations of land allotment to his family members and receipt of money from mining lobby and managed to have his way.
While reports emerged that the party was wanting him to make way for a successor, the Chief Minister had put up a defiance saying he would not resign. But yesterday, he changed his tone saying he will abide by the party leadership which was interpreted as a sign that he reached an understanding with the High Command that he may continue in office.
The decision on his continuance comes amidst indications that the dominant Lingayat community to which it belongs may not take his removal lightly and also in view of the upcoming local body elections in the state when destablisation of the leadership may not be considered good.
The party chief said with panchayat and zilla parishad elections in Karnataka round the corner, leaders and workers should work as one to ensure the success of the party.
Gadkari said the allegations against Yeddyurappa had created an "environment of uncertainty" in the state for the past few days. The Chief Minister has denied all these allegations and also offered his response, both in public and to the party leaders, he said.
Javedekar said there can be no comparison between the allegations of land scam in Karnataka with 2G spectrum scam and CWG scams. "It is not a matter of perception or allegations. It is a fact of willingness for enquiry which Congress is refusing," he said.