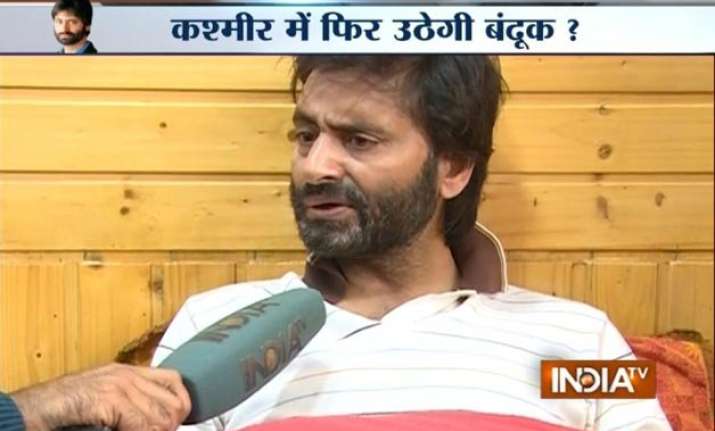 Srinagar: Jammu Kashmir Liberation Front (JKLF) Chairman Yasin Malik, who was on 30 hour hunger strike against separate colonies for Kashmiri Pandits, today said that people would again arm up if the leaders from the Valley are jailed.
Malik spoke to India TV reporter Abhishek Upadhyay in an exclusive interview on the sidelines of his hunger strike in Srinagar. When told that the arrest of Masarat Alam and house arrest of Syed Ali Shah Geelai has calmed the valley, he said, "Arrests do not bring peace, this is a misconception. You have seen violent movement here. I was the one who started that movement. We started it because when we used to march in peaceful protests we would be fired upon and taken to detention centres. All the youngsters picked up guns then."  
Yasin Malik reminded that he was one of the early supporters of non-violent movement in the Kashmir Valley. He said, "We started non-violent movement which was very unpopular at that moment. People doubted us. We started signature campaigns. We went to schools, colleges to revive non-violent movement in the valley."
Malik accused the Indian government of firing at the peaceful protesters in 2008, 2009 and 2009 and said, "And when in 2008 people were marching peacefully, India used force and 72 people were martyred. Again in 2009, 42 were martyred and in 2010, 126 were martyred."
He stressed that deaths in those firings brought fresh waves of militancy in the valley. "This is the age of passion, you decide faster in this age. These kids participated in non-violent protests in 2009, 2010 protests but when they saw no effect of it they lifted up weapons," he said.
He added that the fresh crackdown will push the youngsters towards violence, "You say that jailing people and firing on them will bring peace. What will happen is that the young generation is being pushed into violent movement."
On Masarat's pro-Pakistan slogans for which he has been arrested, Malik defended him and said that Pakistan is also a party in Kashmir issue so these things will be raised.