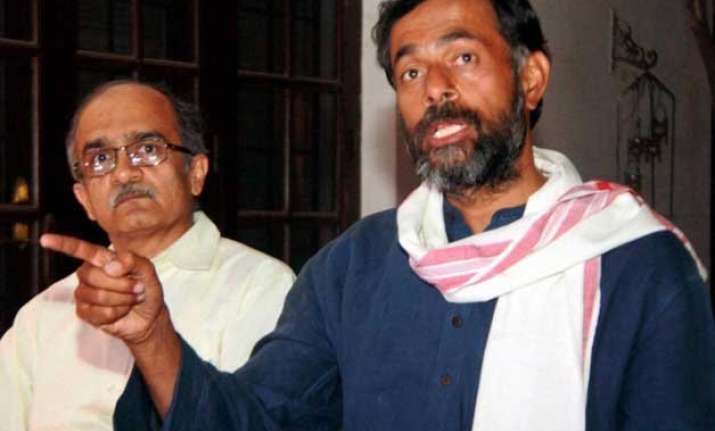 New Delhi: AAP leader Kumar Vishwas today revealed that dissident leaders Yogendra Yadav and Prashant Bhushan had resigned from all party posts on March 17.
Coming out of the PAC meeting, Kumar Vishwas said that Bhushan and Yadav had sent in their resignation although they had denied it on camera later on.
He also said that the party had accepted all the five demands they had made in their letter to the PAC members but they were insisting on Kejriwal's removal from the post of National Convenor.  
According to Vishwas, Prashant Bhushan had raised objections over the party fighting elections with the slogan "5 saal Kejriwal".
"Since then it was said that Arvind Kejriwal be removed from the National Convener's post,the NC has to decide that on March 28," said Vishwas.
"Party alone cant decide if Kejriwal ji will retain or resign as National Convener, it'll be decided on March28 by NC.Since last 10 days the happenings in party have unfortunately come to a point where it's important that we share them with you," added Vishwas.
Yogendra Yadav, however, has denied that he had sent in his resignation.
"I hear funny news about the PAC accepting our resignation. Will my colleagues please produce a copy of the resignation letter?" Yadav tweeted.
"Ridiculous claim that we insisted on AK's removal. This wasn't mentioned in our note, never came up for discussion. Can they give any proof?" added Yadav
The AAP PAC (Political Affairs Committee) meeting was called today to discuss the fate of dissident leaders Yogendra Yadav and Prashant Bhushan in the party.
The meeting is being attended by Arvind kejriwal, sanjay singh, Kumar Vishwas, Manish Sisodiya and Illiyas Azmi among others.
Dilip Pandey, Aashutosh and Ashish Khetan are also attending the PAC meeting as special invitees.
Kejriwal is learnt to have conveyed to the AAP leaders that it would not be possible for him to work with the duo, who were earlier this month ousted from the PAC as the party was caught in the middle of a row over differences within its leadership.
Interestingly, this will be the second consecutive PAC meeting in two days. After yesterday's meeting, Sanjay Singh, a key aide of Kejriwal, had said that the talks are on and the party was hopeful of reaching a conclusion.
Yadav and Bhushan have made it clear that there was no valid ground for them to step down from the 21-member National Executive and the rival camp should instead address the issues raised by them, sources had said yesterday.
A Kejriwal aide said that the AAP chief remained firm that the two should quit the National Executive before Saturday's National Council meeting.