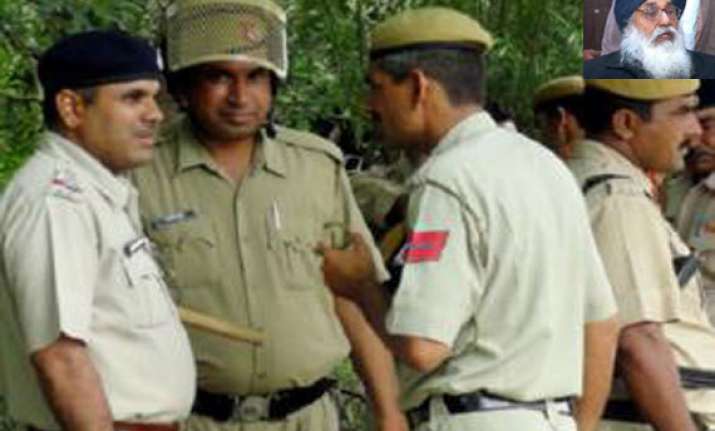 Chandigarh, Dec 2 : A 21-year-old wrestler, posted in the security wing of Punjab Chief Minister Parkash Singh Badal, was allegedly shot at and injured in Haryana's Sonepat district, police said today.
A probe has been launched into the November 28 incident after reports came in that some police officials, who were looking for a criminal, shot at Gurpal Singh, son of an IPS officer, in a case of mistaken identity.
Singh was shot at on the Rai-Sonepat road, about 220 km from here when he was travelling from Rai, where he has come to attend a sports camp, with his friend to a market, the victim's cousin Randheer told PTI on phone today.
"We have registered a case under Section 307 IPC (attempt to murder). The investigations are being handled by Sonepat's DSP (headquarters)," Rohtak Range Inspector General of Police, Alok Mittal told PTI on phone today.
Reacting to media reports that Gurpal was shot at by police mistakenly, the IG said, "We are probing this angle too. All the facts relating to the case are being verified. We have already registered a case on the victim's complaint. If he has to add anything more, we will bring that too on record and add the same to the FIR".
He said that if it was established that it was a case of mistaken identity, culprits will be punished.
"We are not trying to hide anything or hush up things. The entire incident needs to be fairly investigated, which we are doing," he added.
Giving details of the incident, Randheer said, Gurpal was heading back to his hostel after 8 pm when a car suddenly blocked his way and two-three armed men in plain clothes got down and asked the duo to come out.
Gurpal panicked as he had heard that area was not safe to stop and sped away, but those persons fired and a bullet pierced from behind hitting him in the back, Randheer said.
They drove straight to the Sports Authority of India centre in Rai where Gurpal had come for training and he was rushed to a nearby hospital, from where he was taken to a private hospital in Delhi, he said.
The bullet is lodged in a delicate area close to his stomach and doctors have advised that to leave it like that for the time being as it will not cause any harm, he said, adding, Gurpal was discharged from the hospital today.
Randheer said the matter should be probed to find out if it was a case of mistaken identity.