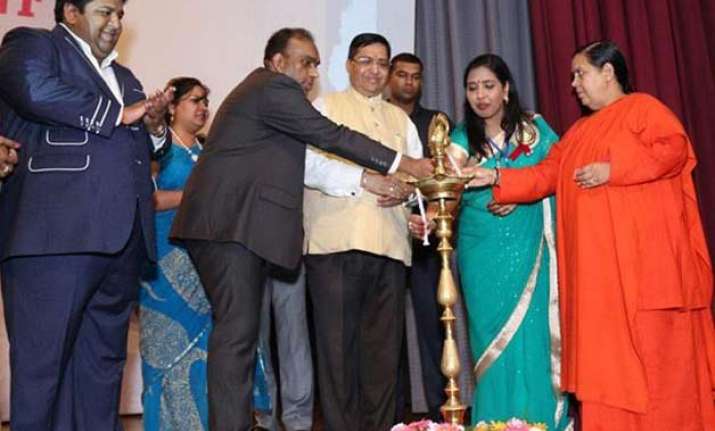 New Delhi:  Union Minister Uma Bharti said that women in India are already empowered and they deserve reject to make them realize their strength.
Speaking at am event organized by an event of non-profit organization, 'Sanwari Women Empowerment', she said: "Women in India have had a glorious past. Their mental strength makes up for their physical weaknesses. They have great abilities which make them strong. They need more respect."
Dedicated for the upliftment of women in the country, 'Sanwari Women Empowerment' organised a deep-rooted thought oriented women fest with a theme "Educate, Inspire, Empower—Let's Change Attitude".
BJP MP Meenakshi Lekhi, who was also present on the occasion, said: "Sanwari's dedication is worth many praises. Woman was never weak and never will be… Education is the most appropriate tool to empower the women and help them attain the same status in the society as it used to be in Vedic Period."
Speakers like Renu Shahnawaz Hussain, Academician & Poetess; Anshu Pathak, Prolific Writer & Social Critic; Lalima Aneja Dang, Newsreader, FM-RJ, All India Radio and Ruby Yadav, Miss India Queen-2013 expressed their views at the event.
In her closing remarks Seema Goel, founding president of Sanwari Women Empowerment said, "A healthy nation can never be a reality till the time its women are healthy and empowered. We continue working for the cause and I invite each and everyone of you to join the movement."
Sanwari Women Empowerment popularly known as 'Sanwari' is a not for profit organization based in New Delhi. With membership strength nearing four digits, it is gradually being recognized as a shining star in the women welfare space.