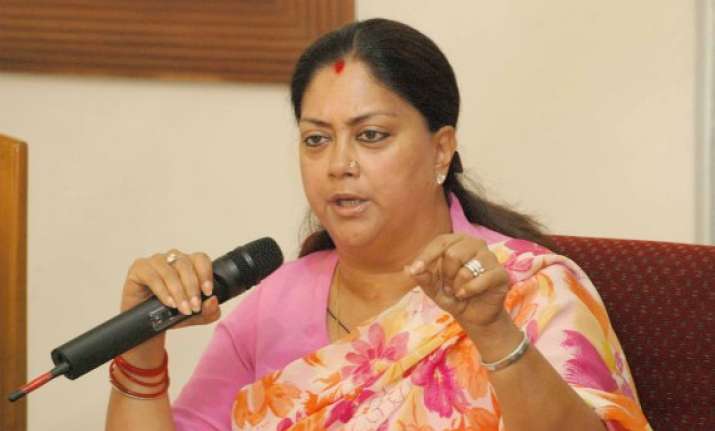 Jaipur: Rajasthan Chief Minister Vasundhara Raje today said the historic performance of BJP in Haryana and Maharashtra was the result of efforts of Prime Minister Narendra Modi government to check inflation by reducing the price of petrol and diesel in less than six months.  
Overwhelmed by BJP's performance in Haryana and Maharashtra, she said, Modi government has started to reduce inflation as his government lowering the prices of petrol by Rs nine and diesel by Rs 3.50 in less than six months.  
Raje, who returned from Singapore today, told party leaders and workers that Congress was seeking votes by blaming Modi government in Maharashtra and Haryana for failing to curb inflation and rise in price of essential commodities.  "Congress ruled for 60 years and did not give any 'hisab' (account) but was seeking an account from Modi government, it was ridiculous," she said.
"It would be a 'Congress-Mukt Bharat' (Congress free India) as BJP has started to sweep other states after coming to power in Delhi. It is a trailer of progress and curb on price rise...In five years Modi government would show miracles," she claimed.
Terming BJP's performance as a "historic victory of Narendra Bhai Modi due to his popularity and hardwork", the Rajasthan Chief Minister said that people and voters now trust Modiji and BJP by heart and soul.
"It is also dedication of BJP President Amit Shah, who is a grass root level worker. Both deserves big rounds of applause," she said while calling upon workers to clap.  On the up coming polls of civic bodies in 46 cities next month, Raje called upon workers and leaders to get unite with a mission 46 (victory in all civic body).
Apprising about her Singapore visit, Raje said Singapore would come up in a big way for investment in major projects in Rajasthan in near future, and there would be a number of MoUs signed in next year's Resurgent Economic Conclave in the state.
"We have laid a foundation of solid house in every sector in Rajasthan. It is not like Rajasthan which made hollow houses..It is public's mandate...we have to pay their dues by welfare schemes and development of the state...we will abide by people's aspirations and faith," she said.