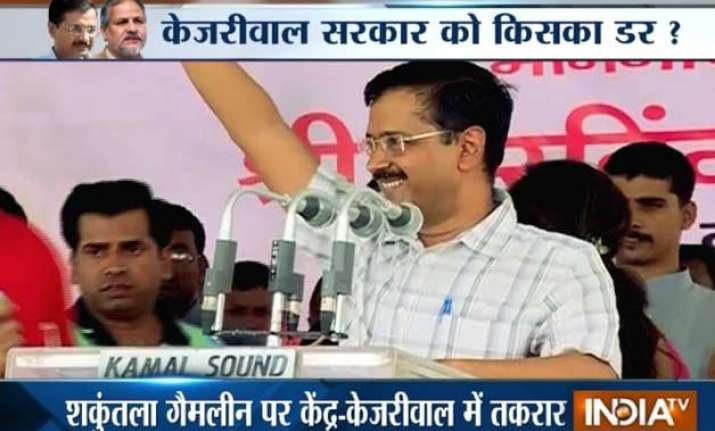 New Delhi: Delhi Chief Minister Arvind Kejriwal today accused senior bureaucrat Shakuntala Gamlin, who was appointed as the acting Delhi Chief Secretary by the Lt Governor, of favouring power companies and claimed that she wanted to trick the government into signing documents which would give Rs 11,000 crore to these firms.
At his 'Auto Samwaad' public meeting in north Delhi's Burari, Kejriwal also alleged that the Narendra Modi government wanted to make the AAP dispensation "fail".
"When our government was formed, she came to our power minister to sign a letter, saying that Reliance-owned power companies have applied for a loan of Rs 11,000 crore. She wanted the minister to sign the document and said it was just a formality. When our minister got this letter checked, it turned out to be a guarantee letter. If Reliance-owned power companies failed to pay the loan, the burden would come on the people and the rates in Delhi would have increased two-three fold," he said.
Kejriwal said that Gamlin was appointed the Chief Secretary of Delhi despite objections raised by his government.
"We opposed the appointment of Chief Secretary (Gamlin), but Modi's government appointed her as CS. We have been struggling for last four days, but Modi's government wanted to make Delhi's government fail," he alleged.
He added that his government would keep a tab on Gamlin's work as acting Chief Secretary for the next 10 days and would ensure that every file going to the Chief Secretary's office passes through the Chief Minister's Office.
"It raises suspicions that they (BJP-led central government) will do something wrong in 10 days, but I assure you that I will keep a tab on her (Gamlin) and every file will go through me," he said.
Yesterday, a letter from Power Minister Satyendra Jain to Kejriwal dated May 5, 2015, emerged in which the former accused Gamlin of lobbying within the government to promote the "interest of Reliance-owned Power companies" and urged him to relieve her of the charge of Principal Secretary (Power).
"I wish to place on record the suspicion-inviting actions of Shakuntala D Gamlin. Before AAP Govt was formed in Delhi, she was appointed as Principal Secretary (Power) by the Hon'ble Lt Governor. Since AAP govt took over, she has been aggressively lobbying within the government to promote the interests of Reliance-owned Power Companies. Many such instances have come to light," Jain said in his letter to the Chief Minister.
The confrontation over the appointment of an acting Chief Secretary yesterday turned into a full-blown war between the ruling AAP and Delhi Lt Governor Najeeb Jung as Kejriwal asked him to work "within the confines" of the Constitution while alleging that he was trying to take over the administration.
The Delhi Chief Minister asked the gathering whether a person accused of favouring power companies should be appointed Chief Secretary.
"I want to ask you if a secretary, who is hand in glove with power companies, should be made Chief Secretary of Delhi," he said, adding that AAP was now struggling more in government compared to when they were leading a struggle before coming to power.
Kejriwal said that since AAP's coming to power, it is only the corrupt officers are afraid while the honest ones are working fearlessly.
"Corruption has come down since AAP came to power; but corrupt officers are afraid and have joined hands to make our government fail while the honest officers are moving fearlessly," the chief minister said.
Hitting out at political rivals, he said, "When BJP and Congress talk about 'ease of doing business', they hold meetings with Ambani, Adani, Tata and Birla at five star hotels and then sort out their problems. But AAP's government resolves the problems of common people."
The Delhi Chief Minister also asked the people to pray for his government, saying that with support from the public, he would deliver on all the promises made by AAP before the Assembly elections.