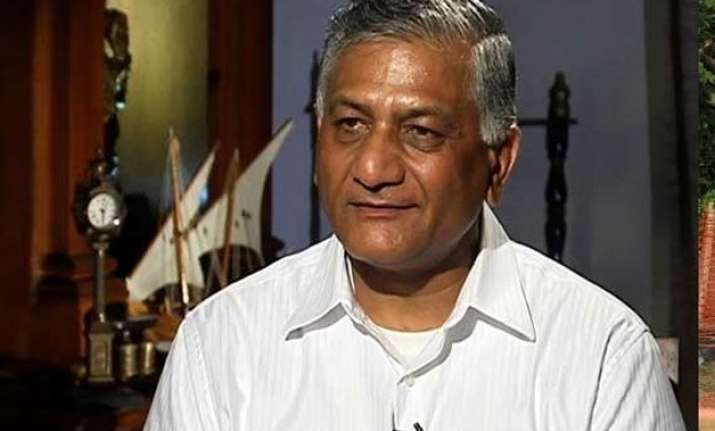 Kolkata: Union Minister VK Singh has said that he was opposed to the use of the armed forces in tackling Maoists in the various states.
Singh, who was in Kolkata yesterday, dubbed the left-wing extremism as a socio-economic issue and said that the armed forces need to be deployed to guard the border.
"Armed forces need to be deployed wherever the country's borders are concerned or in regions where people endeavour to secede from the Indian union," he said.
"This (Maoism) is a socio-economic problem; an issue concerning lack of infrastructure and others and the existing resources are sufficient to tackle them," he further said.
Recalling a meeting with the then union home minister P. Chidambaram in the aftermath of the 2010 Maoist attack in Dantewada in Chhattisgarh in which 76 troopers were killed, Singh said he then rejected the minister's suggestion for the deployment of the army to tackle the rebels.
"During the meeting, Chidambaram asked me why don't you allow deployment of the army in Naxal-affected areas? To which I replied, the job of the armed forces is not to fire on their own countrymen," he said.
"The minister (Chidambaram) did not like my opinion and since then he hasn't spoken to me," he added.
There are instances in life, Singh said, 'when you need to state facts in clear terms and in this book I have done that'.
The MoS for External Affairs was addressing a function at Raj Bhavan here after the release of the Hindi version of his autobiography.
Recently, Singh was in news for his controversial remark on the killing of two Dalit children in Haryana that attracted widespread condemnation.
Meanwhile, Communist Party of India-Marxist activists waved black flags at Singh during his arrival at the city airport and also staged a demonstration outside the Raj Bhavan over his recent remark.