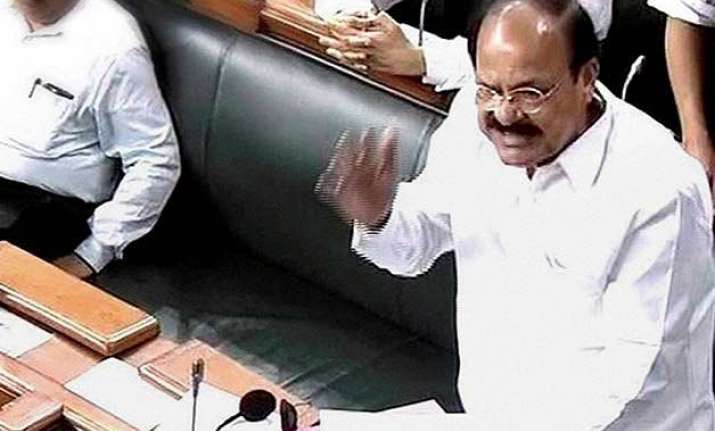 New Delhi:  Accusing Congress of "failing to keep national interests over its political agenda", Government today said the main opposition party stood "isolated" in disrupting Parliament at a time when MPs of other parties condemned the Gurdaspur terror attack and stood in solidarity.  
"Congress fails to keep national interests over political agenda and gets hurt. Later tries to cover up and fails. Shows how bad politics can hurt a party," Union Minister M Venkaiah Naidu said.
"They did not even appreciate the seriousness of the attack and its implications. As a result, Congress was isolated. Later Congress tried to blame the Speaker.  "(Mallikarjun) Kharge was told plainly that you cannot disrupt the House and also speak.
You can't have the cake and eat it too. Congress should have called off protests to demand discussion on terror attack. Blind politics has a price. Grand old party should at least now realise," he said.  
Attacking Congress for causing disruptions in Parliament, he said when MPs of other parties in Lok Sabha were condemning the Gurdaspur terror attack, Congress MPs were in the well disrupting the House.
"It is sending a very wrong signal. They should understand. I appeal to them. The entire country, and more so a party like Congress, should speak in one voice at least on issues of national security," he said.
"In such matters (Gurdaspur terror attack), there should be no politics. We should speak in one voice. While many Opposition parties have joined together in condemning this terrorist attack and are also expressing solidarity, it is unfortunate that the main Opposition party which ruled the country for years started disturbing even those statements," he said.
Naidu also also took a veiled dig at Rahul Gandhi on his Kisan padyatra and the dharna of Opposition parties from Left and Janata Parivar in the national capital on farmers issues saying they agitate outside but do not allow Parliament to discuss these issues.
"Today farmers' issues were raised (in Parliament).
People are making comments outside. Some people are also taking a padyatra but they do not allow a debate inside Parliament," the Minister said.
After a washout of Lok Sabha proceedings for a week, noisy protests by the opposition over Lalit Modi, Vyapam and other issues today led to repeated adjournments of the House.  
Naidu said that he had assured members in Lok Sabha that the Gurdaspur attack was a serious one and the government was willing to make a statement on the issue and even discuss the issue once the encounter between the security forces and the terrorists was over.