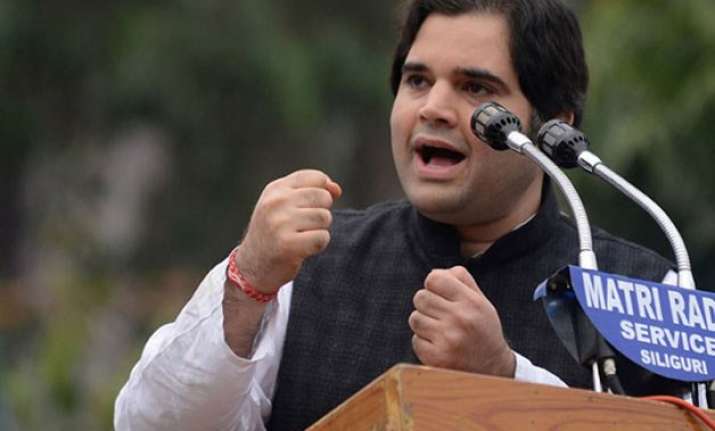 New Delhi: Congress MP Shashi Tharror's condemnation of death penalty after 1993 Mumbai blast convict Yakub Memon's execution invited much criticism, not only from Bhartiya Janta Party but his own party as well.
BJP strongly supported the hanging of Yakub Memon but the debate on death penalty has shown a clear divide in the party.
First it was Shatrughan Sinha, BJP MP from Bihar, who openly challenged party line on death party.  Now another party MP  Varun Gandhi has also gone against the party's stand on this matter.
Varun Gandhi, an MP from UP's Sultanpur, has written  an article in a magazine expressing his views against death penalty.  And the title he chose for the piece says all.
In the article "The noose casts a shameful shadow," the first point he makes is "Do away with the death sentence. It's vengeance legalised."
Varun also took on the hangman calling him "a disgrace to any civilised country."
Arguing against the death penalty in the country the BJP leader said that the 'rarest of rare' rule in India has no clear definition. "India's criminal justice system lacks a critical definition of what constitutes the rarest of rare cases, leaving it to the discretion of the judge's conscience and socio-political beliefs. The endgame is a lethal lottery," he said in his article.
Pointing out to the bias in death penalty in India, Varun said, "75 per cent of the convicts on death row belong to the socially and economically marginalised classes; 94 per cent of death row convicts are Dalits or from the minorities."
Citing the reason behind the bias, he added, "The poor consistently get the short end of the legal stick. The death penalty is a consequence of poor legal representation and institutional bias. The gallows remain a poor man's trap."
Varun added that the death penalty actually does not work as deterrence to the crime citing a study by National Research Council in 2012 that fount 88 per cent of criminologists believe that the death penalty is not a deterrent.
Questioning the social morality of death sentences, the only son of Union minister Maneka Gandhi said, "The Dhamma leaves no grey areas around capital punishment. Buddhism's first precept advocates that individuals should abstain from killing or injuring all living creatures. Hinduism and Jainism, with belief in karma, encourage non-violence towards human beings, animals and even insects."
Arguing in support of abolition of death penalty, Varun said, "Society can be protected from miscreants, criminals and terrorists through less disproportionate means that preserve our dignity, values and institutions."
Varun's comment has, however, not gone down well within BJP with party leader and Union minister Ravi Shankar Prasad saying it is not the party's views.
"He keeps writing articles. His views are not party's views," Prasad said.