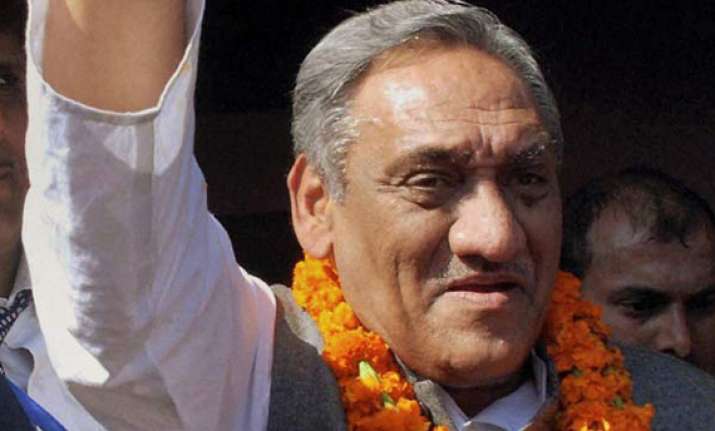 New Delhi, Jun 22: Charging Uttarakhand Chief Minister Vijay Bahuguna with violation of Model Code of Conduct, a BJP delegation today met Chief Election Commissioner V S Sampath and demanded cancellation of his nomination from Sitarganj assembly seat, where he is in fray in a bypoll.
The delegation, led by the Leader of the Opposition in Uttarakhand Assembly Ajay Bhatt, alleged to the CEC that Bahuguna had "bought" their former MLA Kiran Mandal and got his Sitarganj seat vacated for himself while misusing his official position.
The delegation also handed over a CD purportedly showing violation of Model Code by Bahuguna and demanded an independent probe into the whole affair.
The BJP leaders also sought postponement of the Sitarganj bypoll till the probe is conducted into alleged use of money power and misuse of official position by the chief minister.
The Uttarakhand BJP leaders alleged that ever since filing his nomination papers from Sitarganj on June 13, Bahuguna has been violating the Model Code by announcing various public welfare schemes for the area and doling out promises to the electorate in a bid to lure them ahead of the July 8 bypoll.
The delegation included Tarun Vijay, BJP Rajya Sabha MP from Uttarakhand and former Minister Puran Naimwal and other state BJP leaders.
Reacting to allegations levelled by BJP in Uttarakhand that money has changed hands in the matter of resignation of BJP MLA from Sitarganj Congress spokesperson Manish Tewari said "I am not aware of the details".
He said "since you have brought it to my knowledge, we will try to get the details of the case and would come back to you. But I would reiterate that BJP is in the habit of making false allegations. Therefore, I would request the media to have their own assessment of the allegation and reach their own conclusion."