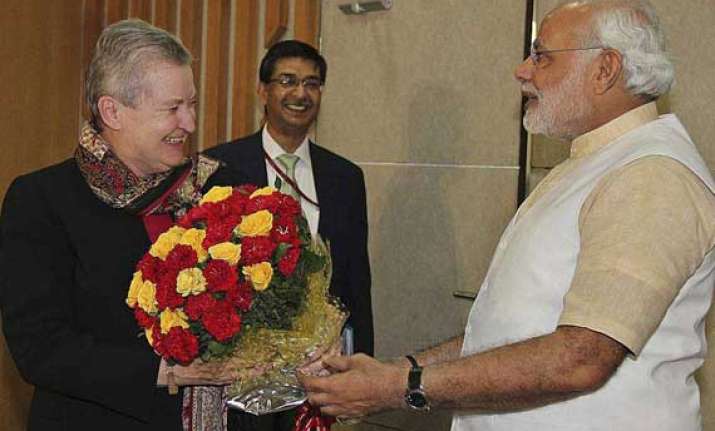 New York: The meeting between US Ambassador to India Nancy Powell and Narendra Modi was a "pragmatic" and "necessary step", according to a media report, that said it seems "likely" the visa status of BJP's prime ministerial candidate "could change" if he is elected to the top post.
In an editorial titled 'More Engagement With India', the New York Times said: "The decision by the United States to have its ambassador to India, Nancy Powell, meet Narendra Modi, a star of the country's Bharatiya Janata opposition party, reversed a long estrangement."
"It was a pragmatic step in engaging with India and the controversial and troubling politician who could well become the next prime minister after elections in May," the editorial board of the leading US daily said.
It added that regardless of who succeeds Prime Minister Manmohan Singh in the general elections this year, the "United States and India have a lot of work to do to strengthen their partnership. Opening a door to a relationship with Modi is a necessary step".
The meeting with Powell was part of a renewed American effort to reach out to politicians across India's political spectrum.
"Such moves are long overdue," it said.
"The Obama administration this week said the visa status remains the same, but it seems likely that could change, especially if Modi becomes prime minister," the editorial said.